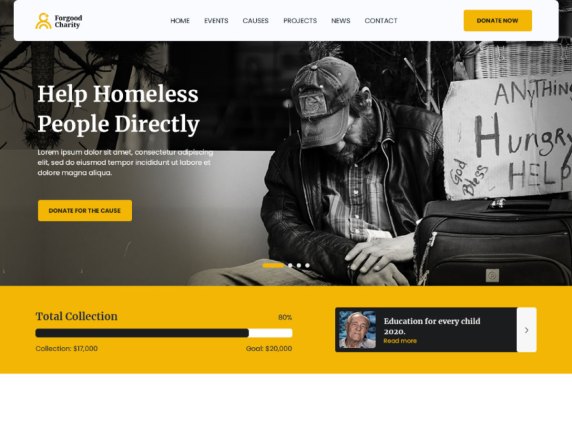 More and more non-profit and charity organizations tend to use the Internet as the main way for raising crowdfunding. It's due to the fact it will help them spread their volunteering activities and reach people around the world effectively. However, it's is necessary for your associations to consider carefully before choosing any current WordPress Charity Themes because it affects your non-profit organizations' credibility directly. Therefore, we have collected a Collection of 30+ WordPress Charity Themes In 2021 that can help your organizations gain more customers' trust. Check it out!
What can WordPress Charity Themes do?
Firstly, installing a suitable WordPress Charity Theme plays a useful vehicle for you to collect donations from the public. When using a website for fund-raising, you can extend the number of people accessing your sites. That means, more people can reach your solicit donations, which helps you gain more money for supporting the disabled and unlucky people around the world. Additionally, WordPress Charity Themes also make it easy for you to showcase evidence, achievement, and other charity-related activities in a visually appealing way in order to gain more sympathy from Internet users.
When searching for a well-matched WordPress Charity Theme for installation, you must consider its features such as navigation systems, donation plugins, and the ability to showcase content. Here's the Collection of 30+ WordPress Charity Themes In 2021 consisting of all mentioned features for you to explore!
Top 30+ WordPress Charity Themes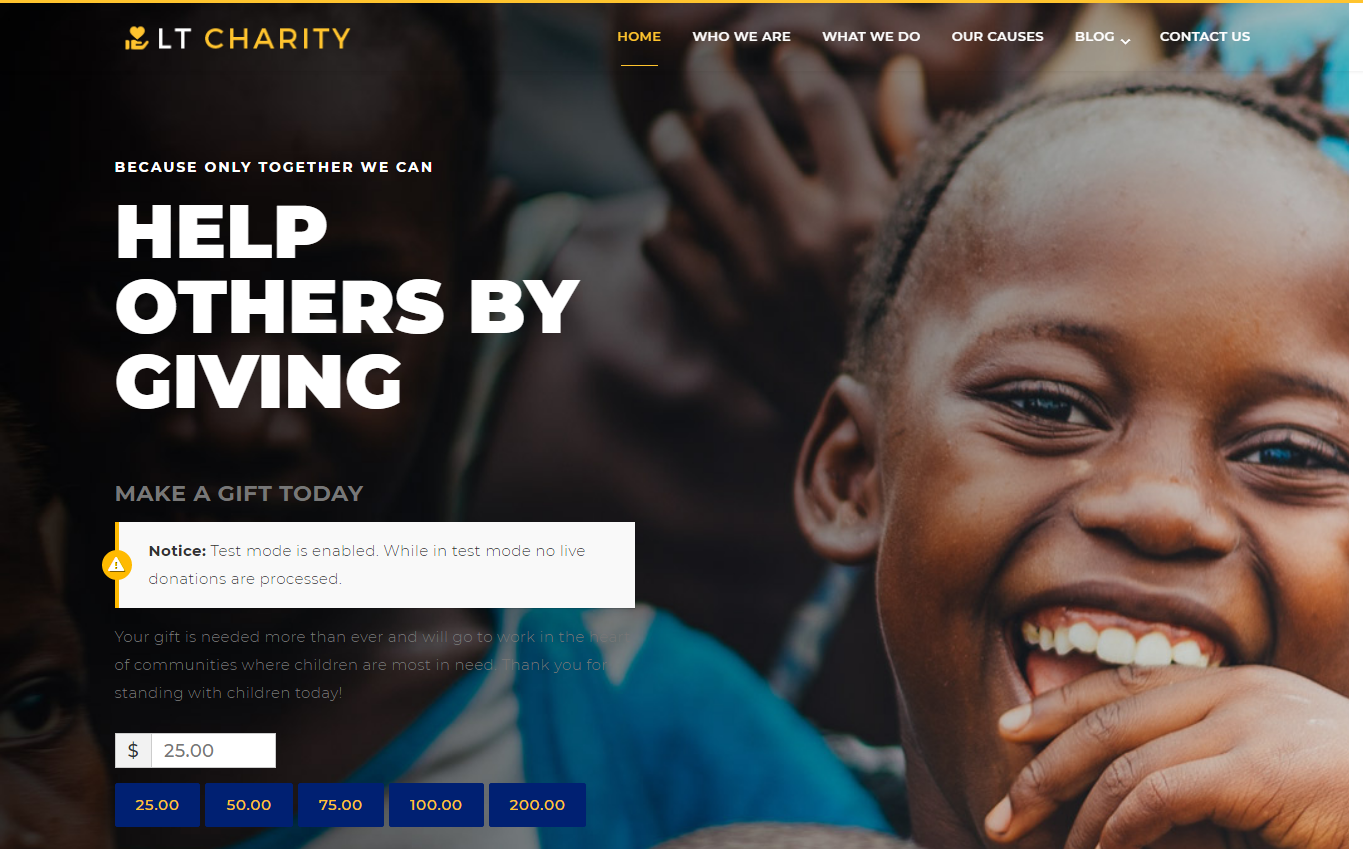 To begin with, we want to share with you one of the most popular WordPress Charity Themes, LT Charity. This theme is the best tool for you to spread your meaningful messages and projects to the community. Thanks to 1 fully responsive layout, your site structure will automatically adapt and maintain beautifully on any device from smartphones to PCs. Moreover, it also comes with Elementor Page Builder and other major plugins so that you can improve your site possibilities and receive donations smoothly. With various customization options, shortcodes support, 4 color schemes, and more, you can make it match your site design in no time.
Highlights
Elementor support
Completely responsive
Plenty of customizable options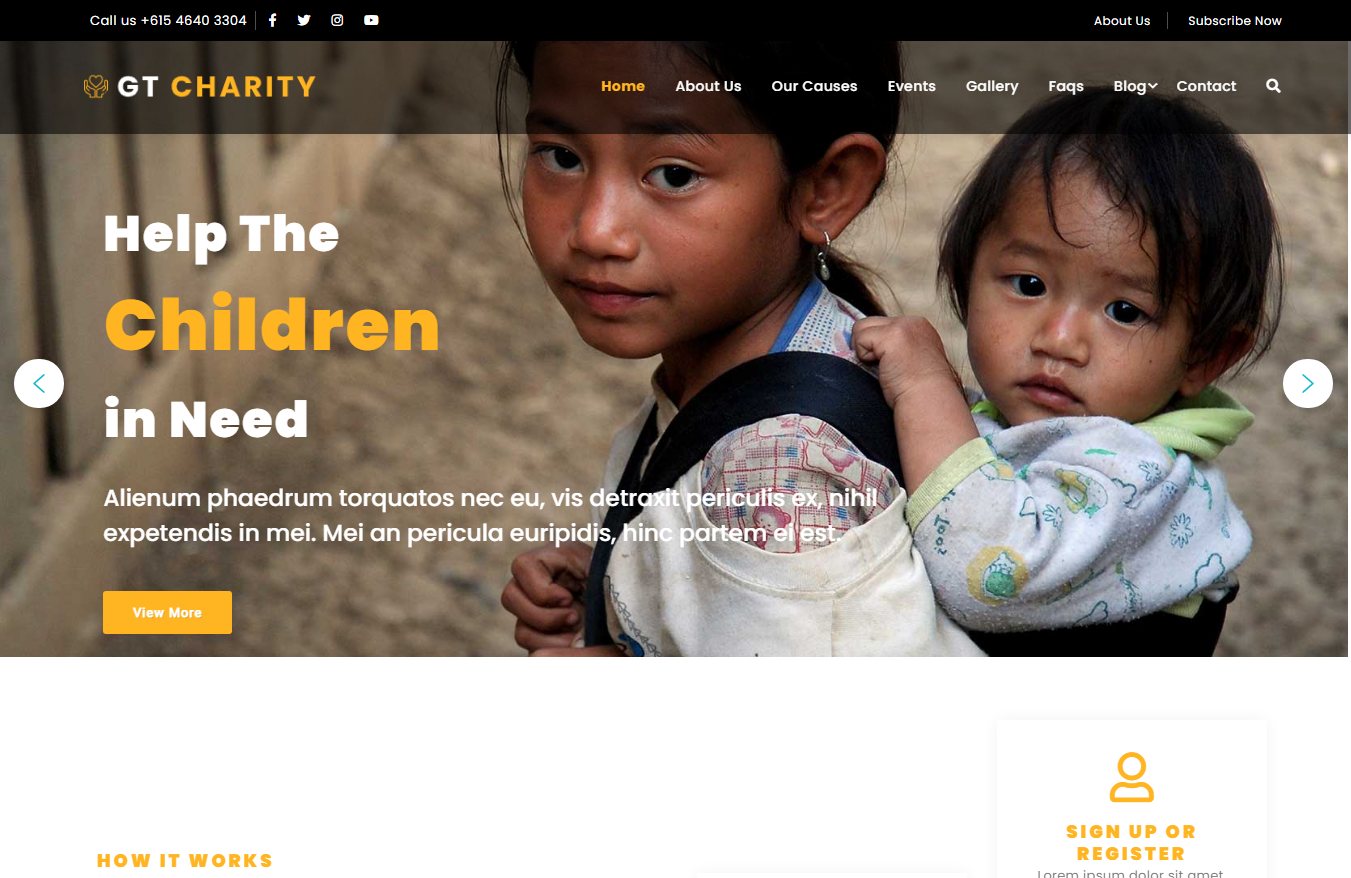 GT Charity is another eye-catching WordPress Charity Theme that is helpful for you to collect money for unfortunate people. This WordPress theme is built based on Elementor Page Builder, so it is so handy for you to drag your volunteer projects into true. By using this theme, you can make use of its unique features such as shortcodes support, drag-drop interface, ready-made templates, 4 color schemes, and much more. And, this theme also provides several homepage sections for you to present your charity plans, upcoming events, and anything that you want to enhance trust among donated people.
Highlights
100% responsive layout
Elementor support
Many color options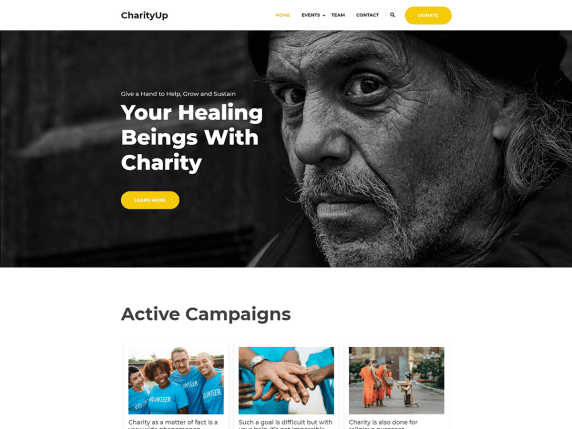 Thirdly, CharityUp gives you a chance to create dynamic and highly customizable sites for charity. You can use this theme for fundraising, welfare, donation, and other related to charity as well. This WordPress theme comes with a fully responsive interface so that your site will maintain and render smoothly on different gadgets. With a full website design in mind, CharityUp provides various essential sections for you to showcase your forthcoming events, activities, and more.
Highlights
GiveWP Plugin suppport
100% responsive
Highly customizable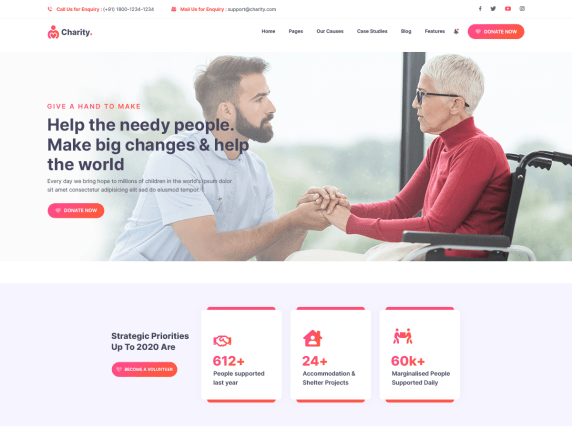 NGO Charity Donation comes with a modern and dynamic design for WordPress users to develop their site in terms of charity. Building with translation-ready, RTL layout support, and speed-optimized in mind, this theme will make your site look more attractive and professional. In addition, you are able to embed shortcodes and CSS/JS to broaden your site function. And, this theme also integrates with the Bootstrap framework, WooCommerce, Contact Form 7, and more.
Highlights
Customization and personalization options
SEO-friendly
Bootstrap framework support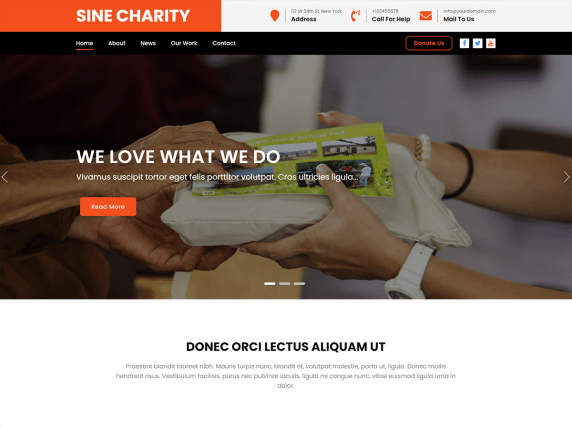 Sine Charity offers more than 10 unique and elegant Home demos, helping you to save much time and effort to design websites for non-profit organizations, charities, wildlife animal care, and more. Thanks to a wide range of customizable features, you can modify your site in your own way. Besides, it also works well with many popular plugins like Elementor, Contact Form 7, and more.
Highlights
Highly customization options
Plugins compatibility
Useful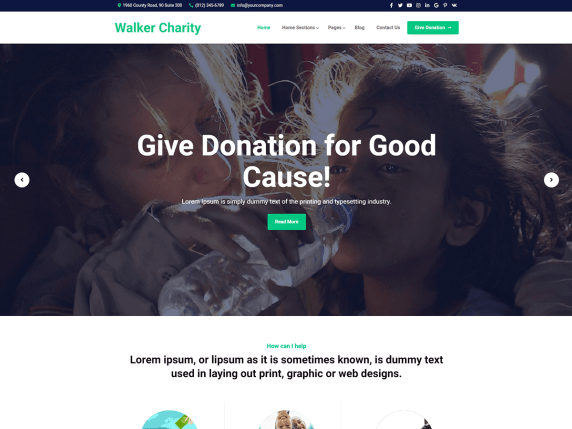 Walker Charity is a completely responsive and multiple-purpose WordPress theme. By utilizing this theme, you can take full advantage of its features like pre-designed homepage layout, mobile-friendly, WooCommerce ready, and more. This theme also offers a one-click demo import and 5 built-in templates.
Highlights
WooCommerce compatibility
One-click demo import
Responsive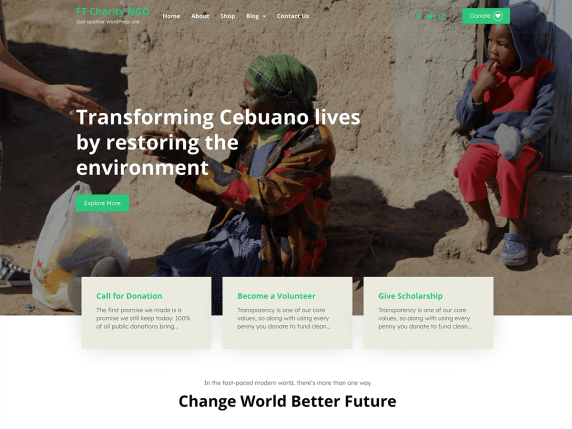 Next, FT Charity NGO consists of everything needed for designing high-quality and professional WordPress sites for NGOs and charity organizations. It has various unique features that can leave a strong impression on visitors significantly. Furthermore, with a fast-loading and totally responsive design, this theme will automatically adjust to fit any screen resolution and size.
Highlights
Give WordPress plugin support
Fast loading
100% responsive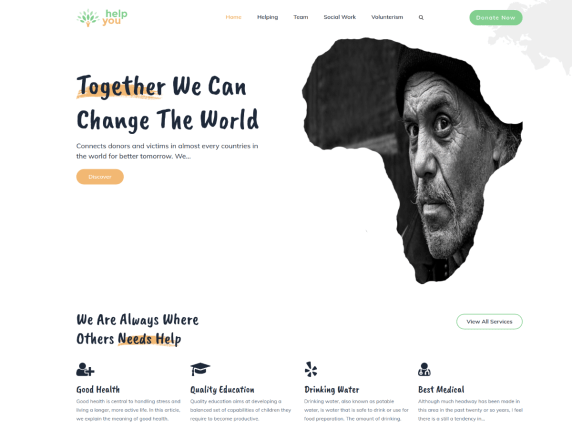 Another simple-to-use WordPress Charity Theme that we want to mention is Mega Charity. This theme is a perfect option for your charity organization to change the way raising funds. With the support of many remarkable demos, you can make your site look and feel more appealing in some minutes. And, the homepage is also designed with a Donation button, permitting you to receive donations at ease.
Highlights
Highly flexible
Stunning demos
Donation button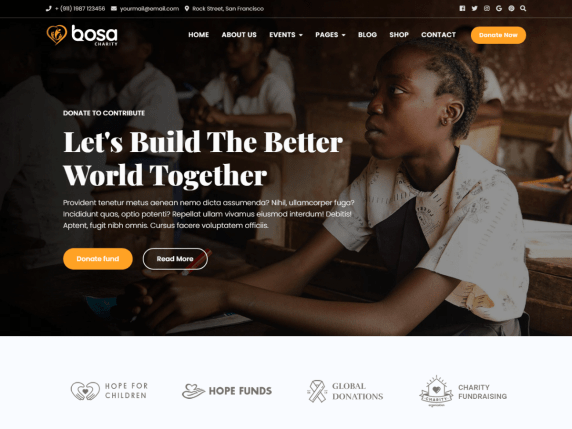 Bosa Charity is the next WordPress Charity WordPress Theme that is noticeable to mention. This is a lightweight and highly customizable theme developed from the Bosa WordPress theme. This theme not only integrates with Elementor but also WooCommerce, Contact Form 7, and other major plugins. Thanks to SEO-friendly and speed-optimized features, this theme will help your organizations reach wider people.
Highlights
Usability
Multiple layouts
Customizable options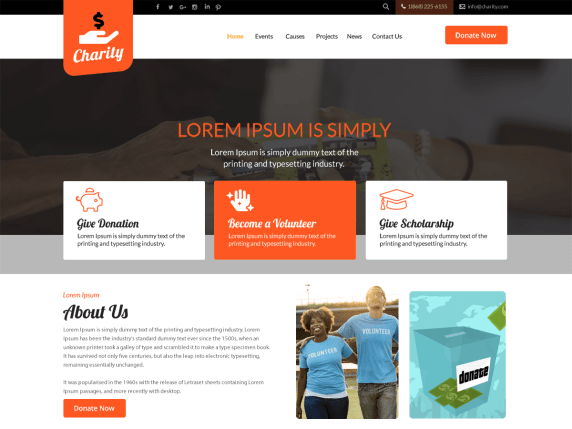 If you are looking for wonderful WordPress Charity Themes for NGOs, fundraising, foundation, and other charitable activities, Charity Zone will meet all your demand. By using this theme, you can spread your helpful messages and campaigns easily. It has tons of customizable options for you to adjust your site in your own way. And, with several sections from Donation, Sponsors, Call To Action Button(CTA), and more.
Highlights
SEO-friendly
Optimized and clean codes
Fully resposnive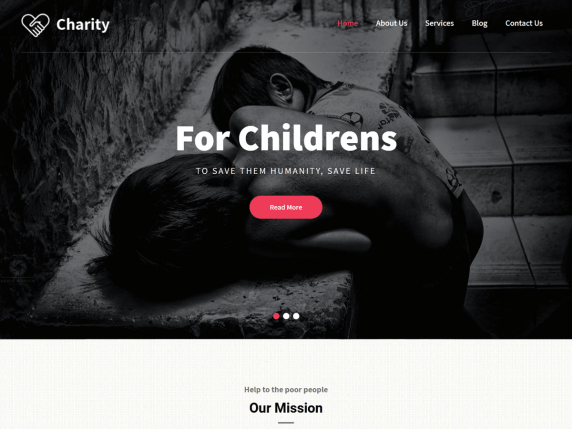 Pin Charity is also an ideal choice for you to make your dream charity sites come true. This theme is compatible with Gutenberg so that you can improve your site possibilities effectively. Moreover, it also offers various ready-made demos and import options. With WooCommerce compatibility, visitor can give their donation simply.
Highlights
WooCommerce support
Gutenberg compatible
Premade demo content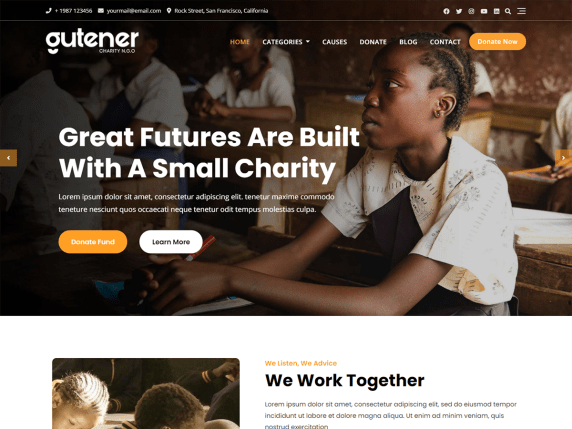 Gutener Charity NGO is a powerful WordPress Charity theme integrated with Gutenberg. It is not only fully responsive but also a multipurpose WordPress theme. Featuring high customization in mind, Gutener Charity NGO has various options for you to perfect your design. Not only that, but this theme is also compatible with WooCommerce, Gutenberg, and WordPress Classic Editor.
Highlights
Highly customizable options
Many Header and Footer layouts
Gutenberg and WooCommerce support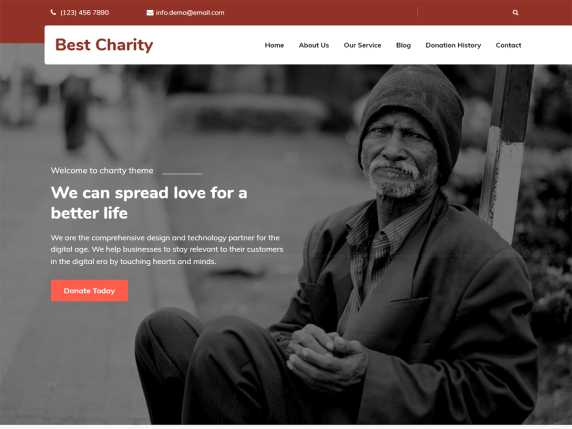 Best Charity provides you a great chance to organize fundraising projects online. Besides its amazing features, this theme also gives you an opportunity to write blogs and portfolios in terms of charity events and others related to win givers' trust. By installing this theme, you can access people around the world thanks to the fully responsive interface and cross-browser integration.
Highlights
Clean and secure codes
SEO-friendly
Testimonial section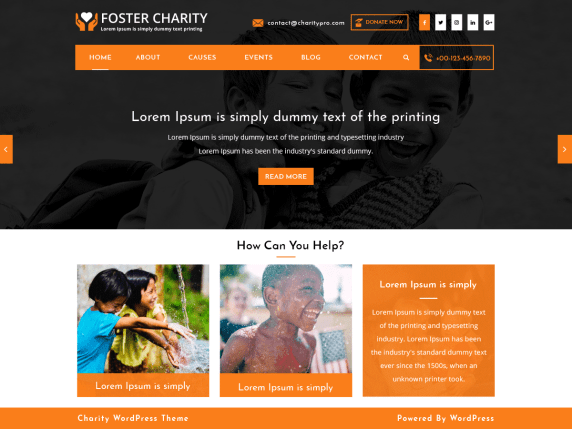 Foster Charity is one of the following robust WordPress Charity Themes in this collection. This theme is the best means for you to raise people's awareness about giving help and support to others. With secure payment gateways and other safety elements, this theme will help you receive contributions at ease. Building based on the Bootstrap framework, it is so simple to use and customize. And, Foster Charity also comes with a fully responsive design, SEO-ready, color options, and more.
Highlights
Social media icons
Bootstrap framework
Fully responsive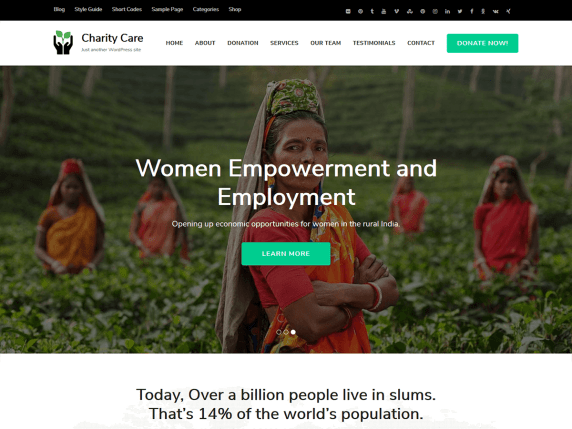 Charity Care will satisfy any requirement of your non-profit organization in terms of building a powerful charity website. It has a free demo import, so you can save your effort when designing a professional charity site. By using this theme, your site can climb to the top of the search engines results like Google easily via SEO-friendly and optimized codes. With multiple sections, you can showcase all of your works in an eye-catching way.
Highlights
No coding requirement
Translation-ready
Speed-optimized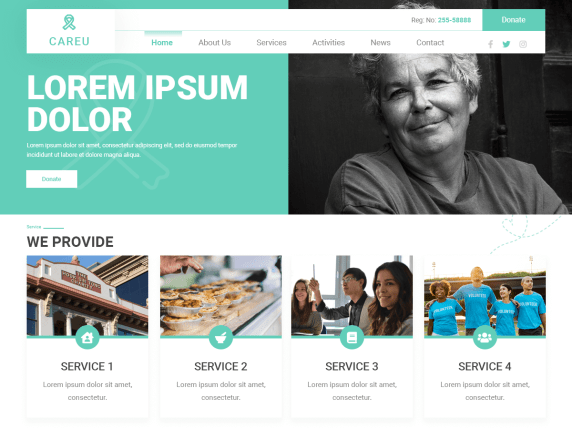 LZ Charity Welfare's design tends to motivate people to join a hand in charity projects. This manageable theme has a completely responsive interface that can match all devices. Along with that, it is also compatible with almost all cross browsers and social media icons, outstretching your fundraising events worldwide. Thanks to the Bootstrap framework support, you modify any elements to make them fit your site style at ease.
Highlights
Clean and secure codes
Bootstrap framework support
Social media integration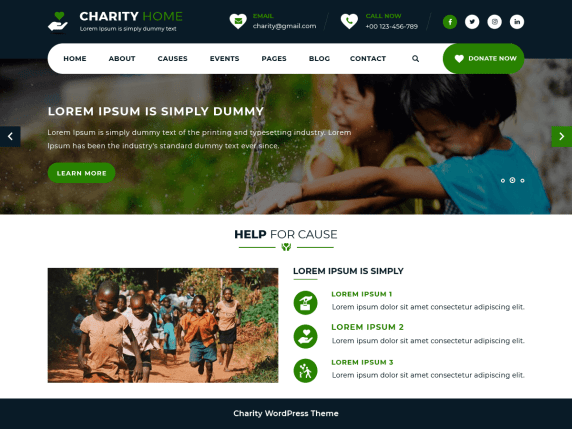 Charity Fundraiser is a beautiful WordPress Charity Theme that is compatible with many plugins such as Elementor, Contact Form 7, and more. In addition, it also has a user-friendly layout that can make it possible for users to navigate easily. With the assistance of a fully responsive interface and cross-browser compatibility, you can attract lots of attention from visitors.
Highlights
Bootstrap framework
SEO-friendly
Social media icons
Clean and secure codes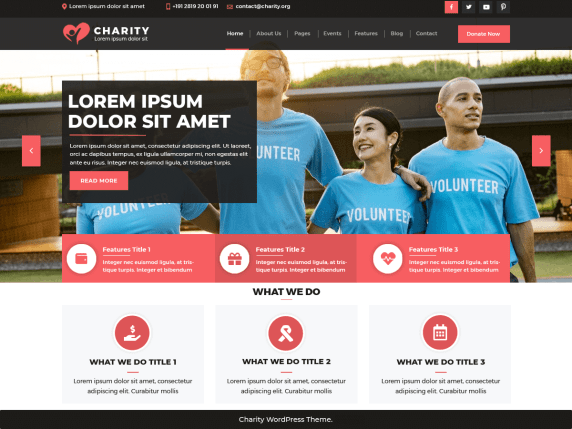 VW Charity NGO is the optimum choice for those involved in charitable activities. This theme comes with a minimal design with all necessary features for Charity WordPress Themes. You can use it to write a blog or present information as portfolio to present your positive message. By utilizing this theme, both your organizations and visitors can experience a safe feeling by clean and secure codes in the websites' building.
Highlights
Social media icons
User-friendly interface
Various sections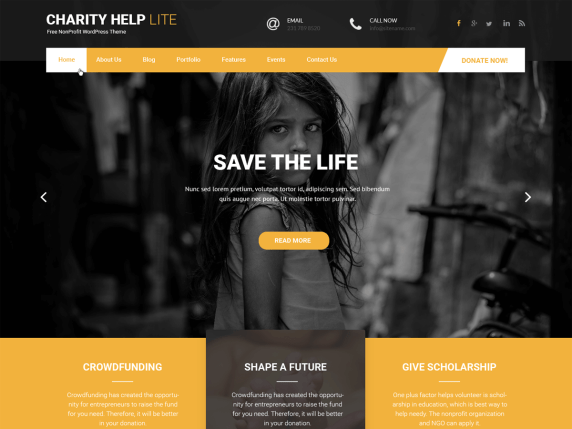 Charity Help Lite brings a user-friendly layout for users to build a stunning website for NGOs, foundations, and other similar. With easy-to-use and customized features in mind, this theme is so handy to use and modify. Moreover, it also has all of the fundamental features for WordPress users to make their site stand out.
Highlights
User-friendly
Simple to use
Professional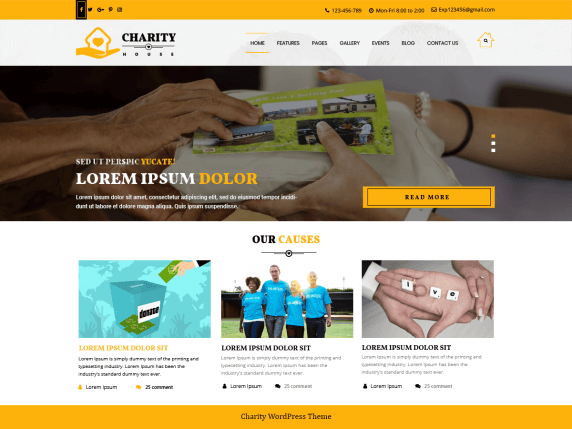 No matter you are working in NGO, welfare activities, disaster relief, or other volunteer events, TS charity WordPress Theme is the best choice for you. This theme will make your site look unique and leave behind other charity sites. TS charity features SEO-friendly, various personalization options, cross-browser compatibility, and more. Last but not least, it also comes with social media and translation-ready, helping your site access more potential givers.
Highlights
Customizable options
SEO-friendly
Cross-browser compatible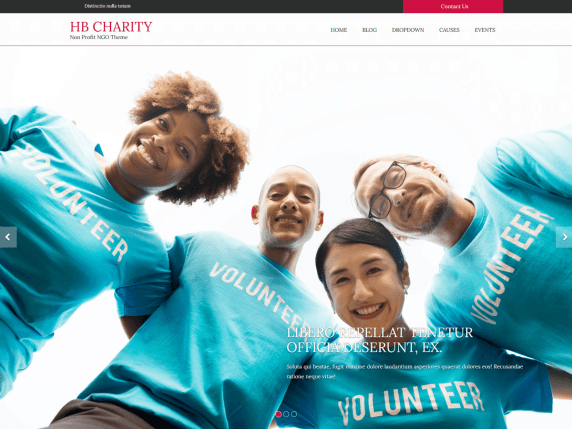 HB Charity is the best idea for WordPress users to create charitable websites as well as portfolios, and blogging sites. This is not only a fully responsive but also a flexible WordPress theme. And, this simple theme also works well with Contact Form 7 and comes with translation-ready features.
Highlights
Adaptable and flexible
Translation ready
Fully responsive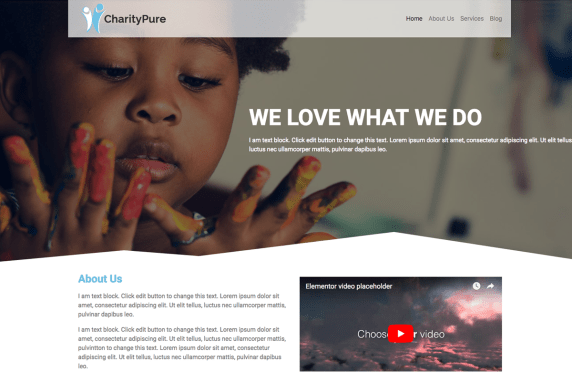 Along with these WordPress Charity Themes, Charity Pure is another one that you should not overlook. It is compatible with many prevail plugins such as Elementor, GiveWP, Beaver Builder, and more so that you can overstretch your site possibility. Also, it features highly customizable and SEO-optimized, helping you organize and raise public funds as quickly as possible.
Highlights
Unlimited colors
Highly customizable
SEO-optimized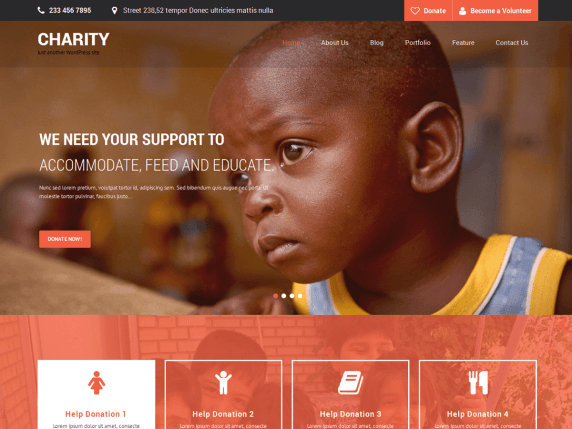 SKT Charity is suitable for not only donations, fundraising, and other similar sites but also business and other kinds. This WordPress theme is compatible with WooCommerce, Contact Form 7, and Nextgen gallery so that you can drag visitors' attention effectively. With the ability to import more than 63 templates, you can get the best out of Home and other inners pages.
Highlights
Multilingual
Adaptable
Responsive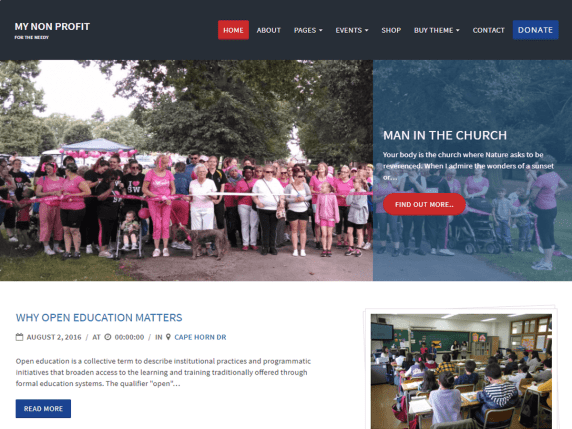 Charity Review is used to make websites for a wide range of areas like charity, music bands, and more. Thanks to its features, you can showcase your work in different unique ways. Some features in this theme are social media options, Call to Action Block(CTA), Custom CSS, and more. With 3 distinct widgets and sidebar widget support, you are likely to display your work in a visually stunning way.
Highlights
Performance-optimized
Customizable options
User-friendly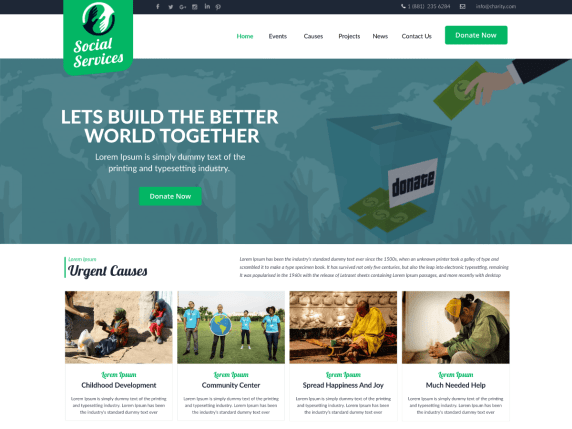 NGO Social Services features SEO-friendly in mind so that your site will rank high in search engines result. This outstanding theme offers various customization and personalization options for you to complete your design in some simple steps. And, with a fully responsive layout, it can adapt to any screen resolution and size. Last but not least, thanks to the assistance from The Bootstrap framework and Elementor, it is so simple for you to modify and customize anything.
Highlights
Social media options
Fast-loading
Optimized codes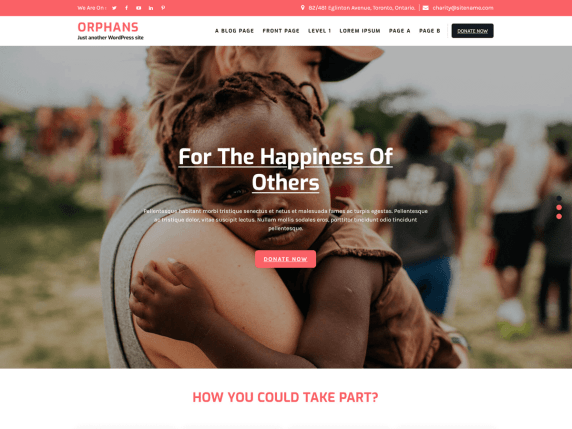 One of the must-have WordPress Charity Themes in today's article is Orphans Lite. This is a 100% responsive theme with many simple-to-customize options and layouts. It has a page template for you to make the inner pages layouts in your own demand. Moreover, it can work smoothly with any screen resolution and browser, helping you access more possible contributors. On top of that, it also comes with many popular plugins such as WooCommerce, Contact Form 7, etc.
Highlights
Responsive
Customizable options
Plugins compatibility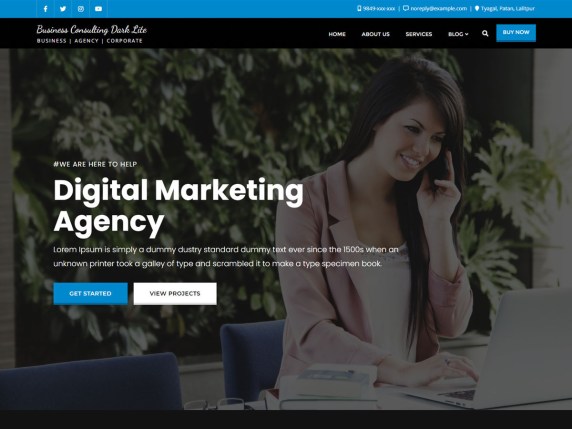 Business Consulting Dark is useful for all kinds of websites in WordPress. It is a completely responsive, multiple-purpose WordPress theme that has a wonderful toolkit. With cross-browser compatibility, SEO-friendly, and translation-ready features, your organization's popularity and credibility will be enhanced significantly.
Highlights
Elementor support
Responsive
SEO-friendly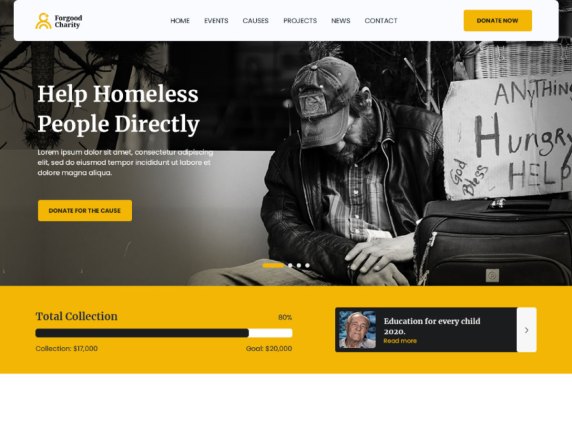 In case you desire to develop a website for charity, donation projects, and other similar, Forgood is one of the most bright options for you. With the support from this theme, you are able to make use of its features to create excellent charity websites, write blogs, and more without any requirement. SEO-friendly, cross-compatibility, and testimonial sections are included in this theme to help you draw public attraction.
Highlights
SEO-friendly
Clean and secure codes
Cross-browser compatibility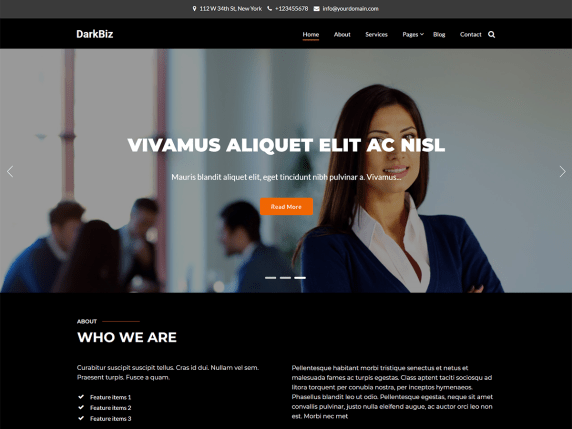 DarkBiz Child has a dark design, which is sourced from the BarkBiz WordPress theme. It has a fully responsive interface and flexible features for users to adjust. It also comes with various popular plugins in the current market like the Rise Block, Elementor, and so on for you to boost your organization's reputation. Moreover, it's free for you to make changes to any color and font of the element.
Highlights
Customizable options
Demo importer
Fully responsive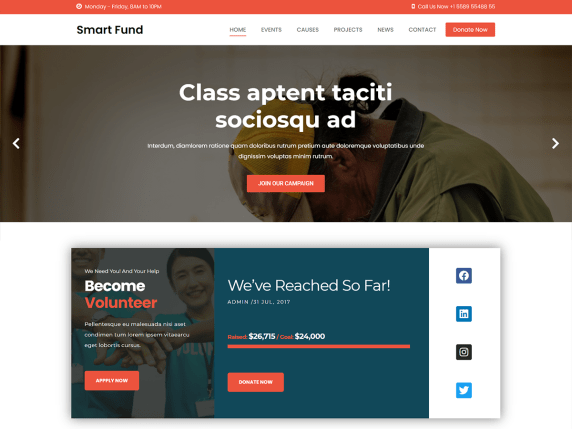 SmartFund integrates with WordPress Editor in the latest version and other major plugins like Elementor. Therefore, you can design and change your site's appearance in some simple steps. Furthermore, it also offers the demo importer, 100% responsive design, speed-optimized, mobile-friendly, and more.
Highlights
No coding requirement
100% responsive
E-commerce compatible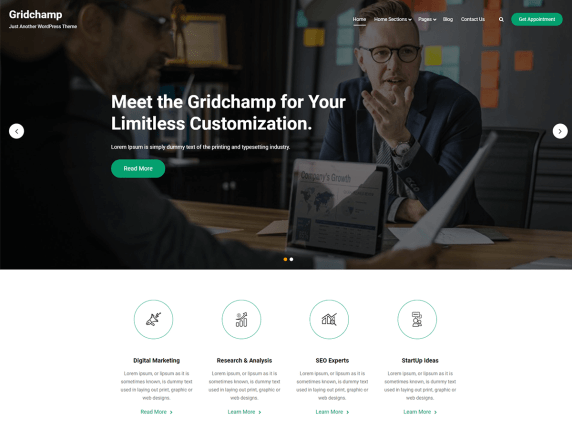 Gridchamp is the final WordPress Charity Theme that we propose. It is a feature-rich and SEO-friendly WordPress theme. By utilizing it, you can display your content in various stunning ways via predesigned layouts for the home sections. Other features of this theme include responsive layout, WooCommerce-ready, one-click demo import features, and 5 ready-made templates.
Highlights
SEO-friendly
Fully responsive
One-click demo import
End
To sum up, it's essential for you to take into account each feature of all WordPress Charity Themes that we put above to raise money. Hopefully, this blog will help your non-profit organization develop widely and gain more donations.
In case this article doesn't meet your own demand, take a look a Free Charity WordPress Themes to find out more eye-catching and professional WordPress Charity themes and templates for your own. Thanks for reading and have a nice day!