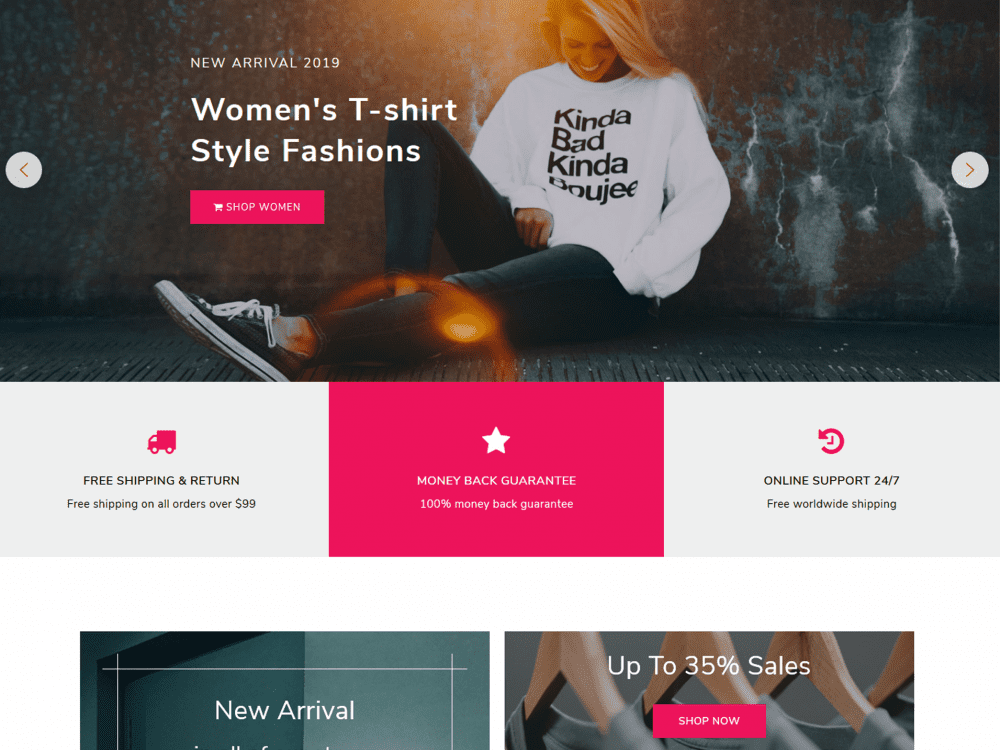 Get amazing WordPress fashion themes and enhance the appearance of your site!
If you are thinking about a fashion store, or a blog, you can't forget a fashion website. It will helps you approach your customer in real time and stimulate them buy your products. So, a beautiful Wordpress fashion themes, which attract your customers and even raise the sales, is what you need. Today we have hand-picked 15 best wordpress fashion themes in our opinion. Read and enjoy!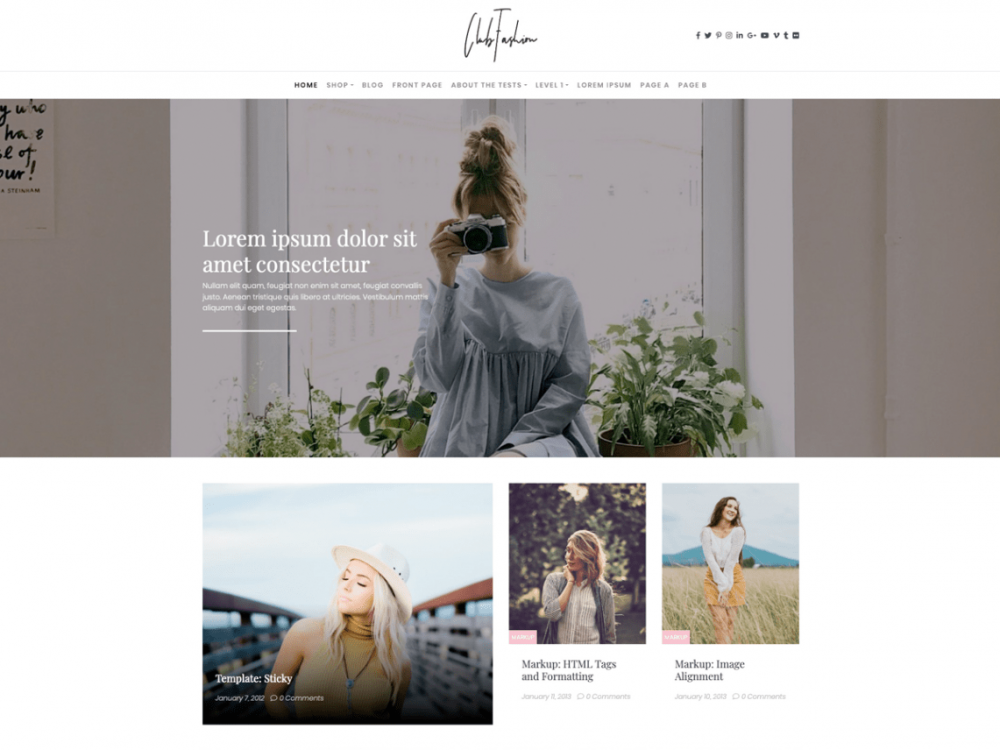 ClubFashion is a cool fashion WordPress theme that you can use for style, blog, photography, travel and more. It provides a great design, plenty of function and supports for WooCommerce. If you want to open a store, this theme is a great choice.
Highlights:
Nice design
Highly customizable
Good support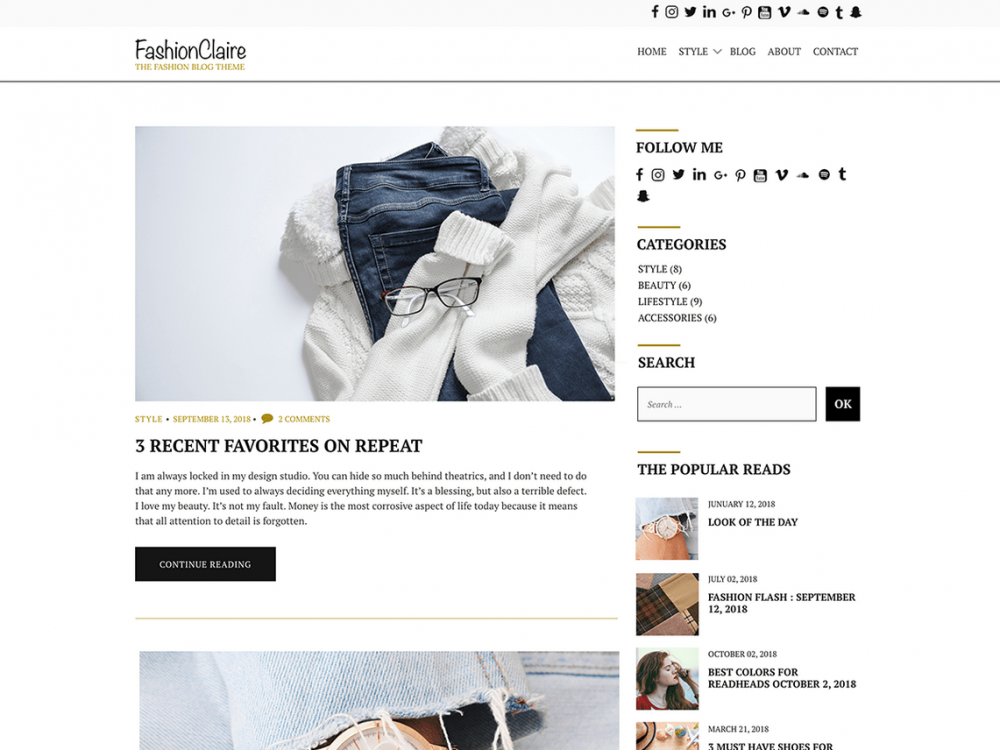 Fashionclaire is exatcly a theme for fashion bloggers. Its interface is presented as blog format with post blocks, side bar, social share buttons and more. Fashionclaire is simple, easy to use, and surely fashionista can't ignore this elegant theme.
Highlights:
Simple but elegant
Tons of functions
Good document and support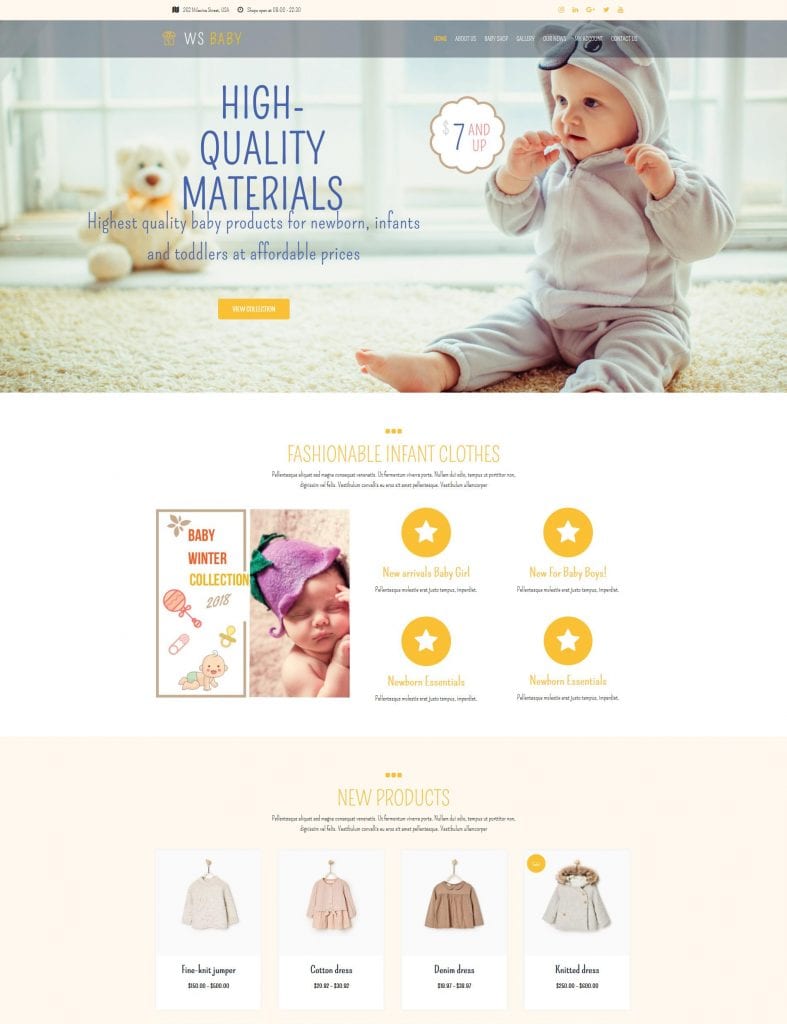 WS Baby is a lovely fashion theme for kid store. It is specifically designed for display images of todlers as well as attract users who have children with soft-color, cute look. Certainly, it is compatible with Woocommerce with alows you to manage commerce activities. Moreover, it has a blog area for updating useful news realating to baby such as clothes, food, health to keep users interating with your site.
Highlights:
Adorable design
Compatible with Elementor
Fully responsive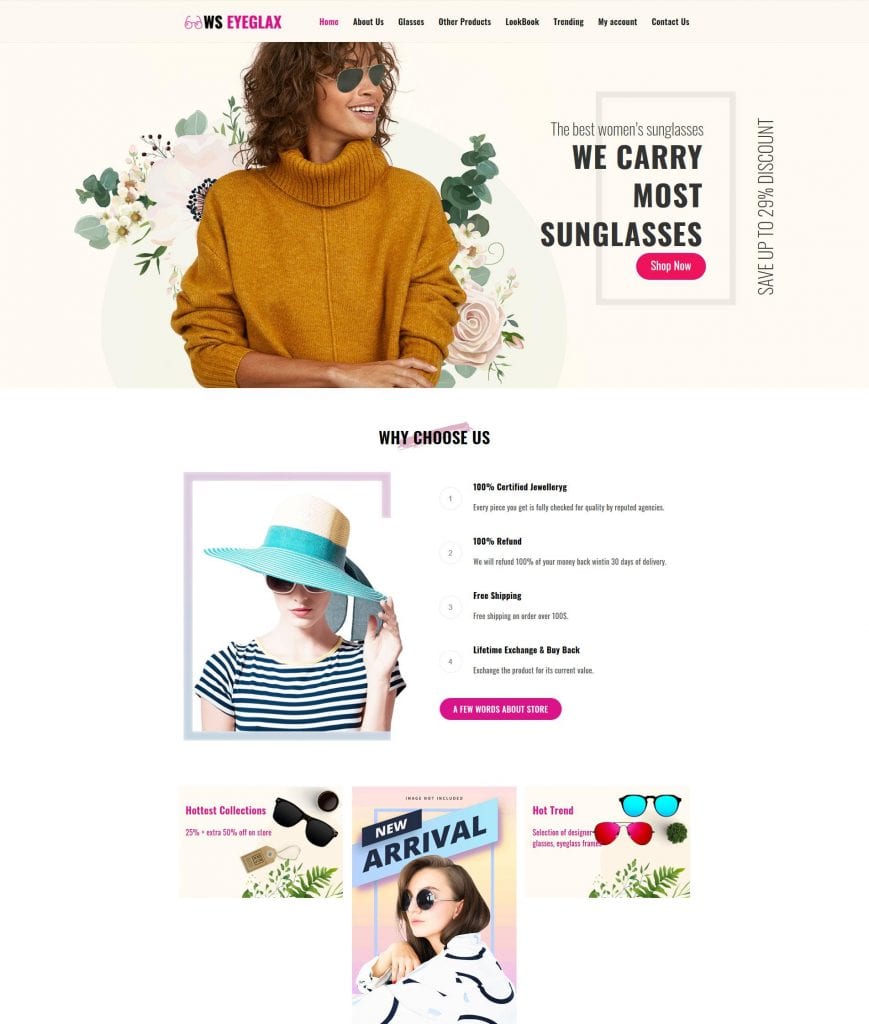 WS EyeGlax is a WordPress fashion theme specially for accessories store. It comes with beautiful design, plenty of functions that alows you to customize easily the look of your webstore. Moreover, the ability to integrate with WooCommerce is its big advantage, so you can operate smoothly your business system.
Highlights:
Beautiful design
Compatible with Elementor
24/7 support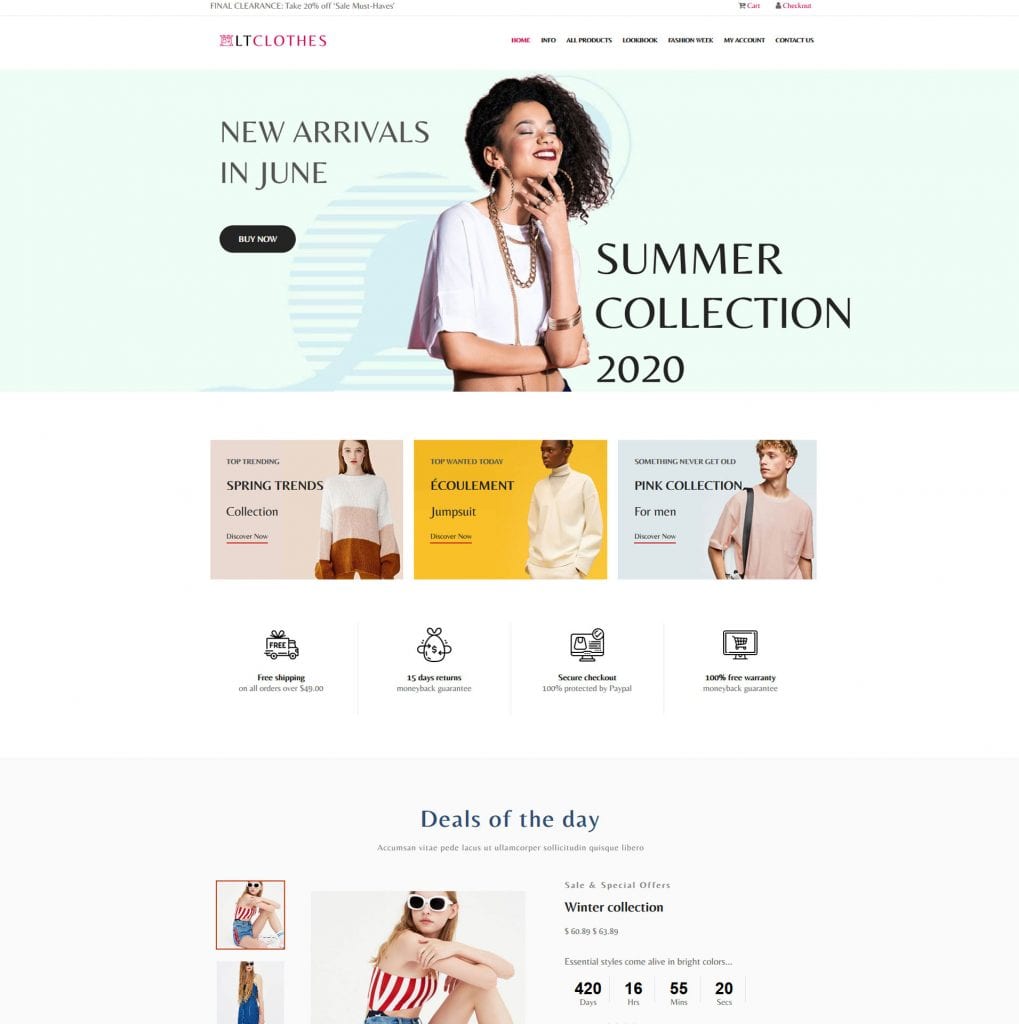 We want suggest another cool fashion theme called LT Clothes Shop. It is well-design, elegant and ready to WooCommerce. Once installed, you will almost have had a fashion store with professional appearance, that can attract more and more customers to your site.
Highlights:
Can build with Elementor
Elegant designed color
Responsive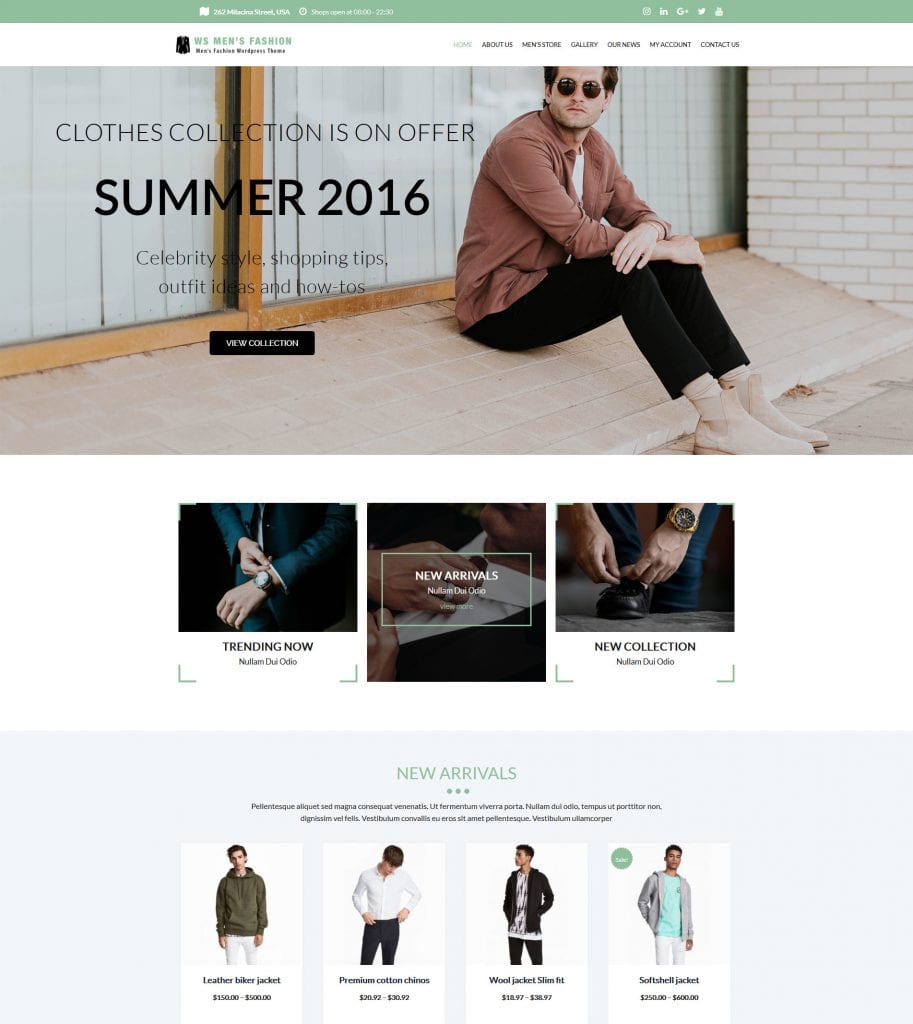 WS Men's Fashion is particularly designed for men. It comes with modern design and full features that lets you establish store relating to fashion. You can also build easily your content with drag and drop in Elementor.
Highlights:
Modern
Strongly support for WooCommcerce
Support for mobile and tablet screens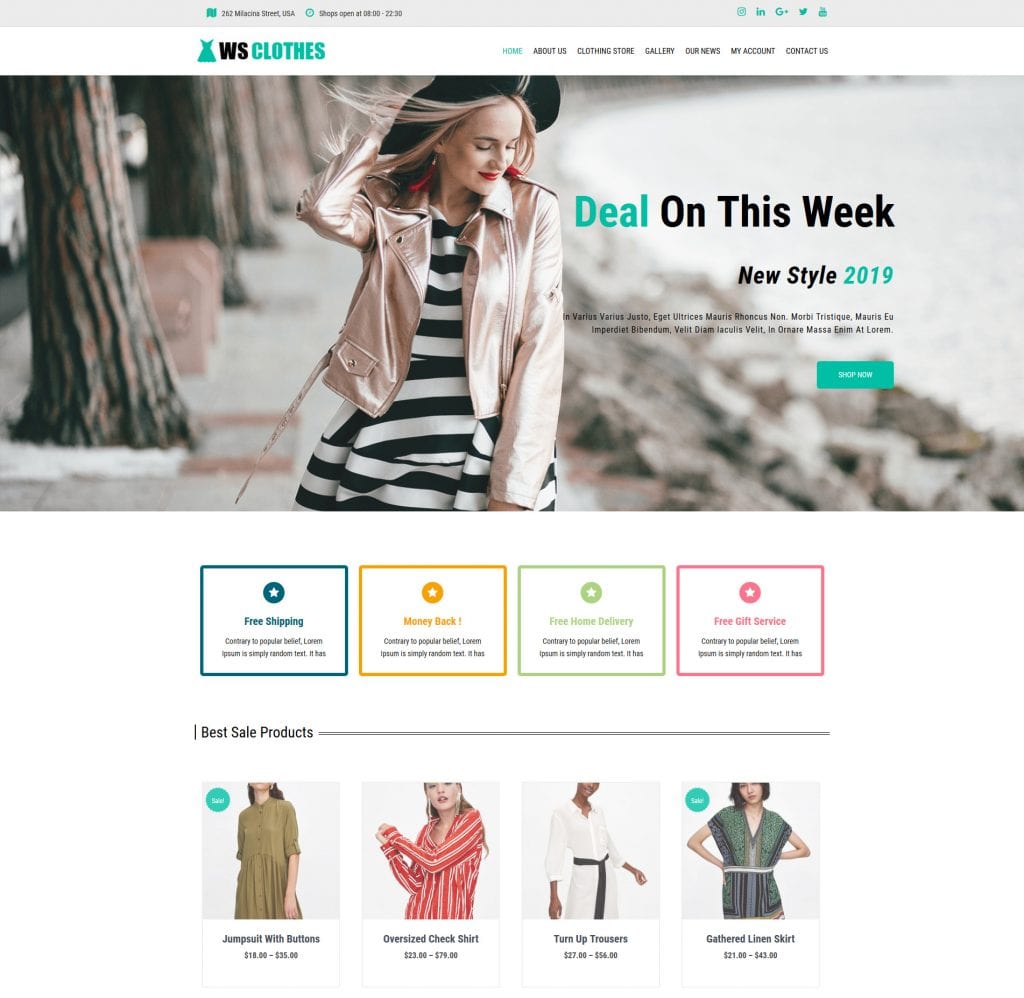 WS Clothes is a free and elegant fashion theme for WordPress sites. It focus on design with beautiful sliders, spectacular images, amazing news and more. Moreover, it also helps you display products to boost your sales as high as possible.
Highlights:
Amazing and beautiful design
Clean
Good support service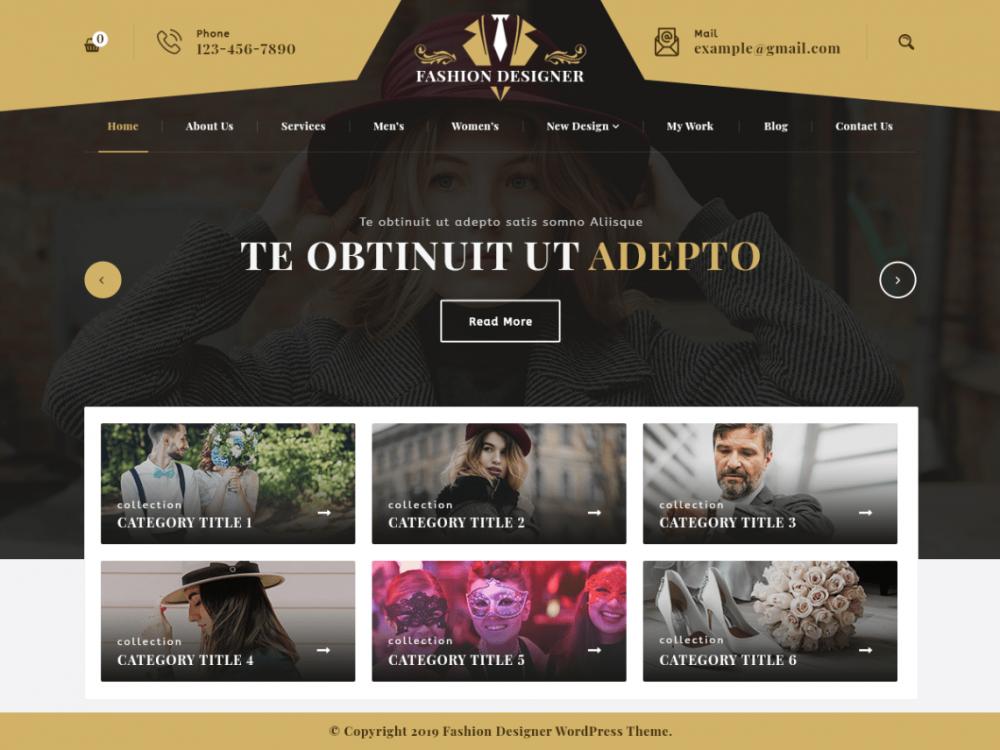 Free Fashion Designer WordPress theme is specially for fashion and design creators. Its designed look is elegant, powerful and attract audience at the first sight. Using it, you will have a supreme tool for launching your creative service.
Highlights:
Nice look
Easy to custom
Good performance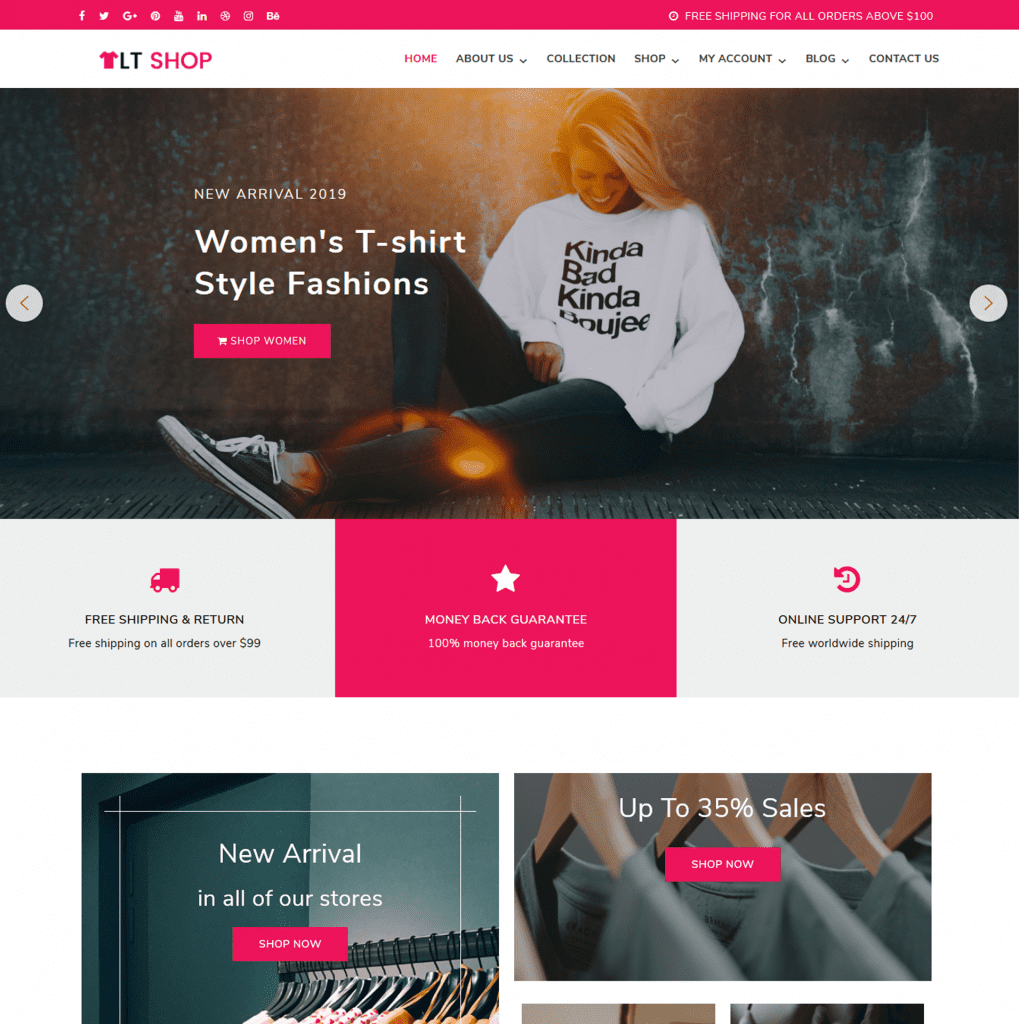 LT Shop is totally good for fashion clothes shop. It is colorful, beautiful and easy to use with Elementor. This theme is also integrated with WooCommcer for boosting your sales.
Highlights:
Attractive
Responsive layout
Easy to build layouts
WS Lingerie is a WordPress fashion themes designed for lingerie store. It provides nice layouts that attract your customers and great purchasing features as well as blog area for sharing lastest news and updating trends.
Highlights:
Nice design
Highly compatible with WooCommerce
Easy to set up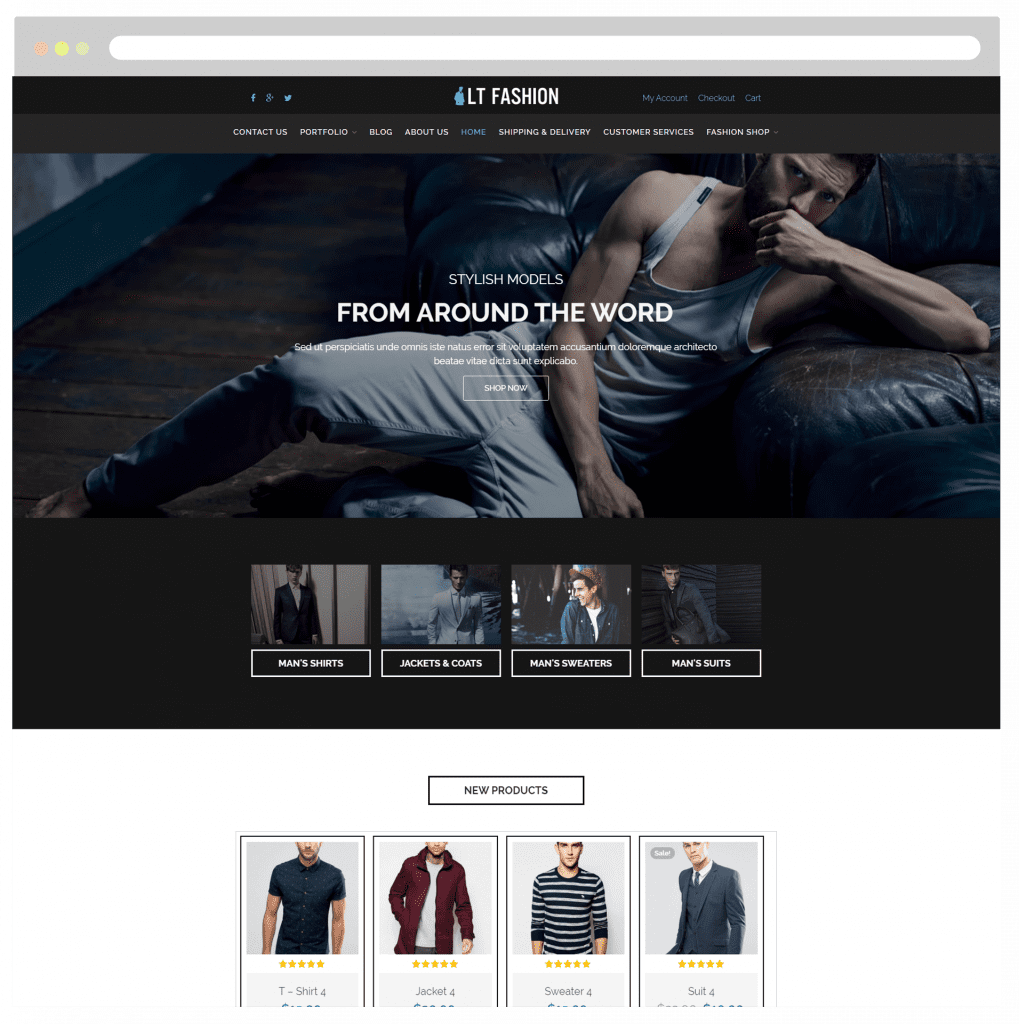 If you are looking for an amazing men fashion themes, you should consider this nice theme. LT Fashion is well-design, display your content in a most eye-catching way, support strongly for WooCommerce with a clean Shipping & Delivery page, and more.
Highlights:
Minimal and elegant
Easy to build your content
Responsive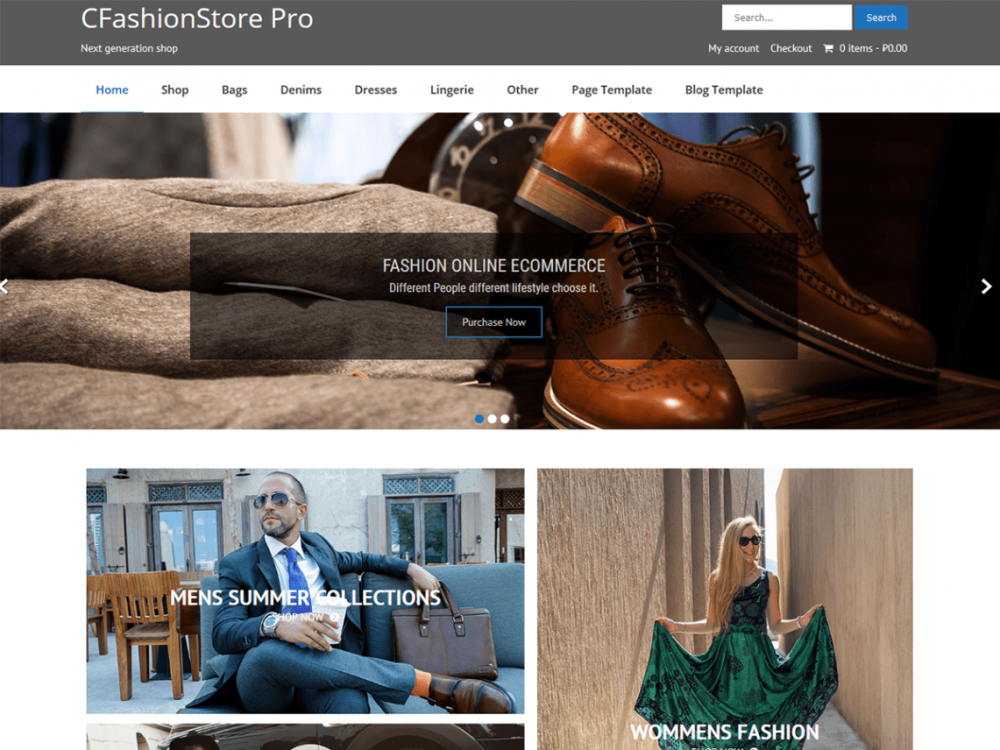 We are glad to introduce to you CFashionStore – a ultimate theme for web-based shopping. This theme is a good option for building a fashion store thanks to its spectacular design and system of selling virtual products. Moreover, it's free. Get it and enjoy!
Highlights:
Nice design and layouts
Numerous features
Highly customizable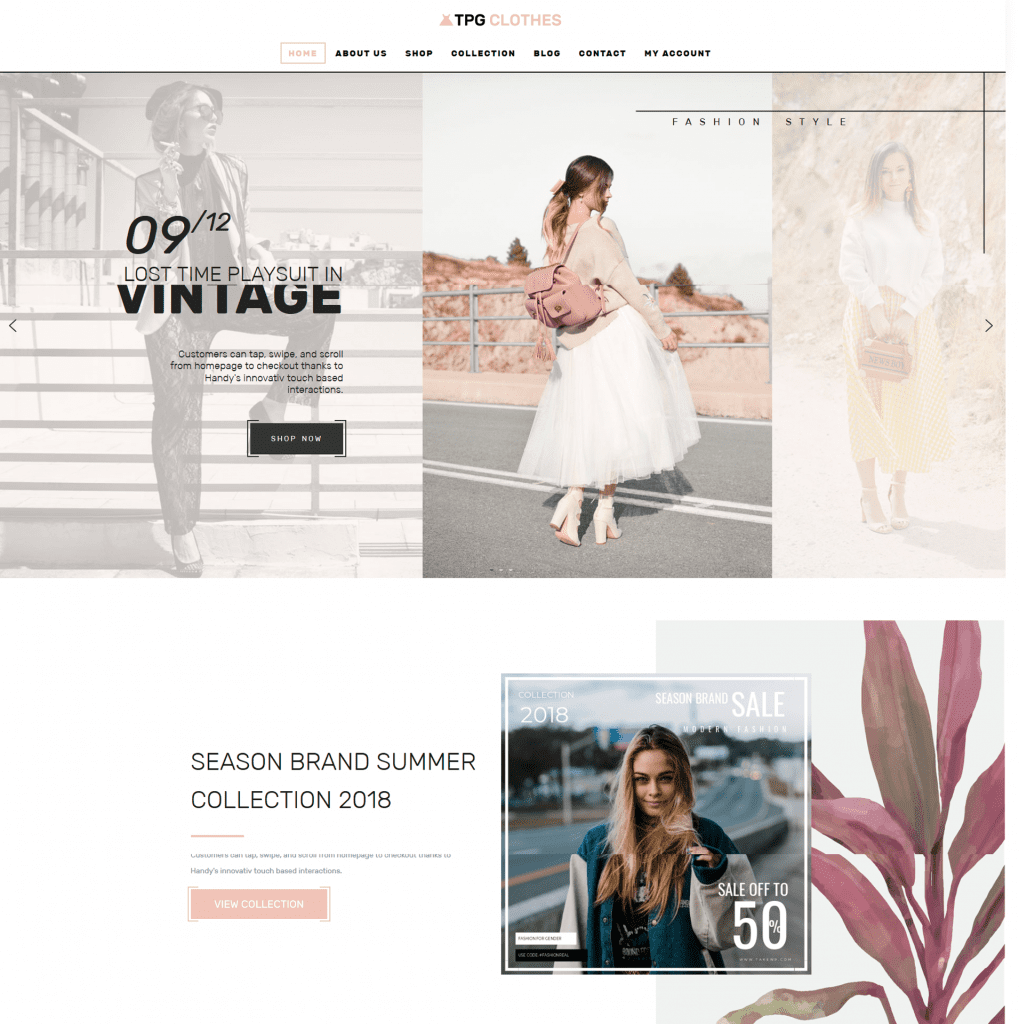 TPG Clothes is clean, beautiful with lovely sliders that can help you showcase the newest products, lastest trends, discount for customers. Its fantastic visual effect is a great advantage that get your viewers' attention and increase your sales.
Highlights:
Elegant
Responsive
Good support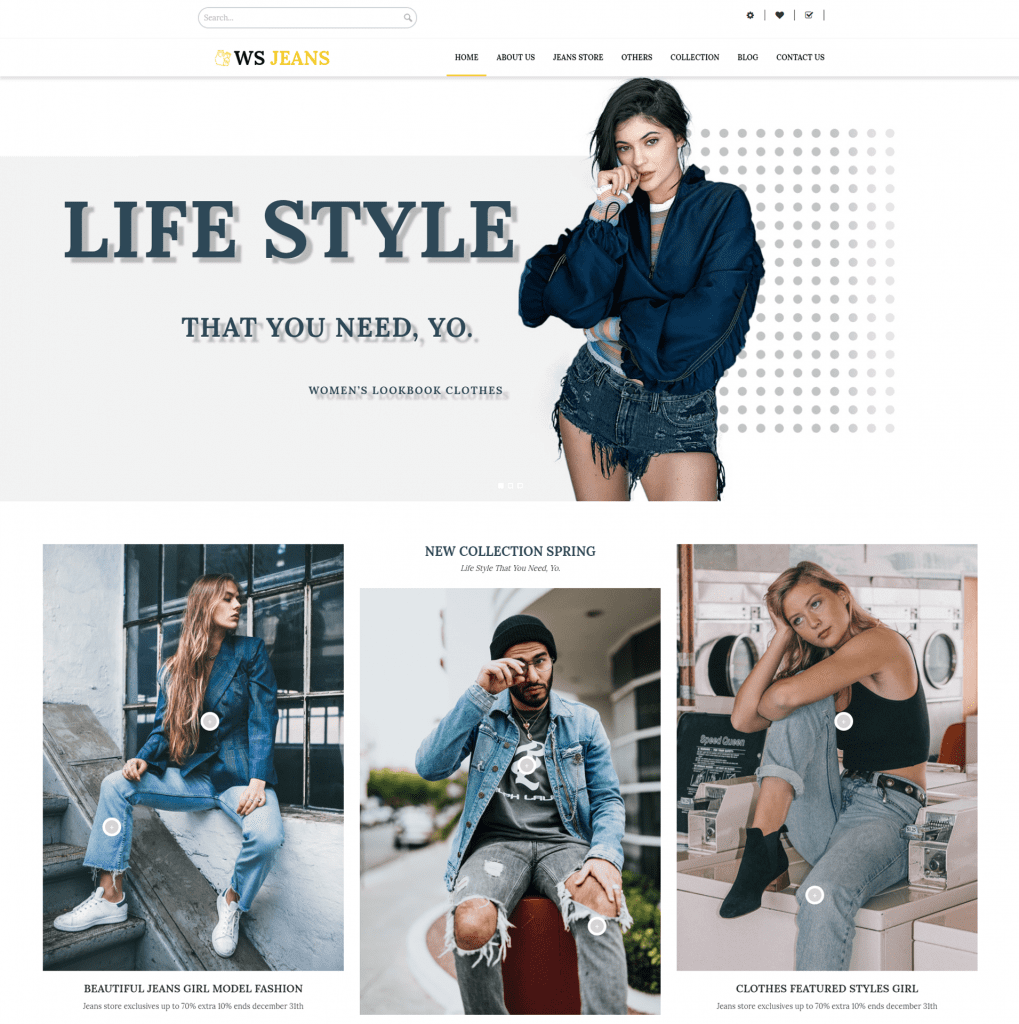 WS Jeans is simple and attractive. It can be used to show your fashion products, promote the brands and raise the sales. With the ability to display your website in many types of devices, it is surely an ideal choice for fashion store owners.
Highlights:
Support for WooCommerce
Fully responsive
Awesome functions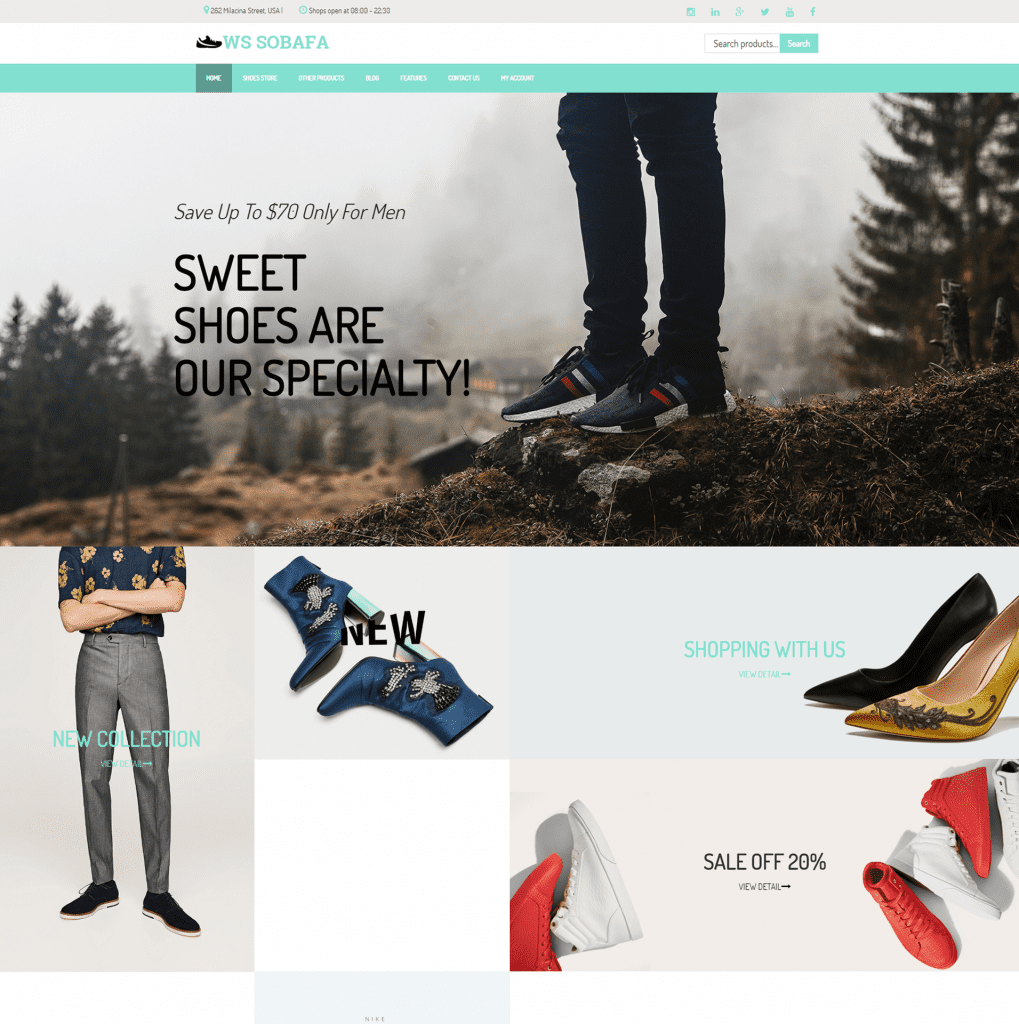 WS Sobafa is an attractive shoe fashion theme. It comes with special layouts that lets you show shoe products and interesting features for shopping. Moreover, it enables your customers to easily purchase products thanks to ability to integrate with WooCommerce.
Highlights:
Responsive
Compatible with Elementor
Easy to modify
Conclusion
This is our suggested list of 15 awesome WordPress fashion themes. If you are going to open a clothes store or create a fashion blog, come and try these great themes! If you have any opinion, comment below. We'd love to know.
Besides, you can visit our free fashion WordPress themes to get a beautiful one!