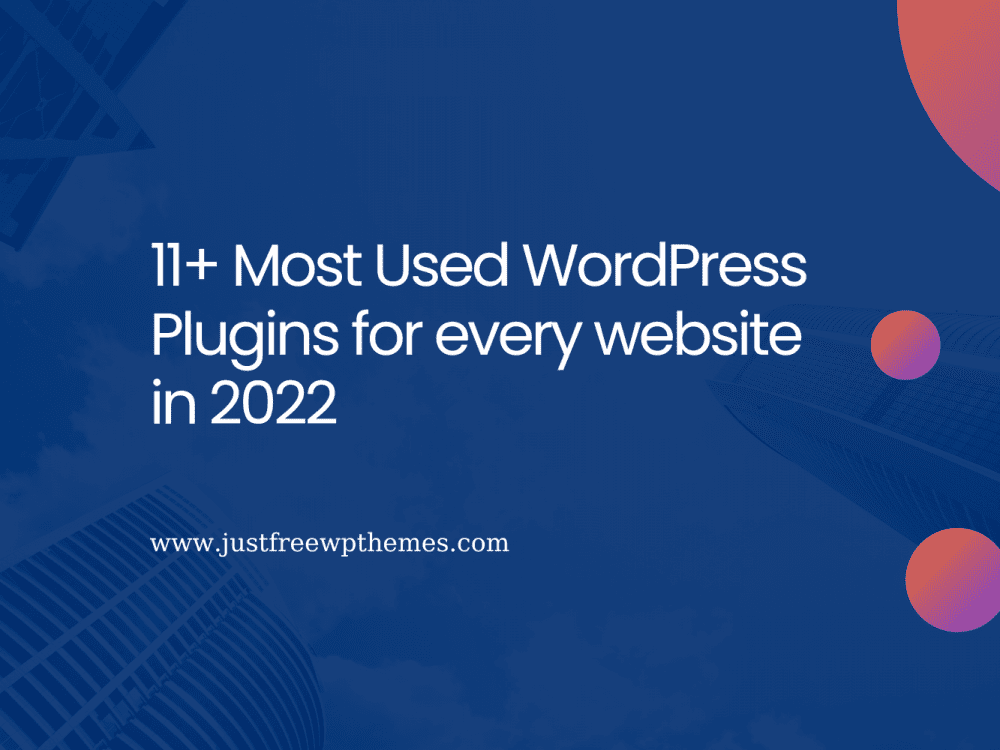 Up to now, the WordPress repository has stored and managed over 59,813 free plugins. However, what plugins are really necessary for your website? In today's blog, we will share with you a collection of the 11 most used WordPress Plugins of all time. They will help you handle various tasks so that you can easily fulfill your targets and grow your website efficiently. Now, let's check them out.
How to determine the best WordPress plugin for your website?
The diversity of free WordPress plugins may make it difficult for you to know which plugin is suitable for your website. Hence, we will provide you with some suggestions that you need to consider before choosing the best plugin for your website.
First of all, you need to choose a plugin that is packed with a gallery of specific features or functionality matching your requirements.
Next, you can choose a good plugin based on positive user reviews and the number of 5-star ratings.
A high-quality plugin should be updated regularly to help your website catch up with the latest features, improve the security of your website by patching up any holes, as well as ensure the most effective performance for your website.
You also select a plugin based on its provided pricing plans.
11 Must-used WordPress Plugins for your business

Yoast SEO is one of the most prevalent WordPress SEO plugins currently. With over 5 million active installations, this plugin is more and more significantly affirming its position in the market. The purpose of this plugin is to help you effectively improve your website's ranking on Google search engines.
In addition, it allows you to add the main keyword, meta description, slug, SEO title. Moreover, it will automatically analyze and give you many excellent recommendations based on your provided keywords and content to improve SEO.

Wordfence is specially designed to provide your website with a robust fence to protect your website from malware, malicious code, hackers, etc. It is well-known as the most powerful WordPress security plugin for your WordPress. This plugin is packed with a list of excellent features to help prevent your website from malware. For example, with a malware scanner, you can check all core files, themes, and plugins for malware, bad URLs, backdoors, SEO spam, malicious redirects, and code injections.
Moreover, it checks your WordPress site for known security vulnerabilities and immediately sends notifications and alerts to you via email, SMS, Slack. To sum up, Wordfence is a powerful tool to manage the security of multiple sites in one place.

The next must-have WordPress plugin that we would like to recommend is Contact Form 7. With the assistance of this plugin, you are able to create and manage multiple contact forms. It provides you with a lot of necessary fields and gives you many pre-made forms. You can choose one of them and customize the styling and fields to suit your requirements.
Besides that, it also supports Ajax-powered submitting, CAPTCHA, Akismet spam filtering, and much more. Further, Contact Form 7 is very easy to use and compatible with many other plugins and themes. Hence, it is necessary to install this WordPress Contact Form Plugin to allow your customers to contact you easily.

This is an indispensable WordPress ecommerce plugin for ecommerce websites. The Woocommerce plugin will help you easily create and manage your online store effectively. After installing the plugin, you are able to add as many products/items as you want to your store. Additionally, it allows you to display your high-quality products in a beautiful layout to draw the attention of your customers.
Moreover, Woocommerce works well with a wide range of prevalent plugins. Thanks to that, you can maximize the functionality of your website. What's more, it allows you to display affiliate links and provide different payment methods to improve the user experience in your store.

If you want to analyze your website to conduct effective marketing campaigns to grow your website, then MonsterInsights is a perfect solution. This plugin has over 3 million active installations. By using this plugin, you can track and analyze the traffic on your website and create reports regularly. You can base on those reports and databases to have the right actions. Especially, you can monitor and manage all reports directly from your WordPress admin dashboard. Besides, this Google Analytics WordPress plugin only takes you a few clicks to install and enable all advanced Google analytics features.

If you don't have professional coding knowledge, don't worry. Elementor is a perfect WordPress page builder plugin for those who are not good at writing code. Because this tool will help you minimize the process of creating your beautiful website via plenty of useful blocks and a drag-and-drag interface. Thanks to that, you are freely able to design any amazing website you want without writing a single line of code. Elementor also comes with a collection of excellent widgets and features. Another remarkable feature is that it can integrate with other plugins to extend its capabilities.

W3 Total Cache specializes in providing robust features to help your website boost performance and reduce load times. Hence, your website will have more chances to increase its ranking on search engine results thanks to a content delivery network(CDN). It is completely compatible with shared hosting, virtual private/dedicated servers, dedicated servers, etc. Additionally, W3 Total Cache is considered one of the most outstanding WordPress Cache Plugins. To wrap up, once your website takes a lot of time to load, it is necessary for you to use this plugin to speed up your website.

TranslatePress will support you in creating a multilingual website without effort. With this plugin, you are able to translate the entire page from the front end with a single click. It is the best WordPress Translation Plugin in terms of diverse features and ease to use. You can integrate it with Google Translate to set up Automatic Translation by using your own Google API key. Another useful feature is that it supports both manual and automatic translation.

You should not ignore this WordPress share button plugin if you want to increase traffic and engagement by encouraging your readers to share your posts/page to their social media accounts. The Ultimate Social Media Icons supports over 200 social media platforms, so you can easily display your favorite platforms directly on your website.
Besides, you can customize the appearance of your social media share icons as you want by picking from 16 different layouts. It also allows your website visitors to subscribe to your blog by Email. Last but not least, you are able to display them in any position on your website.

WPCode is a useful WordPress header plugin for your website once you want to add code snippets to edit your website without editing your theme's functions.php file. It allows you to add a lot of codes such as Google Analytics, custom CSS, Facebook Pixel, and more to your WordPress site's header and footer. Moreover, you can take advantage of this plugin to add custom PHP snippets, JavaScript code snippets, CSS code snipets, and HTML code snippets, with full conditional logic.

The last most used WordPress Backup plugin that we would like to introduce is Updraftplus. This plugin plays an important role in helping you back up your entire website including plugins, themes, databases, and others with a few clicks. Also, it allows you to backup your website directly to a lot of file hosting services such as Dropbox, Google Drive, Amazon S3 (or compatible), UpdraftVault, Rackspace Cloud, and much more with the premium version.
By using this WordPress backup plugin, you can prevent your website from being vulnerable to other issues such as server crashes, hacks, security flaws, faulty plugins, damaged websites, and much more.
The bottom line
Those are all the most used WordPress plugins for all websites in 2022. Let's share with us the plugin you think is the best one for your website. Moreover, you can also recommend other must-have WordPress plugins by leaving a comment below. We hope that our blog gave you a lot of great tools to grow your business effectively.
Moreover, do you want to change your website's appearance? Visiting our website and exploring a wide range of stunning, free WordPress Themes are a great idea for your website.