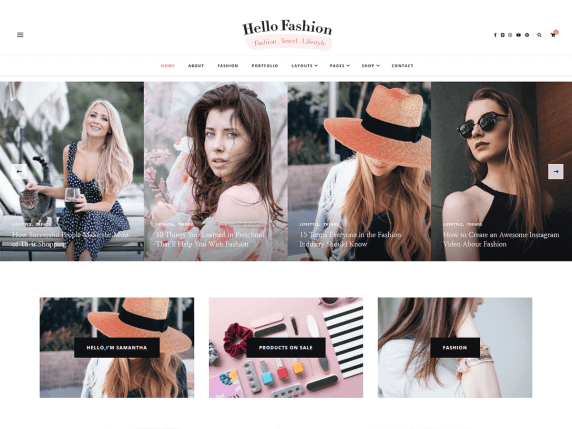 A crucial element for journal, newspaper, or magazines sites is the content showcase. Therefore, it is imperative for you to choose the best WordPress Journal Theme supporting you in both organizing and presenting content. With an aim to help you pick the most suitable WordPress Journal Theme among thousands of available ones in the current market, we have collected 30+ Enjoyable WordPress Journal Theme In 2021. Check it out!
Is it essential to install WordPress Journal Theme?
For journalists, WordPress Journal Theme is the best solution for them to create stunning websites in a short time without any coding or technical requirement. That means users are able to organize content in an interesting way with different layouts. And, they also enable to build up content-rich websites, focusing on notable news, exciting images, and other important items depending on their own need at ease. Last but not least, almost all WordPress Journal themes in this collection can integrate with many popular plugins, so it would be possible for you to enhance your site possibility.
Top 30+ Useful WordPress Journal Theme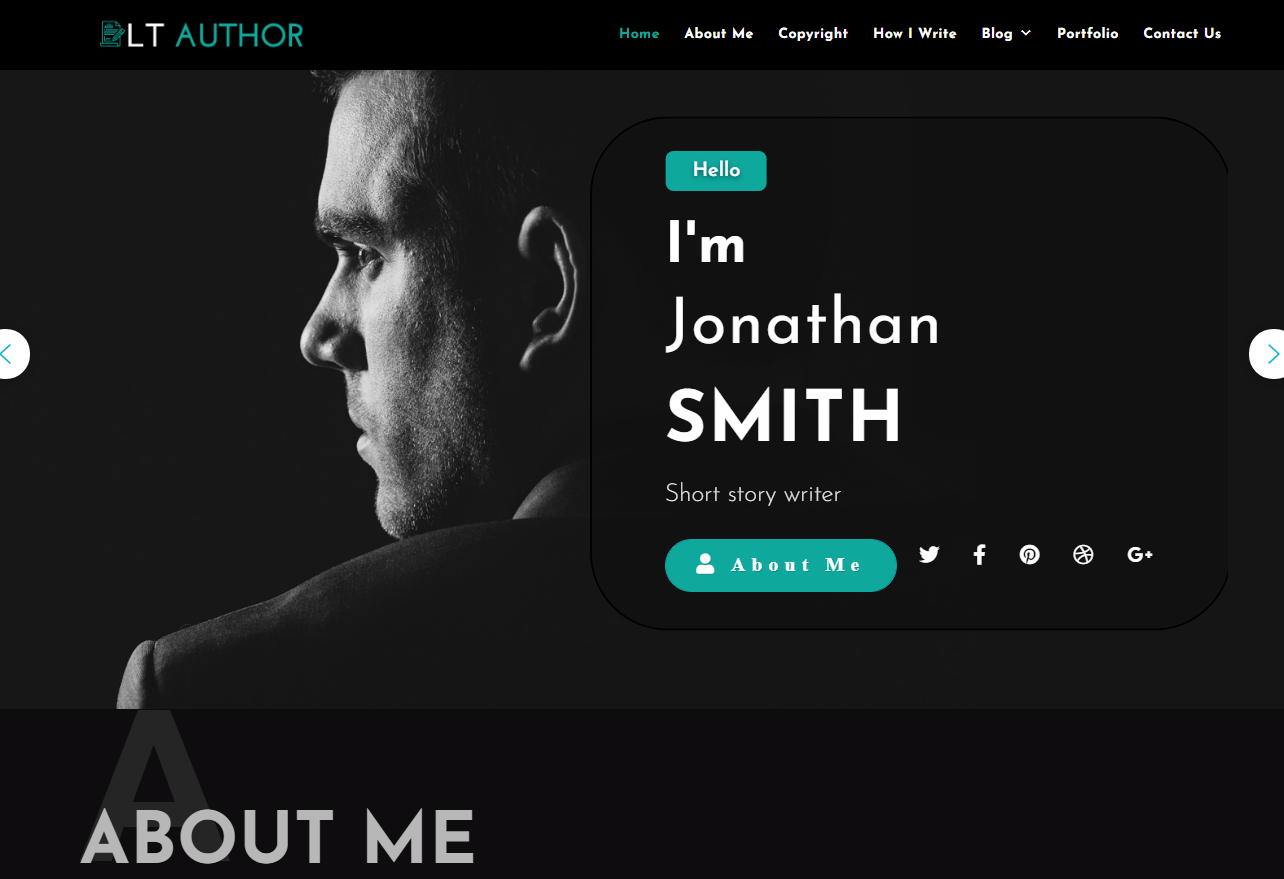 In the first place, LT Author is a free Journalistic WordPress theme that is extremely wonderful for writers to spread their writing to readers around the world. The most outstanding feature of this theme is that it comes with Elementor Page Builder. That means you are free to create and customize any items in your own wish. Also, it owns various customization options for you to modify your site appearance.
Highlights
4 color schemes
Totally responsive
Shortcode support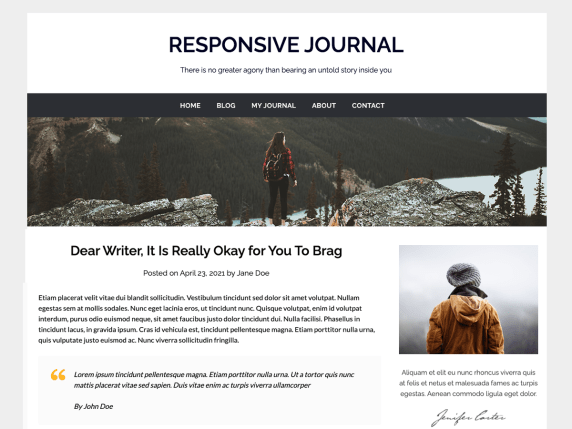 Secondly, we really want to suggest Responsive Journal as one of the most valuable WordPress Journal themes in this collection. Fully responsive and SEO-friendly are these features that the Responsive Journal keeps in mind. Besides, it also provides plenty of advertisement areas for you to embed Google Adsense or other ads types into your WordPress sites.
Highlights
Elementor support
Clean and optimized code
Advertisement space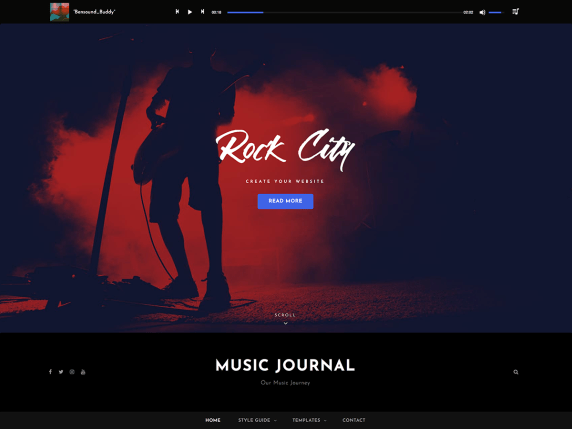 Building based on Photo Journal, Music Journal has all of the main features of the mother theme and extra features designed for music. By using this theme, you have a chance to present your music content in an eye-catching way thanks to its various sections like sticky playlist, featured content, portfolio, etc. Moreover, it also comes with a fully responsive interface, which makes your site automatically adjust to fits all kinds of screen resolutions and sizes.
Highlights
Easy to use
Fully customizable
One-click demo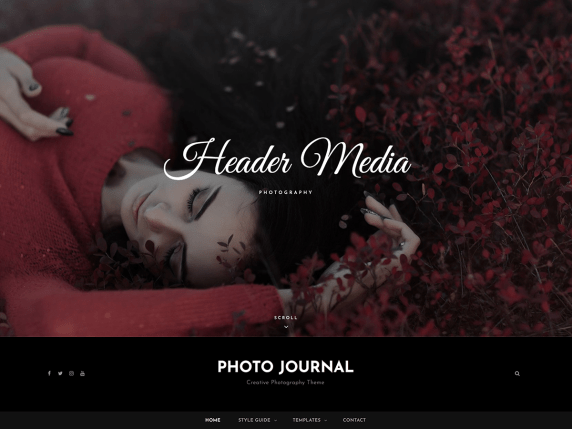 Fourthly, Photo Journal comes with a dark and image-centered design for photographers, bloggers, and other creative areas. This theme provides many setting options to ensure that your images can always perform in high quality and resolution. Furthermore, with various features like hero content, portfolio, services, and much more. So, you can display the good points of your business logically, allowing customers can access and navigate to what they need easily.
Highlights
HTML5
Simple to customize
Various settings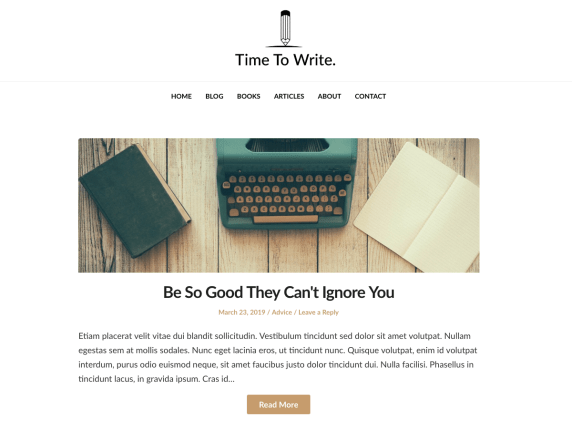 Journalist Feedly is the next WordPress Journal Theme that we highly recommend. It is an ideal choice for those who desire to make good-looking but professional websites. Plus, it also offers countless spaces for ads and works well with a wide range of ad networks like Google DFP Ads, etc. In addition, this theme also comes with SEO-optimized, responsive and flexible design.
Highlights
Elegant dark design
Simple to set up
SEO-friendly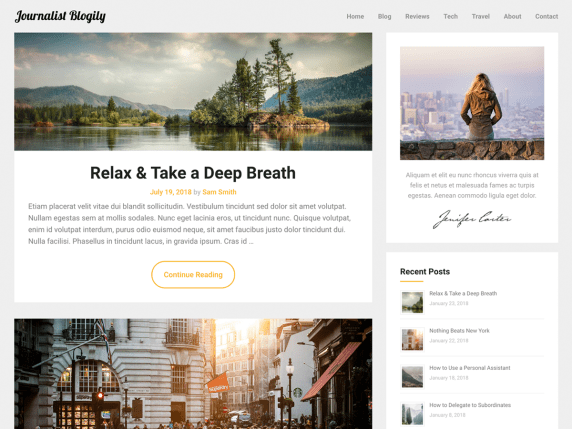 The following WordPress Journal Theme in this article is JournalistBlogily. This theme provides unlimited customization options for you to customize your site appearance to your own demand. With many ad spaces, you hold the chance to put ads on your site without changing the look and feel of your site. Last but not least, JournalistBlogily is a creative and minimalistic theme that is proper to magazines, journal blogs, and review sites.
Highlights
SEO-optimized
Responsive
Flexible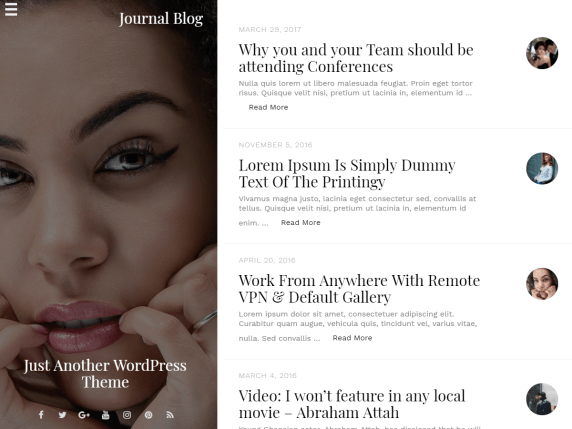 This is an impressive and attractive Journalistic WordPress Theme for all kinds of blog sites. This theme gives strong support for journalists, photographers, and writers or authors to present their blog or writing to readers. Thanks to the SEO-optimized feature in mind, your site will rank high position in search engines results simply.
Highlights
Mobile responsive
Customizer Options
Clean code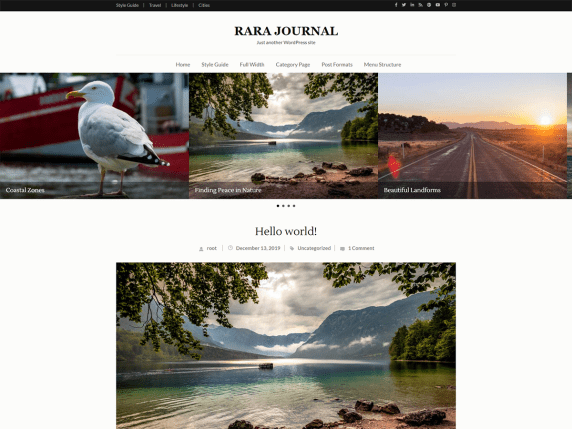 Rara Journal is tailored to help you make stand-out websites for the journal, food, travel, and other kinds of blogs. With great support from a fully responsive interface, your site will maintain and render beautifully on any gadget. Additionally, this theme offers a variety of space for you to add text and advanced features to make your posts prominent.
Highlights
Clean
Responsive
Advanced features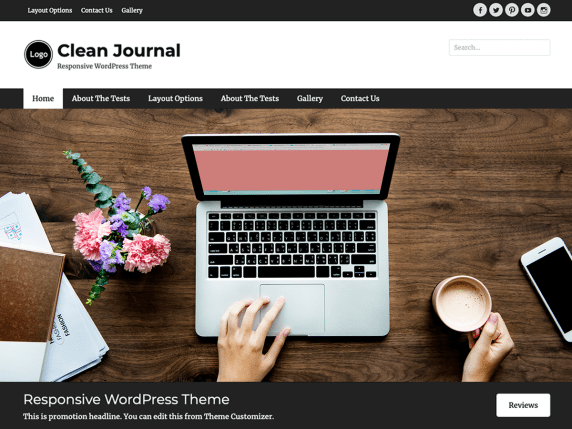 Clean Journal is one of the must-have WordPress Journal themes that you should not ignore. This theme is built based on Catch Base theme, HTML5, and CSS3 together with a fully responsive layout. Hence, it is extremely handy for you to design and customize the layout, styling, icons, and other elements in your own wish.
Highlights
Translation-ready
Responsive design
Various customizable options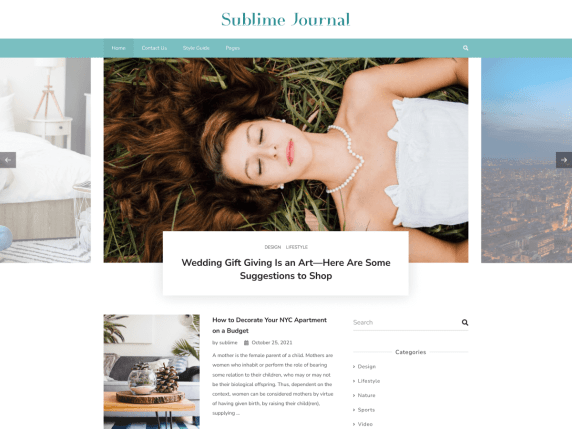 The following WordPress Journal Theme that should take into account is Sublime Journal. Based on the Sublime Blog theme, this theme inherits all core functionality and styling from the mother theme. This theme comes with a powerful theme framework, which assists you to customize the look and feel of your site without touching any line of code.
Highlights
100% clean and responsive
SEO-friendly
Gutenberg compatible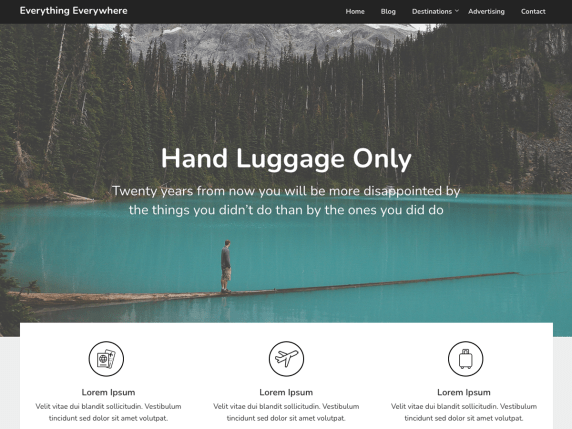 The adventure Journal is an impressive WordPress Journal theme that will meet all of your demands in terms of building websites for those who want to share their traveling and adventures experience. By utilizing this theme, you are able to modify the header image, write a blog, and do other actions with no limitation. Last but not least, it also comes with an SEO-friendly feature, helping your site climb on top search engine result smoothly.
Highlights
Flexible
SEO-optimized
Lightweight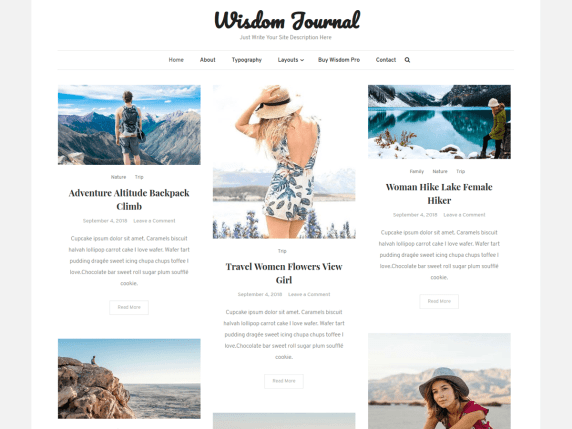 Wisdom Journal comes from Wisdom Blog WordPress Theme. This theme is not only completely responsive but also so easy to install. In this way, your site will be displayed perfectly on any gadget from mobile phones to PCs. With the support from a Customizer, you are able to customize the look and feel of your site in no time.
Highlights
Customizable
Responsive
Easy to use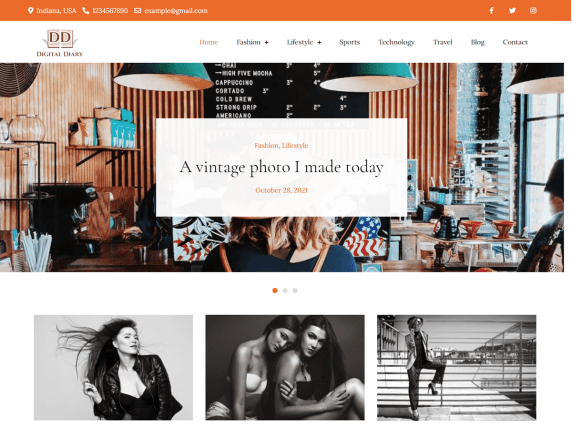 This is a dynamic but modern WordPress design. By using it, you are able to show off your online journal and all kinds of blogs at ease. Plus, Digital Diary is also a user-friendly WordPress Journal theme.
Highlights
User-friendly
Essential features
Useful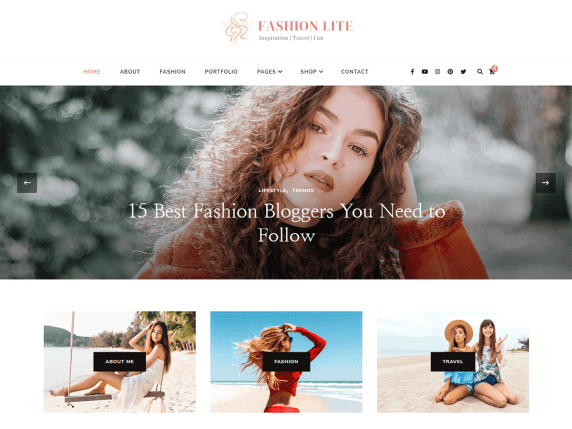 Fashion Lite is a content-rich theme designed for professional bloggers. Thanks to the great assistance of this theme, you hold opportunities to make several niche sites with different layouts. This theme also has more than 1000 Google Fonts and countless color options for you to edit your site. On top of that, you enable to take full advantage of the newsletter section to collect emails from visitors.
Highlights
SEO-friendly
Fast-loading
WooCommerce compatible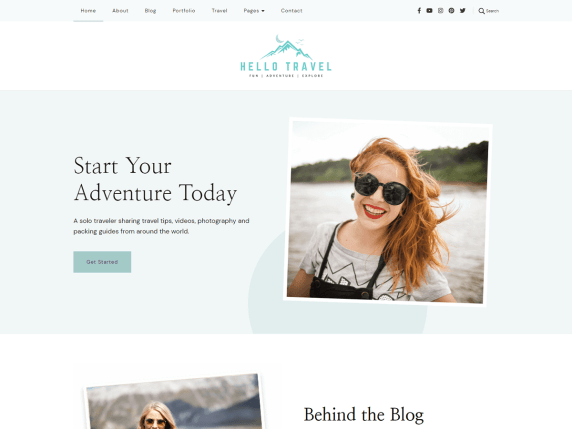 Along with the above WordPress Journal Theme, Hello Travel is one of the must-have WordPress themes that we recommend for your site. This theme is an excellent option for people who want to create websites for any type of blog from the journal, beauty to fashion, recipes, etc. Moreover, this theme also consists of many useful sections for you to present your content like CTA, About, etc.
Highlights
1000+ Google fonts
SEO-friendly
Speed-optimized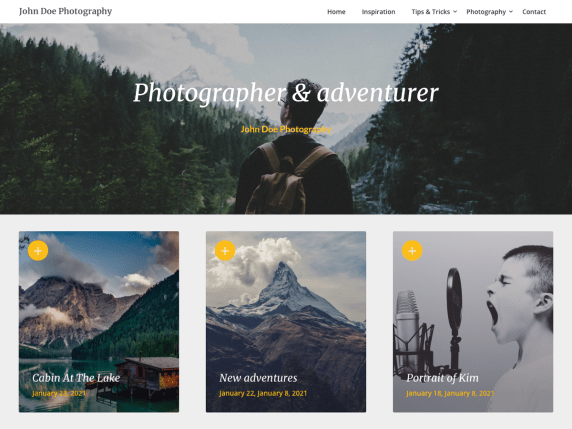 Photographers Corner features SEO-friendly, fully responsive, and speed-optimized, which is suitable for blogging, journalist writing, and so on. This theme allows you to get the best out of its features including affiliate marketing, unique and creative design, easy to customize features. You can use it to make newspapers for one page or single page as well.
Highlights
Completely responsive
SEO-optimized
Minimalistic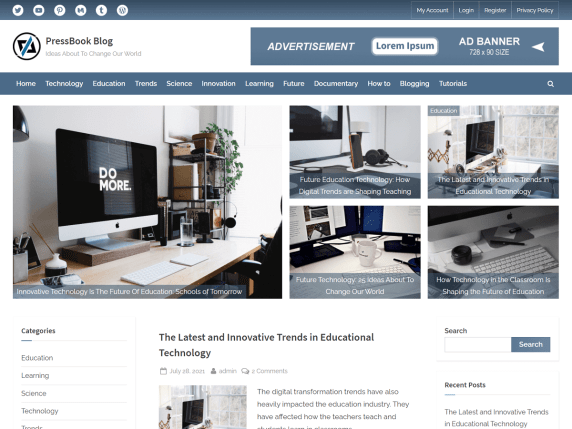 This multiple-purpose theme is notably useful for you to build up your site in any area. PressBook Blog gives you chances to make the most of its well-organized, responsive design, blog grid layouts, and various customizer options. Also, it comes with RTL language support, Jetpack, WooCommerce, Elementor, and other major plugins.
Highlights
Super-fast loading
High-performance
Flexible layout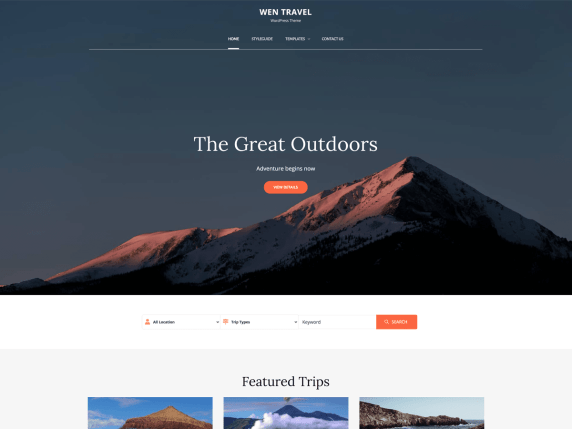 WEN Travel brings various features and functionalities for WordPress users to create travel-related websites, including journals. It has a modern interface that is totally responsive and packed with countless useful features. Besides, it also works well with the WP Travel plugin and offers many stunning sections to help you perfect your design.
Highlights
Fully customizable
Easy to use
Essential features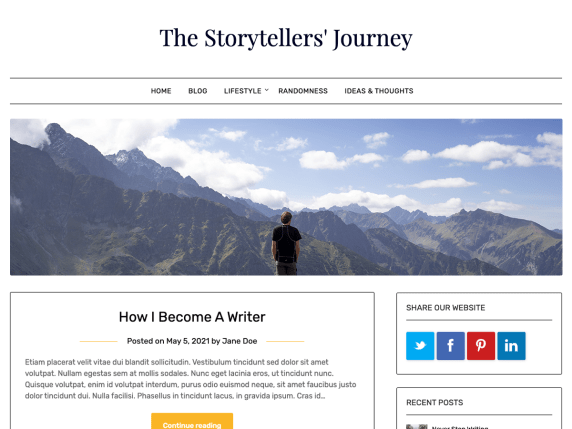 SimpleBasics is an elegant and minimalistic WordPress theme for bloggers and newspapers. This theme has a great sidebar that permits you to add widgets, links, or other elements according to your own need. Together with that, this is also an SEO-friendly theme that can make your site top the list of search engine results easily.
Highlights
SEO-optimized
Minimalistic
Clean and easy to set up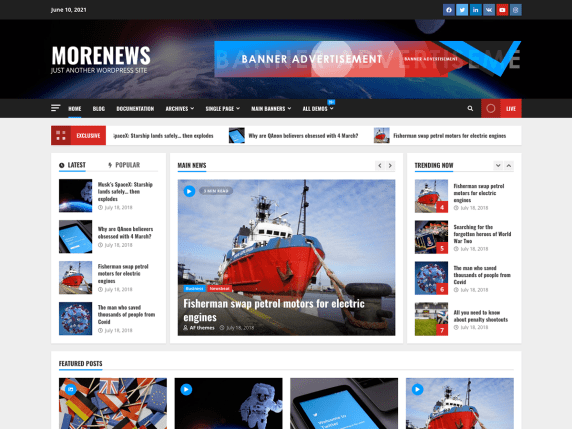 Ranking twentieth place, MoreNews is a fully-widgetized WordPress Journal Theme, letting users control and manage their site content without much effort. Besides, this theme also makes it possible for you to import unlimited free demo sites, too. On top of that, with the assistance of customizer options, you are able to change the look and feel of your site and see the changes in the live customizer instantly.
Highlights
WooCommerce compatible
Gutenberg support
Great support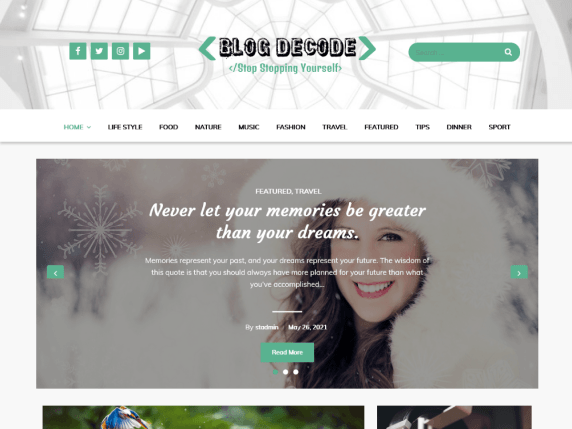 If you are searching for a modern design with high-quality features, Blog Decode is the best choice for you. This theme is well-matched with all blog types such as travel journals, food blogs, etc. It also comes with a fully responsive design that can automatically adjust to fit all devices.
Highlights
Custom headers
Full-width layout
Customization options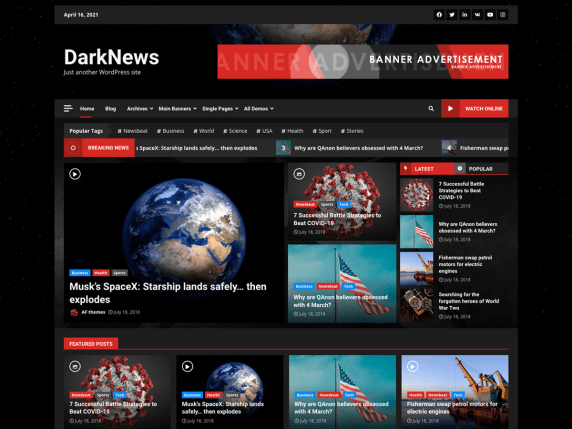 DarkNews is appropriate for news, journal, blog, magazine, and other similar websites. By utilizing this theme, you are able to use the 9+ custom widgets and widget areas to manage the content. Plus, you also are able to choose from a light or dark color mode easily. Last but not least, it works well with Gutenberg, WooCommerce, and comes with a live customizer.
Highlights
Fully-widgetized
Gutenberg support
RTL ready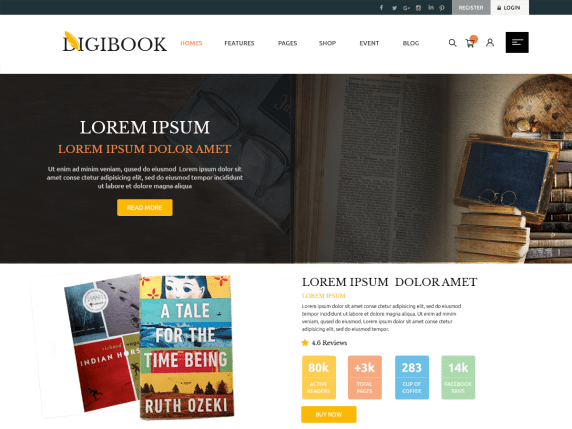 Digital Books is an eye-catching and trendy WordPress design. When installing this theme, you are able to apply its customization and personalization options to create and modify your site in your own interest. Digital Books are also based on the Bootstrap framework and shortcode, so it is so simple for you to set up and use.
Highlights
Responsive
SEO-friendly
Translations-ready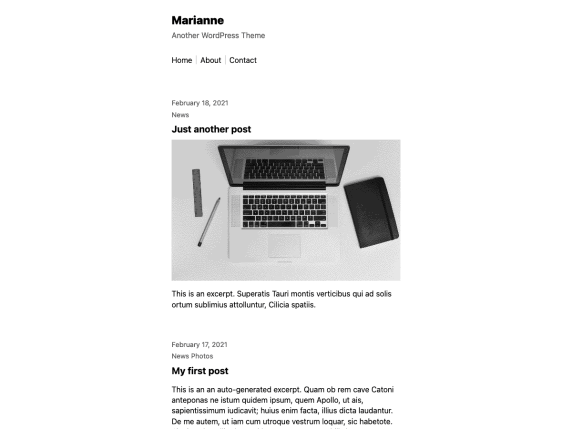 This theme is an optimum solution for WordPress users to make their writings stand out from other competitors. With various customization options, this theme is so flexible and has less graphism complexity. Marianne is suitable for journalists, bloggers, and writers to showcase their creative work.
Highlights
Minimalistic
Customization options
Flexible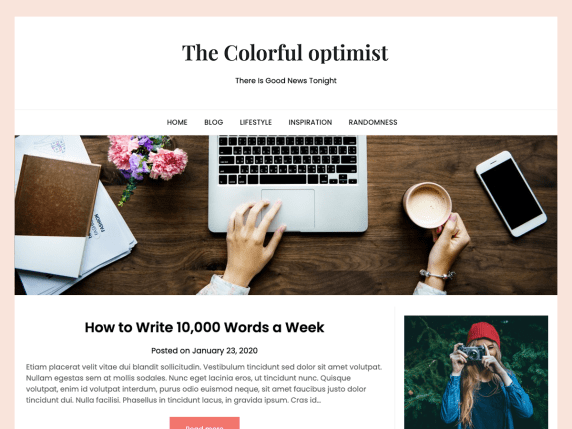 Colorful Newsly is used to develop sites for both journalists and newspapers or blogs. This theme is made with optimized and clean code, so your site will load very fast on any browser. Besides, you are likely to add Google Adsense or other ad kinds in the ad spaces at ease. Together with that, Colorful Newsly also comes with a fully responsive interface that can automatically adjust to match various types of screen resolution and sizes.
Highlights
SEO-friendly
Beaver Pagebuilder support
Fully responsive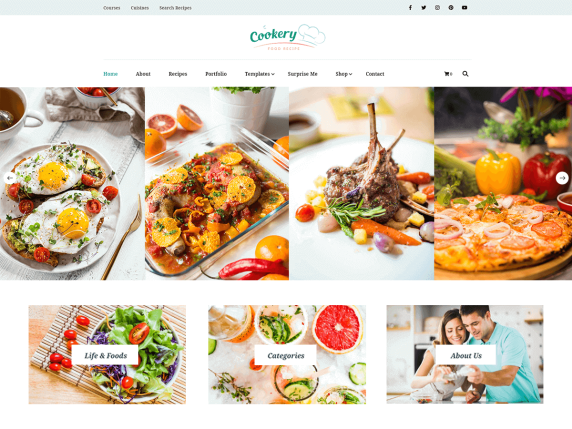 Cookery Lite is valuable for those who are keen on creating blog sites for journals, beauty, travel, etc. This is also an SEO-optimized, Schema ready, and users friendly theme. Thanks to the compatibility with the Delicious Recipes plugin, creating and presenting recipes are becoming so easy. Plus, it also supports more than 900 Google fonts and numberless colors options for you to modify the look and feel of your site.
Highlights
SEO-friendly
Newsletter integration
Unlimited color options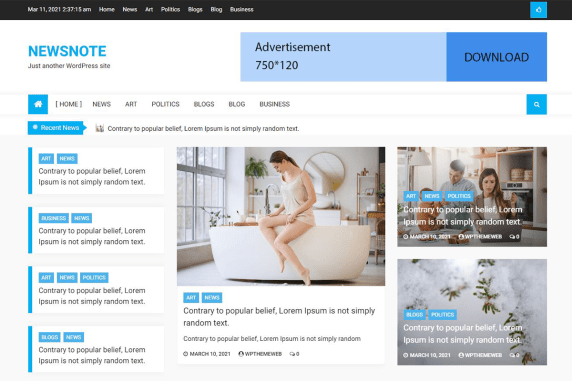 NewsNote is one of the must-have WordPress Journal themes in this list. This is a multipurpose WordPress theme that is proper with news portals, journals, magazines, and blogs. This theme is supported by widgets and customizer options.
Highlights
Responsive
Optimized codes
Great support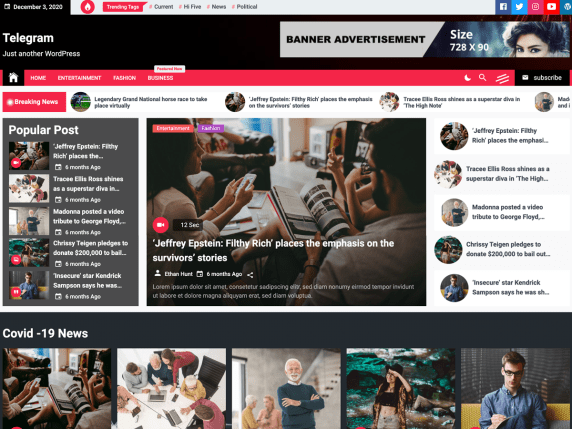 If you are a journalist, editor, blogger, and content writer, Telegram is just for you. This theme is compatible with cross-browser, eye-catching layouts, and different screen sizes and resolutions. Thanks to the integration with many major plugins, you are able to take your site to the next level simply.
Highlights
Customizer and Widget API support
Responsive layout
Clean

Travel Nomad gives you strong support for generating multiple kinds of blogs. In detail, you can apply this theme for journals, fashion, and other fields depending on your own demand. There are many sections in this theme to help you present your content in a visually appealing way. They are Banner with CTA, Latest Posts, etc.
Highlights
SEO-friendly
Speed-optimized
WooCommerce compatible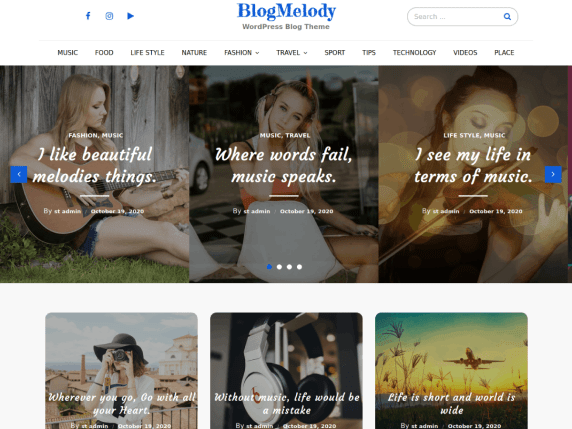 In the twenty-ninth place, BlogMelody gives ample features to make your site excellent. No matter what kinds of blogs you want to create, this theme will be the best option. By using BlogMelody, it is possible for you to take full advantage of custom headers, full-width layout, and other customizable options.
Highlights
Mobile-friendly
Fully responsive
Customization options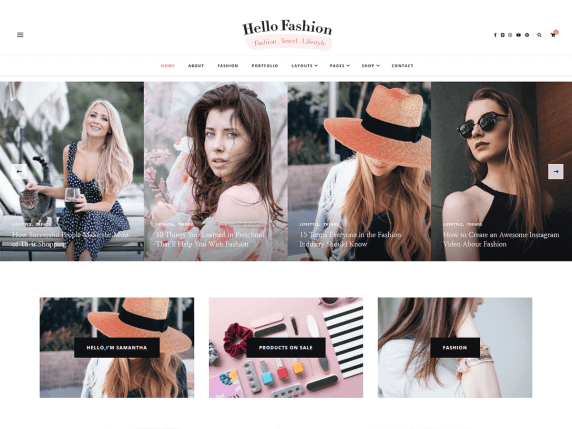 Finally, Hello Fashion brings you opportunities to make as many niches websites as for different topics in your own request in some simple steps. It provides 900+ Google Fonts and various options for you to change the layout of your own site. Furthermore, it also comes with WooCommerce, RTL-ready, and newsletter, so you are able to increase your site followers without any difficulty.
Highlights
SEO-friendly
Simple to use and customize
Speed-optimized
End
Have you got the best WordPress Journal Theme for your site? We hope that this article is useful for you and your site. In case you get into any trouble, feel free to leave comments below.
And, take a look at Free Magazine WordPress Themes to get advanced and modern WordPress themes and templates to enhance your blog site possibility.