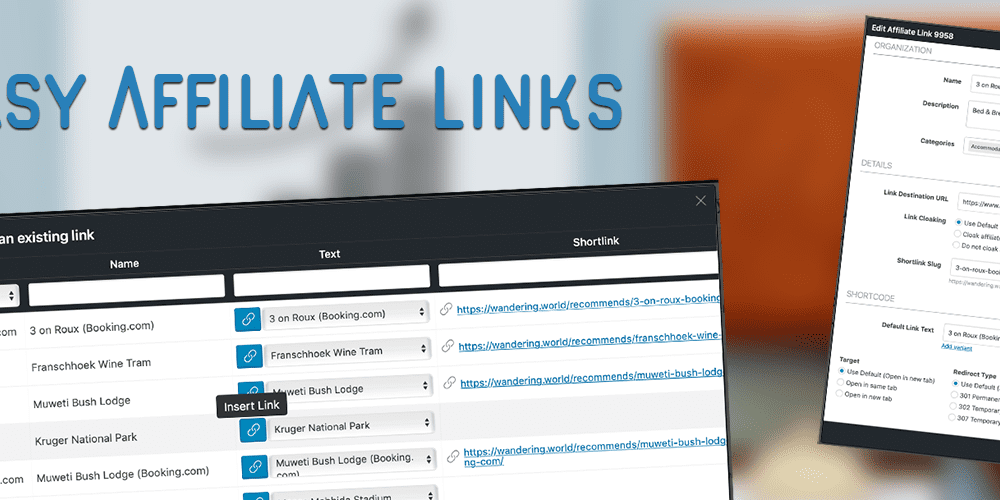 Are you seeking a method to shorten the long URL so that you can manage and track the website traffic easily? URL Shortener Plugin, known as "affiliate link cloaking" will help you do it. In today's blog, we would like to introduce a list of powerful WordPress URL Shortener Plugins that help you make all URLs on your website shorter.
Why should you try WordPress URL Shortener Plugin?
Nowadays, affiliate link cloaking has become more and more popular because it helps us manage long URLs, and remember and use them anywhere. Besides that, google search crawlers also can fetch short and optimized affiliate links easily and effectively. Because of its usefulness, we decided to introduce to you the Top 7 Best WordPress URL Shortener Plugin In 2022. Let's read the article and try these plugins below because we ensure that they will help you to build up your site well.
Top WordPress URL Shortener Plugin

The first wordpress URL shortener plugin we would like to bring you is Pretty Links. With the plugin, you can easily perform affiliate link cloaking to shrink, beautify, track, manage and share any URL. In contrast to any other link shrinking service, you are also allowed to shorten links by using your own domain name.
Provides features:
Gives you the ability to create clean, simple URLs on your website
Provides the detailed information of link tracking like IP address, region and many more
Tracks the number of hits per link
Cookie based system for tracking visitor activity across clicks
Highlights:
Easy and simple to use
Effective
WP Wizard Cloak is a next plugin we think you shouldn't miss. If you download and use this plugin, it will help you to cloak the links, track the user information like how many hits acquired on each link. And then, it will provide a detailed summary and information on individual clicks such as browser type, IP address, country code and so on.
Provides features:
Turns on the keywords of websites to links automatically
Send information to blog visitors by setting different destination options easily
Provides track information about affiliate links
Matches the existing links in older blog posts automatically
Highlights:
Usefull
Easy to install and use

Another wordpress URL shortener plugin that you should try is Easy Affiliate Links. With the plugin, you can manage all the affiliate links only at one place quickly and easily. In addition, clicks also get tracked for your links automatically.
Provides features:
Compatible with both the Classic Editor and new Gutenberg Block Editor
Accessible in the html editor easily
Provides tracking information of monthly clicks
Able to export your links to XML
Highlights:

WP Dynamic Links is the advanced wordpress plugin that not only helps you shorten the links but also perform tracking of links as well as helps to do split testing too. After installing the plugin, it will provide a detailed summary and information on individual clicks to help you manage your site well.
Provides features:
Generate click reports
Perform split testing
Turns keywords into URL's
Send visitors in different countries to different destinations
Highlights:

The fifth great plugin that can help you shorten link is ShortLink By BestWebSoft. This plugin gets short links from Google URL Shortener service without leaving your WordPress website. You can create tiny and flexible URLs that you can share with anyone and anywhere. Moreover, each shortened URL is complimented with a snapshot of the website that you're shortening, at the time of shortening.
Provides features:
Generate short links by direct output
Add unlimited number of fields for direct links input
Manage your links manually
Incredibly simple settings for fast setup without modifying code
Highlights:

Are you feeling tired of using 3rd party tools to shorten your website's long URL? Don't worry about that because URL Shortener By MyThemeShop will help you do that. With the plugin, you can create a short version of your URLs that they can be shared on social media, or even word-of-mouth. In addition, you will be up and running in minutes, so you can save more time.
Provides features:
Create short links
Fully customizable
Hide affiliate links
Organize short links in categories
Add links using shortcodes
Highlights:
Easy to use
Simple and fast

The last plugin we would like to share with you is ThirstyAffiliates Affiliate Link Manager. Like other URL shortener plugins, this plugin also helps you create affiliate link with the aim to manage your website easily.
Provides features:
Inbuilt affiliate link shorter or link cloaker
Insert standard links, shortcodes or even images
Customizable link URL prefixes
Full backup compatibility via standard WordPress backup solutions
Add your graphics, banners and other images to affiliate links for easy insertion
Highlights:
Easy and simple to use
Free
Conclusion
We have already recommended the Top 7 Best WordPress URL Shorteners In 2022 so that you can explore and enjoy them. We ensure that these plugins will be effective assistant tools to help you manage your website in a good way. If you feel the article is useful, please comment and share it with your friends. You can get more Free WordPress themes to make your website become more attractive here!