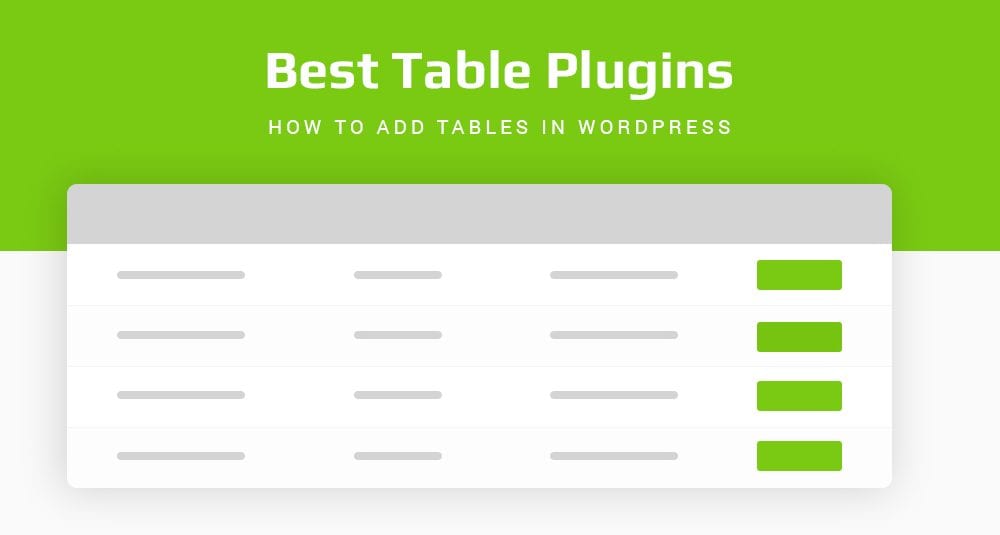 Make your presentation become more professional and well-structured by using the best Table WordPress plugin!
The prominent point of WordPress Table plugins
If you want to get the attention of visitors, you should provide the information with both separate content and a diverse format. In order to help you have a visual presentation that can attract users, we share with you a useful WordPress Table plugin collection. Let's see it!
Top WordPress Table plugins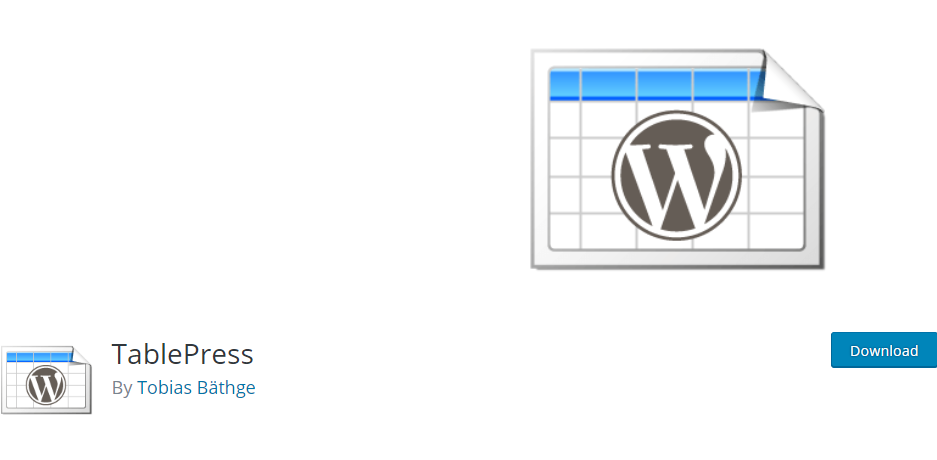 You enable to design a clear table with all the content you want by using TablePress. It is one of the effective Table WordPress plugins that you can change the data without the codes. Besides, you also import and export tables from/to Excel, CSV, HTML, and JSON files.
Provided features:
Ability to insert tables in posts, pages or text widgets
Allow filtering, managing and other table functionality in JavaScript library adds
Contain any kind of information in tables you want
and more.
Highlights:
Excellent Data Table Plugin
Easy to install and use
Customizable and Adaptable.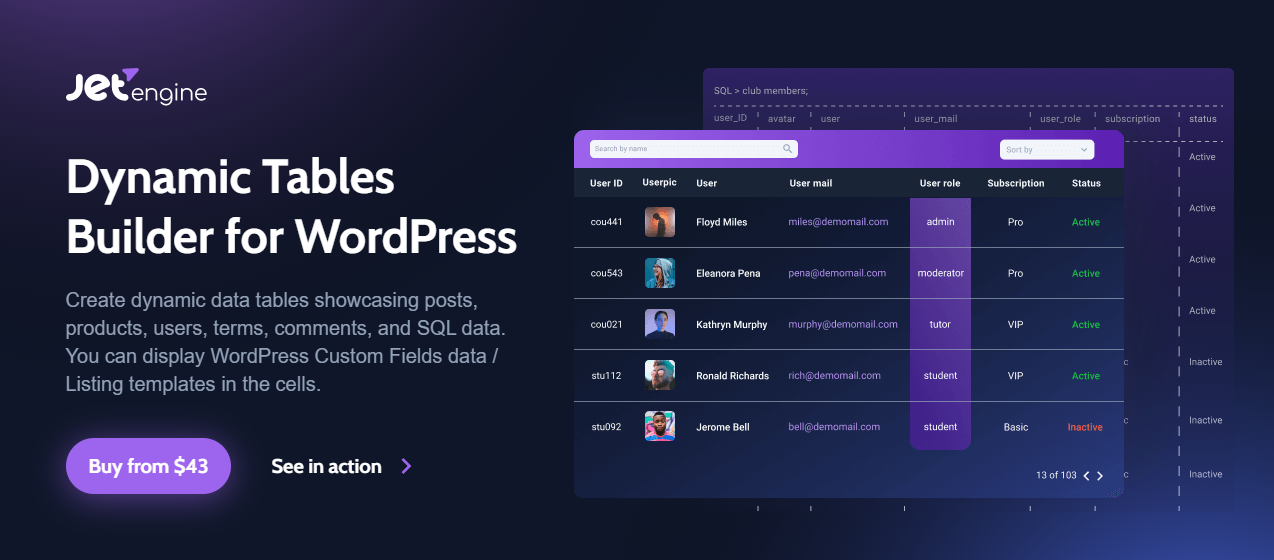 JetEngine is a cutting-edge WordPress plugin designed to streamline the process of building dynamic tables on websites. With support for custom fields, post types, taxonomies, and external APIs, JetEngine allows users to fetch and display data in a structured and interactive format. From showcasing product features and specifications to presenting membership plans and pricing comparisons, JetEngine's dynamic tables builder offers limitless possibilities for data presentation and enhances the overall website experience.
Provided features:
Enable users to create custom data tables and display them on their WordPress sites
Allow users to create custom post types and manage them efficiently
Add custom meta fields to post types, pages, and taxonomies, enhancing website functionality
Comes with a range of widgets, including search, filters, and pagination
Highlights:
Time-saving
Effective
Easy to customize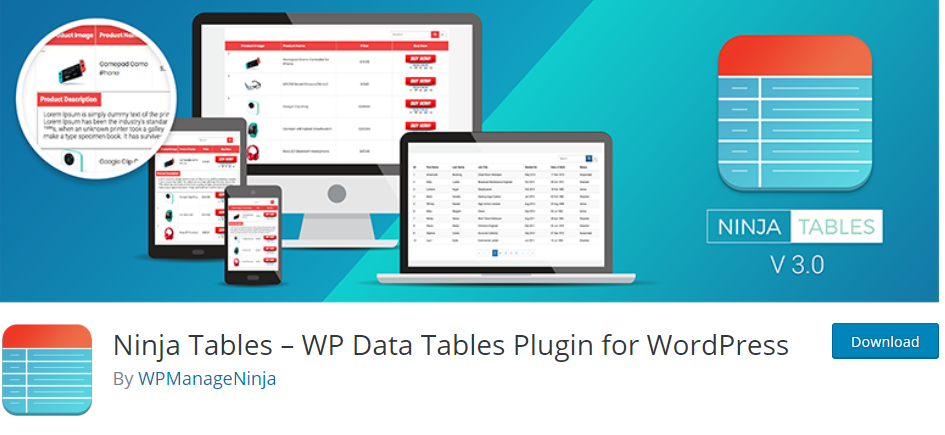 With Ninja Tables, you will create direct tables in post and page. There are many options you can choose such as themes, templates, images, media, etc that make your information attractive.
Provided features:
Have Fixed Layout, Table Inverse, and Compact Table
Support the maximum data without interrupting
Provide Bootstrap 3 Table Styles, Bootstrap 4 Table Styles, and Semantic UI Table Styles
and more.
Highlights:
Multiple configurations and display options and high-performance rendering.
Load fast and effective
Excellent features.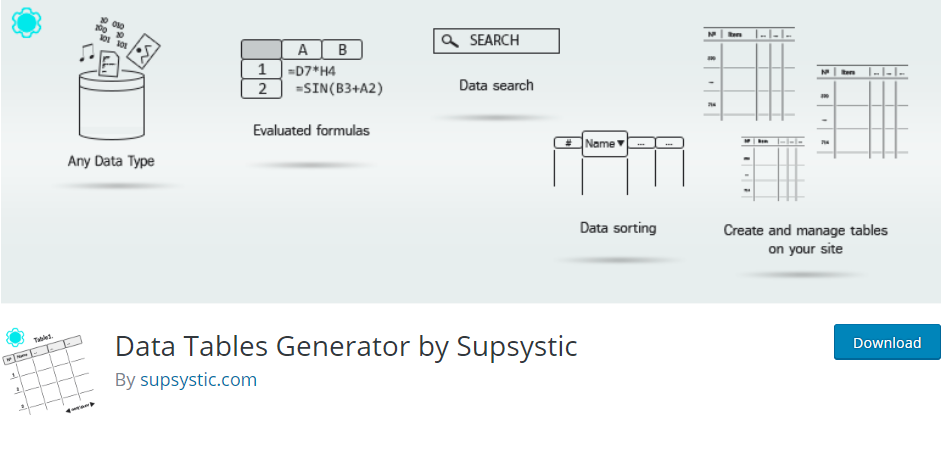 Data Tables Generator is on the high-rating Tables plugins top for WordPress that is used in lists or catalogs. It lets you design and modify the content table straight from your spreadsheet.
Provided features:
Give data tables responsive such as charts, graphs, date, time and others
Automatic import from Google Sheets
Make table Caption, Header, Footer, "Bold" and "Italic" font style
Change into diagrams from the data table
and more.
Highlights:
Useful and good assistance
Full of features to make your site stand out
Good mobile responsiveness.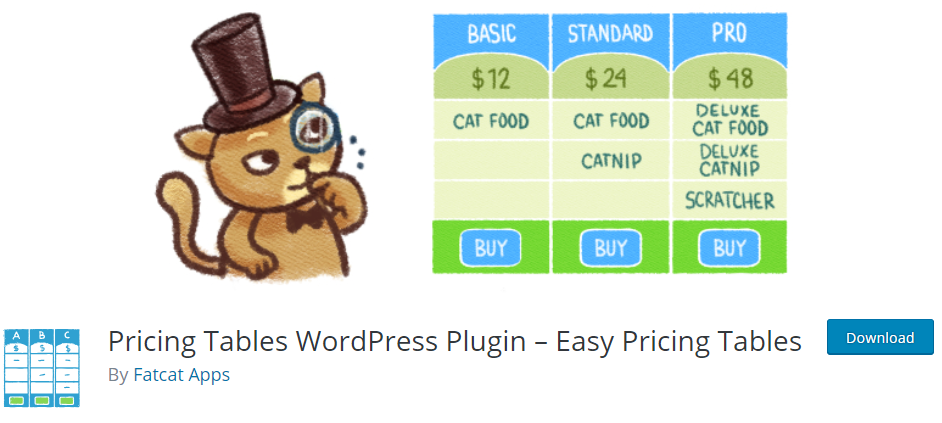 If you want to show the number about the price and the cost, this Easy Pricing Tables will be the best option in this WordPress Table plugin list. It supports you to establish a pricing table that may be necessary for your work.
Provided features:
Accept any WordPress theme
Give items in fonts, color, size, a background to develop the table
Put Custom CSS to your Pricing Table
Show the potential pricing table and the plugins actual interface
and more.
Highlights:
Wonderful support
Easy and simple to design
Great work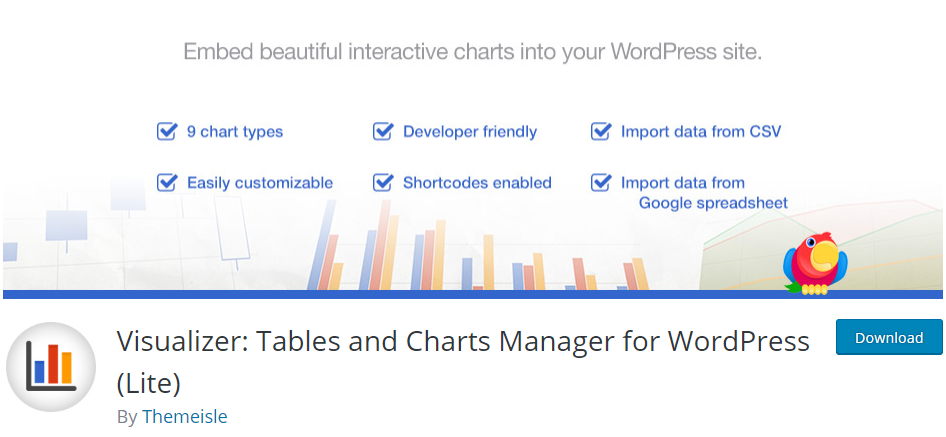 Visualizer allows your WordPress post or page to be inserted interactive tables quickly. If providing a large amount of data, you can put advanced filters for each column to make it easier for visitors to observe.
Provided features:
Import data from Google spreadsheet
Have 9 charts types
Easily to customize and check the data
Operate in the online folder
and more.
Highlights:
Easy to implement beautiful graphs into pages and posts
Generous Free Version
Great support.

A lightweight and useful WordPress Table plugin, it's necessary to change the HTML table into a mobile table with Magic Liquidizer Responsive Table. If you get trouble with the table on mobile phones, this is the solution for you because it is adapted to the small size on the phone screen.
Provided features:
Add images,texts, icons and other HTML elements
Accept a suitable layout with the user's device
Give an overview and customize the font size
Enforce margins for long papers
and more.
Highlights:
Great developer support
Work perfectly
Quickly and easily makes tables responsive.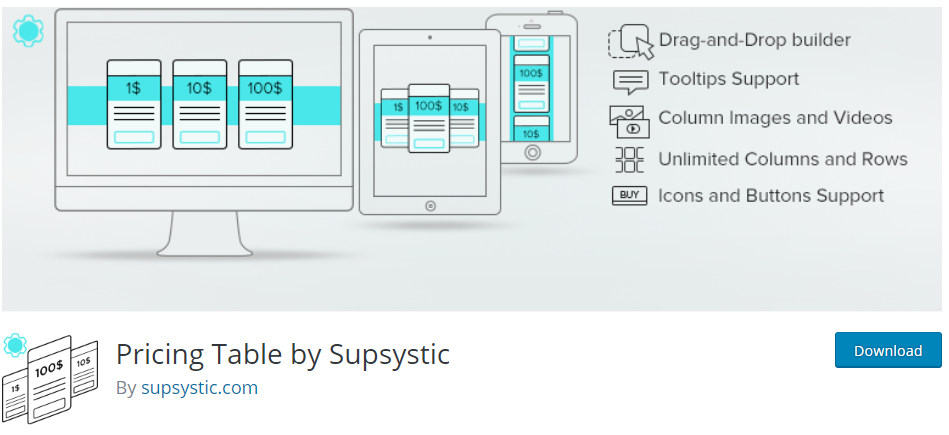 Pricing Table plugin WordPress allows you to make responsive tables with simple steps. So you need no programming skills, you enable to create a price table that highlights for your business.
Provided features:
Provide the latest table template
Make unlimited columns and rows
Add Pricing Table Examples, Comparison Table, Tables export/import
and more.
Highlights:
User-friendly setup
Amazing and wonderful layout
Simple to use.
Wrap Up
In conclusion, the collection above will help you have the right decision in creating the impressive tables as well as the contents. Let get more free WordPress theme and share with your friends if you think it is useful!
Please leave comments below or contact us! Thank you for your reading!