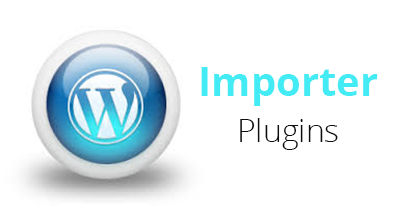 Today we will provide you with a list of WordPress Importer plugins so that you enable to take blog content from one site and move it to another. Take it a look now!
Why should you use WordPress Import Plugin?
When you use WordPress Import Plugin, you will get a wide range of valuable benefits including:
Data migration: The plugin allows website administrators to easily import data from one website to another, which can be useful when moving to a new hosting provider or redesigning the website.
Content creation: Importing data can save time and effort when creating new content for the website.
Data analysis: Imported data can be analyzed to extract valuable insights and make data-driven decisions.
Reduced support burden: With the plugin, website administrators can easily import data for users, which can help to decrease the support burden on the website.
Top WordPress Import Plugins
JSON Content Importer allows users to show live data from a JSON-feed easily. This WordPress Importer plugin also has many useful features that you can use to enhance your site with some special add-ons for data fields.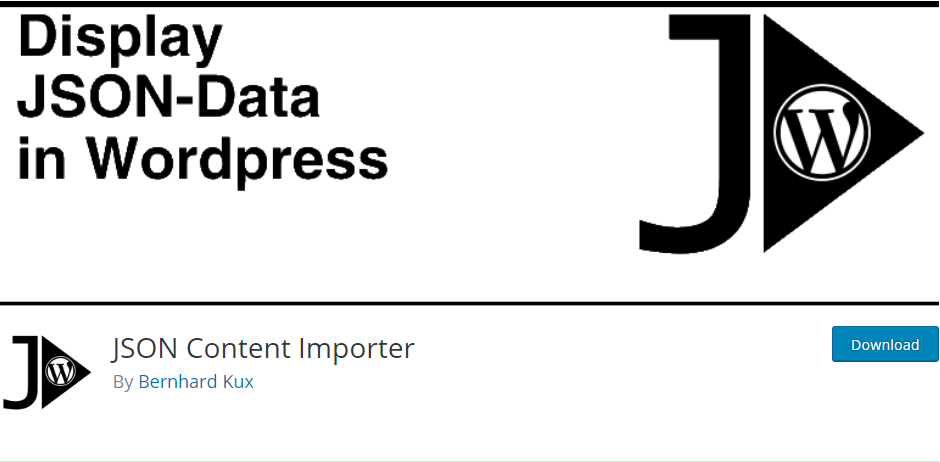 Features:
Display the data of a JSON-Feed
Define the URL
Inserts the JSON-data in the template
Test in realtime and create a shortcode
and more.
Highlights:
Wonderful tool
Works very well
Quick and accurate support.
WP All Import is a perfect WordPress Importer plugin with all nice features. It will help you import the content of a pair of websites in a short time and besides, you can import posts, WooCommerce products, orders, users, or anything else with WP All Export.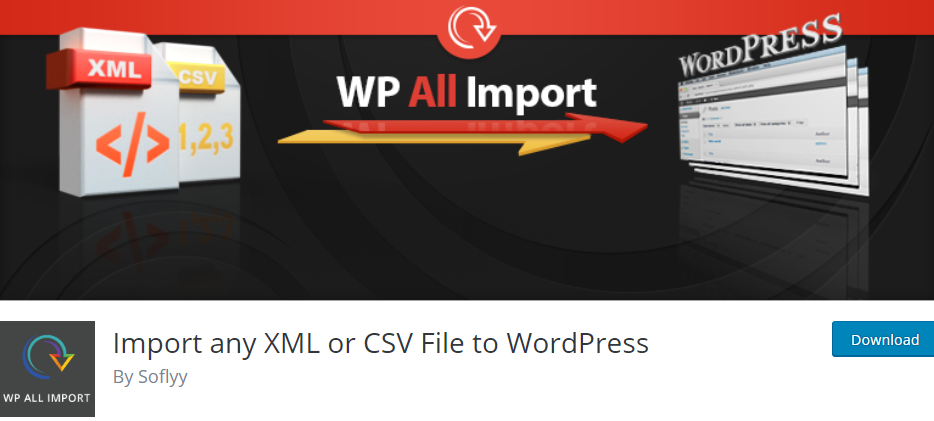 Features:
Import data to Custom Fields
Download and put images in the media gallery
Insert files from a URL
Guaranteed technical support via e-mail
and more.
Highlights:
Convenient plugin
Easy to use
Amazing support.
Ultimate CSV Importer is listed in the top 500 plugins you must have for your website. It allows you to insert the basic content including post, page, custom post, comments. etc and you can easily configure your WP-Cron for faster import.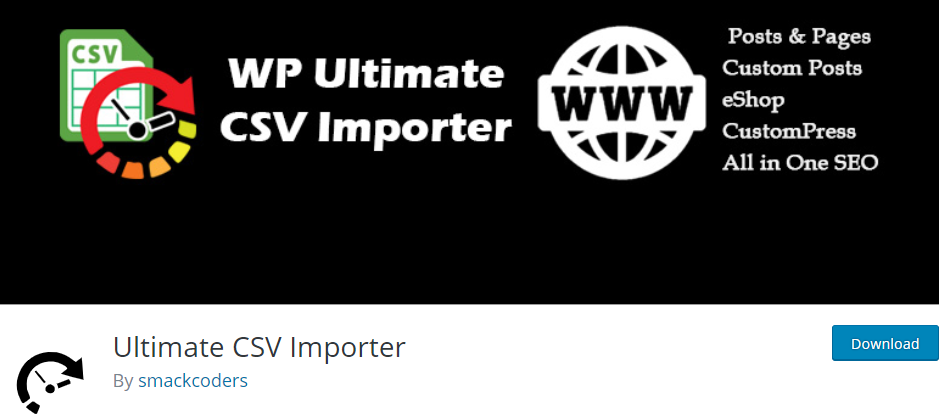 Features:
Imports images from external URLs
Attach enhanced duplicate handling
Register WordPress core custom fields
Post type import with terms
Support multi-category, multi-tag
and more.
Highlights:
Excellent support
Save time
Quick and efficient to set up.
Import users from CSV with meta is considered a perfect and simple to utilize the WP All Import plugin. It has custom client meta from a CSV document and then it additionally can send a mail to every client imported and all the meta information imported is prepared to alter into client profile.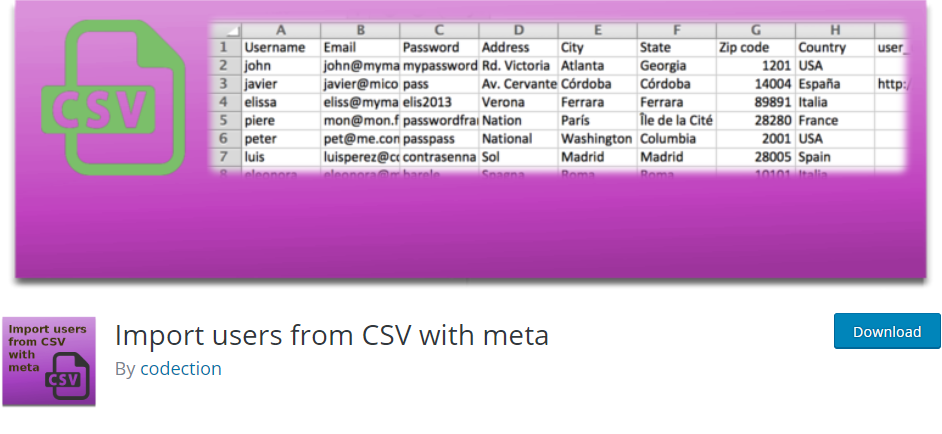 Features:
import meta-data with meta keys
Send a mail to every new user
Ability update data
Create a Cron task
and more.
Highlights:
Nice plugin
Helpful support
Powerful and reliable.
Blogger Importer Extended is know-well to most of the website due to its simpleness. This WordPress Importer plugin requires you access to your Blogger account and you will be able to import the content, page, tags or whatever you need in your site.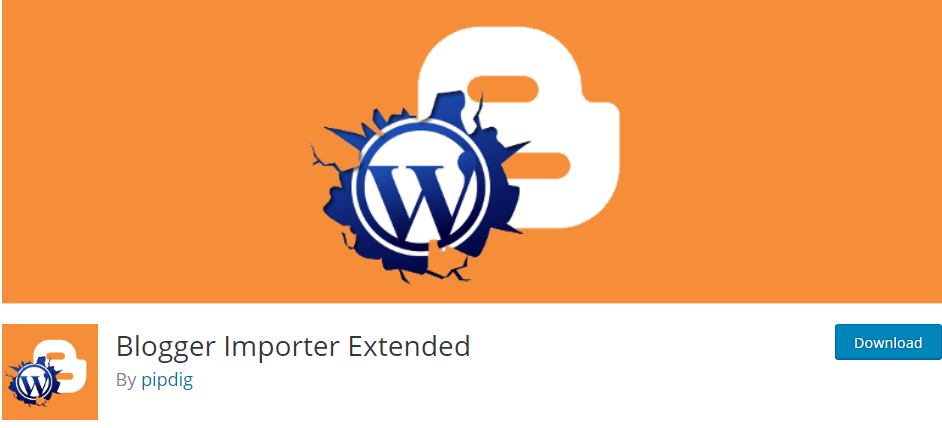 Features:
Import post, pages
Add tags, labels, images
Available comments, links
Support Convert formatting
and more.
Highlights:
Fast and smooth
Fantastic work
Simply wonderful plugin.
WordPress Importer gives you a couple of filters to allow you to completely enable or block certain features and a few actions available to hook into. By using it, you will be supported to insert the following content from a WordPress export file.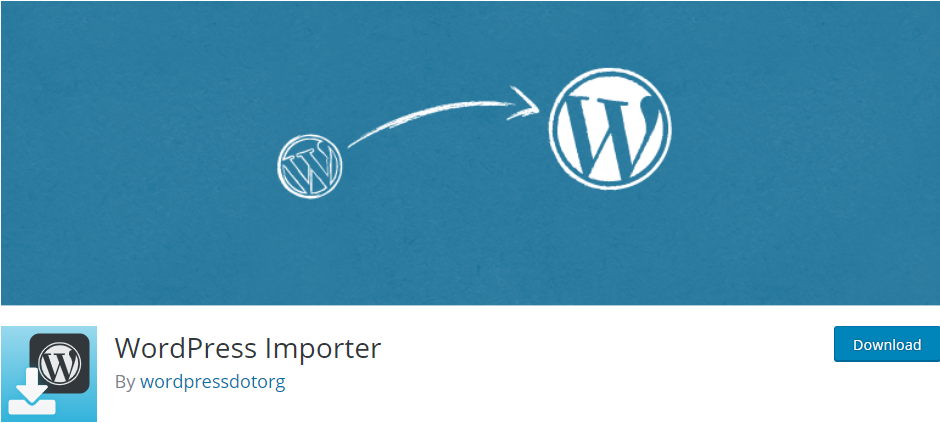 Features:
Allow creating users
Accept fetch attachment
Insert custom post types
Support custom fields and post meta
Ability categories, tags, and terms
and more.
Highlights:
Really straightforward
Works well
Nice tool.
If you are running an eCommerce website, this WP All Import plugin is the best option for your business. It let you search, select and import affiliate products into your WordPress website and shows those products into Woocomerce store.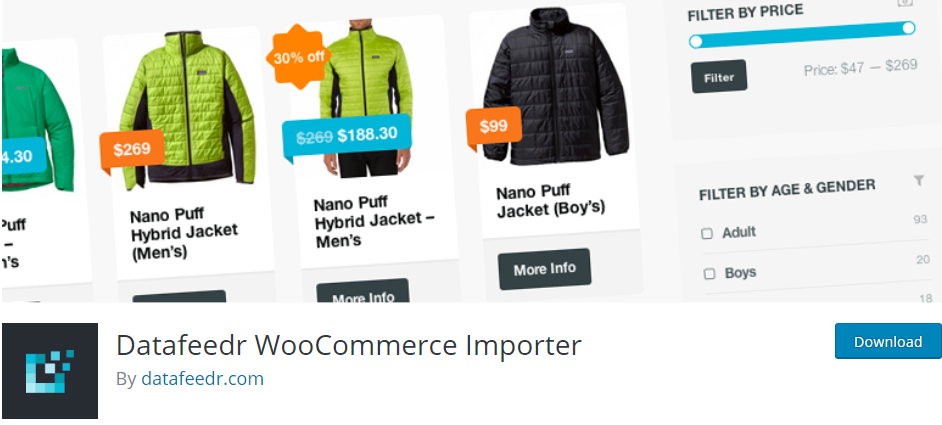 Features:
Access massive database
Select brands and boutique retailers
Create an affiliate store
Search across multiple affiliate networks
Filter products by name, description
and more.
Highlights:
Awesome features
Powerful plugin
Great and helpful support.
With Import Facebook Events, you can import Facebook schedule using our plugin with facebook ICS URL. Therefore, this WordPress Importer plugin is the nice way for you and visitors easily manage the events from your dashboard.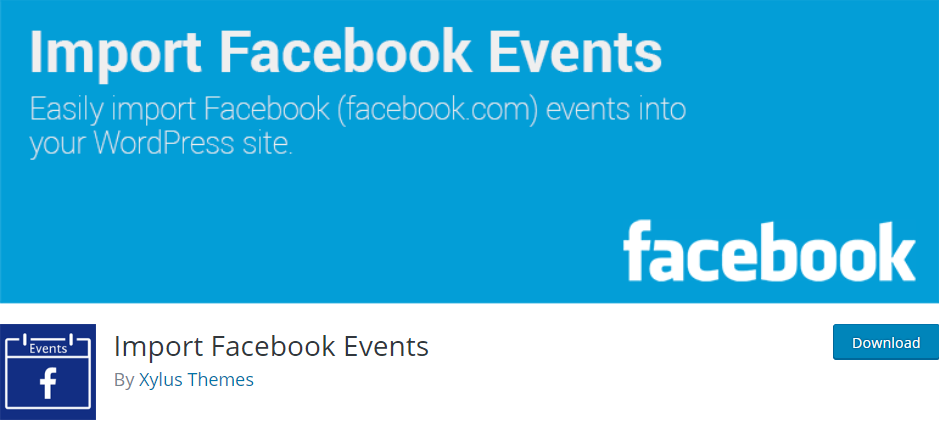 Features:
Scheduled import events
Sync events with facebook automatically
Import multiple events
Display the in-built Facebook events list.
and more.
Highlights:
Quick reaction
Good plugin
Nice support.
Pinterest Importer allows you to get an account and import data in WordPress. In addition, with this WordPress Importer plugin, you can backup, display the pin metadata in a meta box and downloads original HD images from pins.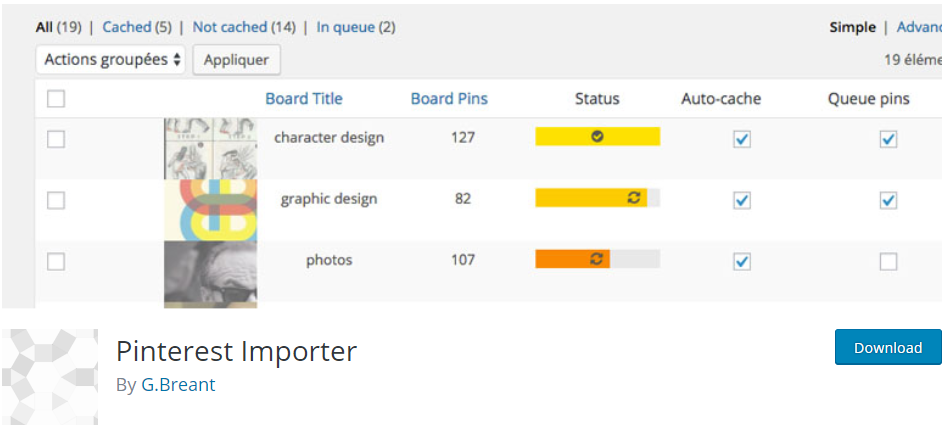 Features:
Use specific theme templates or capabilities
Get pins from regular boards
Assign a WordPress category
Supports both image & video pins
Display the pin metadata
and more.
Highlights:
Easy to use
Nice results
Fills the niche wonderfully.
Conclusion
We hope you can get the most suitable WordPress Importer plugin for your site. Don't forget to share this collection with your friends and take more free WordPress theme!
Let leave a comment below or contact us when you have any question! Thank you for reading!