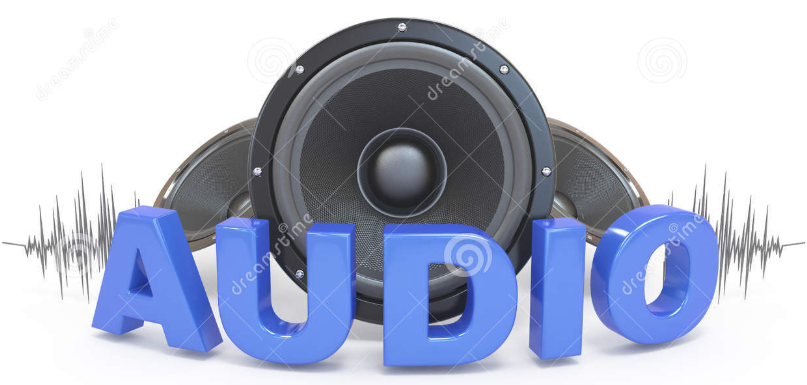 If you are running a business relating to music, it is essential to provide the best sound to your listeners. Let's create customizable audio players to enhance user experience further by using the WordPress Audio plugin! So today, we will give the best WordPress Audio plugin so that you can give your visitors beautiful sounds. Take a look!
Why should you use the WordPress Audio plugin?
A WordPress Audio plugin is a tool that allows website administrators to easily add and manage audio files on their website. Some of the reasons why you may want to use a WordPress Audio plugin include:
Easy integration: Most WordPress Audio plugins are designed to be easily integrated with the existing WordPress interface, allowing website administrators to easily add and manage audio files.
Customization options: They come with customization options, such as the ability to change the layout and design of the audio player, or add new functionality.
Increased accessibility: Adding audio to a website can make it more accessible to users who are visually impaired or who have difficulty reading text.
Improved engagement: Audio can be a powerful way to enhance user engagement with a website, especially if the content is podcast, audio book or any other form of spoken content.
Top WordPress Audio plugins
Compact WP Audio Player is considered a popular WordPress Audio plugin which can be utilized to insert an mp3 sound record on your WordPress post or page utilizing a shortcode. Additionally, you can likewise give a review to the guests who are keen on your music.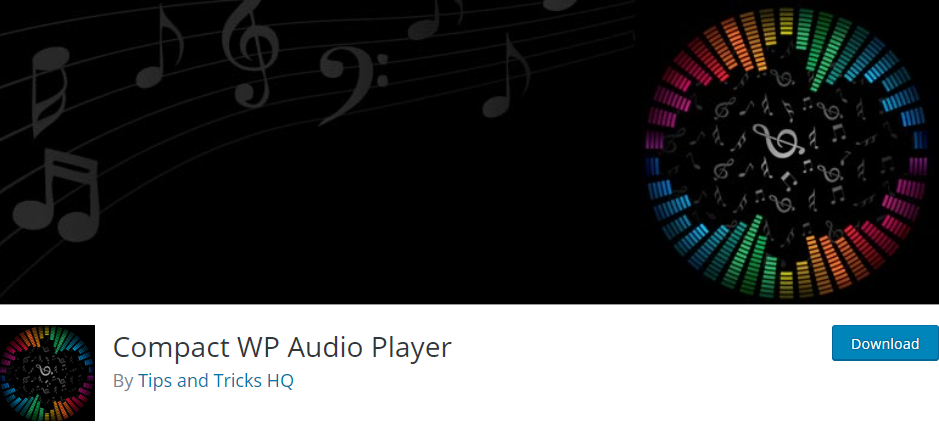 Features:
Works on all major browsers
Embed the audio files on posts or pages
Offer a preview
Add the audio player using the shortcode
Use the autoplay option
and more.
Highlights:
Small in size
Practical and convenient
Work perfectly.
CP Media Player has many advanced options that help you put out files. What's more, you can relate a playlist to your media player and change its background to fit with your blog as similar as possible.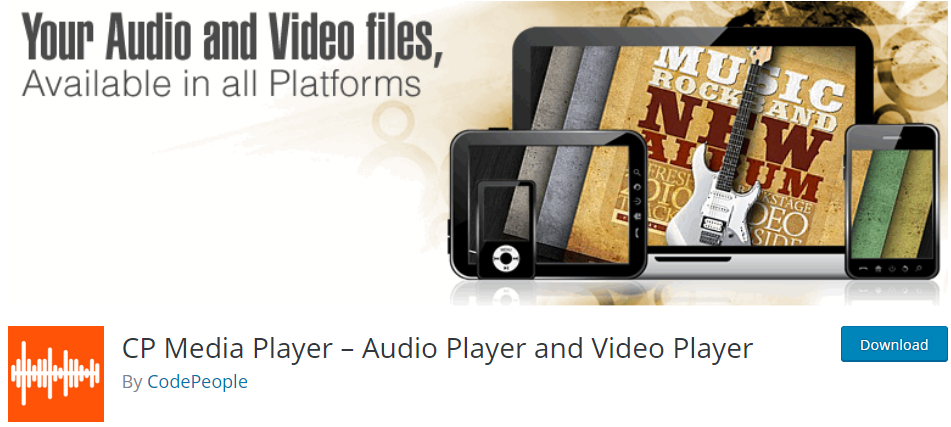 Features:
Publish an Audio player anywhere
Support for MP4, OGG, WMV, MP3 files
Allows to associate a playlist
Offers several skins
Available Internet Explorer, Firefox, Chrome, etc.
and more.
Highlights:
Wonderful plugin
Great support!
Simple and Functional.
PB oEmbed HTML5 Audio allows you to put sound records into posts and pages utilizing for different purposes. Also, you will enter the URL connection to the sound record as a separate paragraph if you want to insert audio files.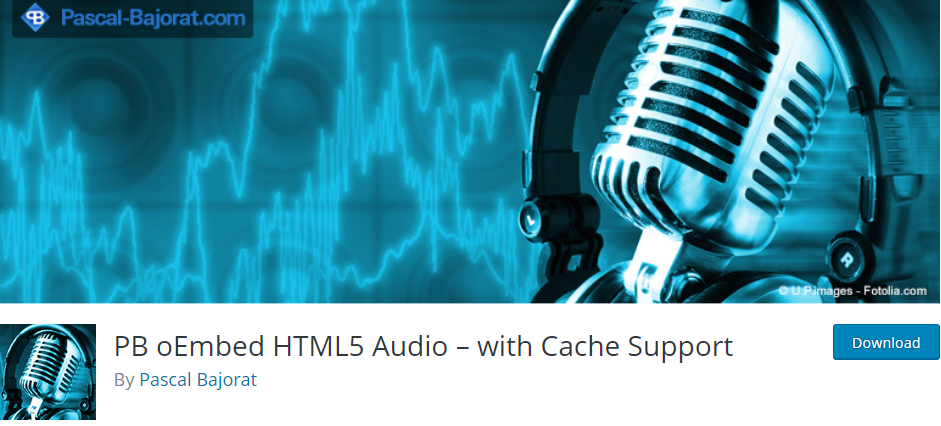 Features:
Support for mp3, Ogg and Wav audio files
Ability autoplay, loop, preload, controls
Compatible with Cache-Systems
Available Flash Fallback
and more.
Highlights:
Nice plugin
Simple and effective.
Featured Audio allows you to have some authority over where you wish to manage the sound player, and you get five distinct positions for it. You can also add this Audio Player App to your sidebar, it'll automatically show a playlist of the sound records highlighted on posts appeared on the recent views.

Features:
Add theme support for featured audio
Display the featured audio
Returns the URL of the featured audio file
Returns the ID of the featured audio attachment
and more.
Highlights:
Very
useful
Nice tool
Clearly organize.
Audio Player with Playlist Ultimate offers an adjustable and stylish looking sound player for WordPress. This WordPress Audio plugin provides a lot of functional features that help you show your collection art and meta information delightfully.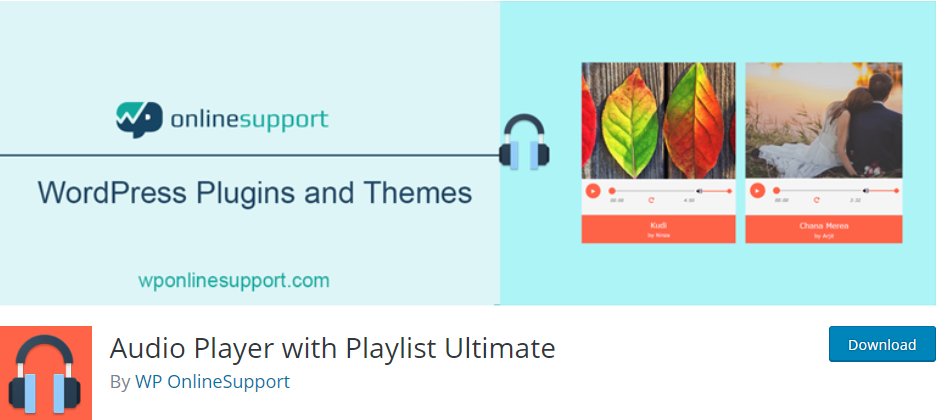 Features:
Change player theme color
Single player and Multiple players
Support 1 Player Styles
Shuffle, repeat, volume control
and more.
Highlights:
Helpful product
Useful support
Competent and responsive.
AudioIgniter gives you a chance to make music playlists and implant them in your WordPress posts, pages or custom post types. Moreover, when you utilize the standard WordPress media transfer usefulness, you can make new sound playlists in minutes.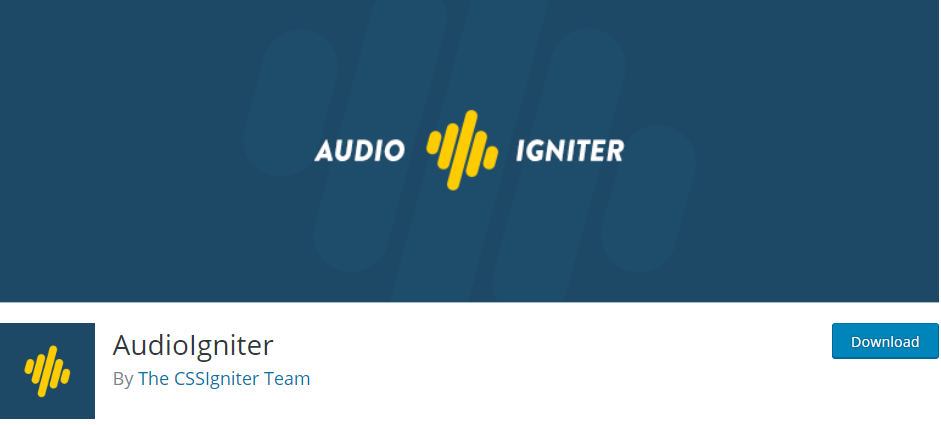 Features:
Unlimited playlists and tracks
Embed through shortcode
Flexible settings per playlist
Show/Hide track numbers in the tracklist
Limit track listing height
and more.
Highlights:
Easy to use
Professional look
Beautiful player skin.
Cue is a flexible WordPress Audio plugin because it is available for cell phones, desktops, and tablets. It is very simple so you make and keep track delightful, completely responsive sound playlists. Cue is also utilized for web recordings, messages or to grandstand voice over examples.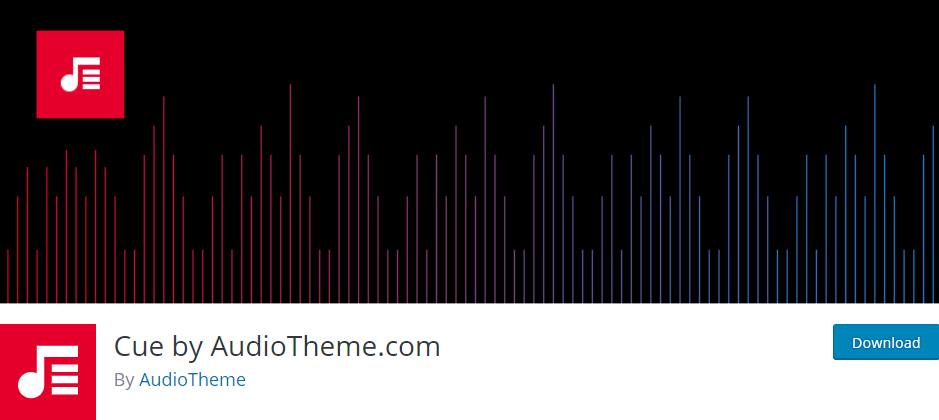 Features:
Create unlimited playlists.
Embed a player in any post, page
Reorder tracks with a simple drag
Automatically fetches title, artist,
Link to external sources
and more.
Highlights:
Flexible functionality
Great plugin.
Wrap Up
To sum up, we hope you can choose the best WordPress Audio plugin for your site from this collection. If you find it interesting, don't forget to share with your friends and get more free WordPress theme!
Thank you for reading! You can leave a comment below or contact us, we will respond as quickly as possible.