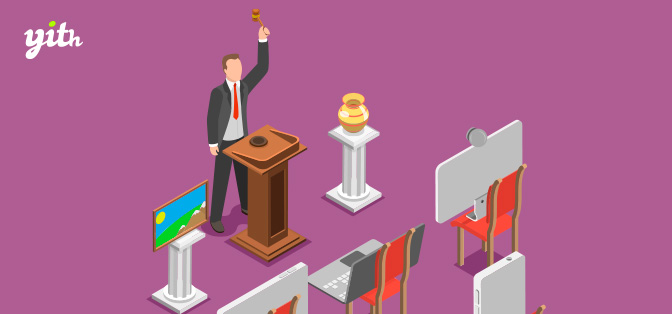 Are you looking for some helpful ways to start your own auction site? Whether you want to create a simple auction site or run a big name like eBay, you'll need WordPress hosting and a WordPress auction plugin! So, we will give you a list of top best, most useful WordPress Auction Plugins which help you operate your auction site. Let's check them out.
Why should you try WordPress Auction Plugins?
Choosing the right WordPress Auction Plugin will help you easily run online auctions on your website as well as generate an eBay site using the auction function. In general, these tools are useful for your website, if you want to boost your sales in no time.
Nevertheless, which is the best WordPress Auction Plugin in the market? To help you answer this query by bringing you a list of remarkable WordPress Auction plugins that come with a wide array of powerful features. Hence, you can easily add the product to your auction website and manage it without any difficulty.
Top WordPress Auction Plugins

WordPress Auctions Plugin is one of top choices for you. It allows you to choose one of different kinds of bidding. Besides, your customers have many shopping options so that they will get great experiences in your site.
Features:
Various type of auction (Raffle and seat, smallest unique bid, reserve,…)
Publish your app on mobile phone
Account for user
Certain aution tools (Start price, buy now price, reserve price, etc.)
Highlights:
Available exclusive theme
Compatible with other themes
Regular support and update
Many gateway options

Our next choice for an online auction site is WP Auctions. This powerful plugin helps you run your business like eBay with basic and extend features without participation of third party. So that, you can keep your entire profit when users buy the products.
Features:
3 levels of security for auction area

Add the intitial price
2nd chance offers
Gateway choices
Email notifications
Set date, time for each bidding
Image for auction
And much more
Highlights:
Easy to set up and use
Responsive plugin

Instead of displaying your products on other auction sites like eBay, you can create your own one with Auction Nudge plugin. It specially allows you to add your eBay profile to your website. Therefore, famous and reputable accounts on there may find this plugin useful.
Features:
Show eBay account (list of products, feedback)
eBay category filter
Modify the layout with CSS or JavaScript
Highlights:
Highly customizable
Show up to 100 products on each page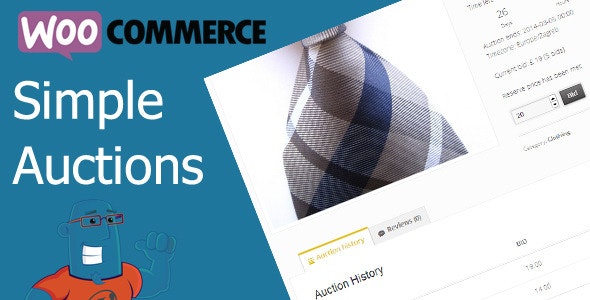 If you're looking for a lightweight plugins to run your online auction business, WooCommerce Simple Auctions will help you. It has basic but crucial functions for an auction website, whatever the kinds of product you want to sell.
Features:
Tweak the start/reserve/buy now price
"Auction history" for products
Auction icon on product thumbnail
Ability to set starting and ending time
Editable email templates for notifications
Auction filtering and sorting
Highlights:
Plenty of flexible shortcodes
Easy auctions and WooCommerce multivendor set up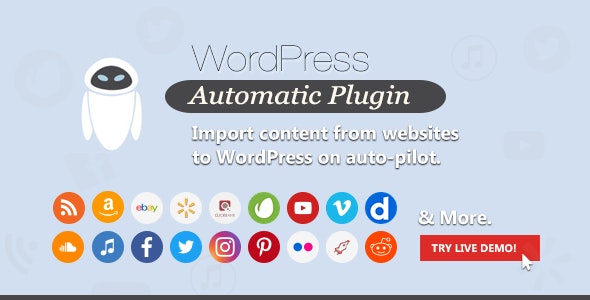 With WordPress Automatic Plugin, you can import everything from other website (eBay, YouTube, blog, etc.) to your own site. That's mean you can completely add your auctions on eBay then your site will update automatically, thanks to this plugin! All you need is installing WordPress Automatic Plugin and it will finish for you!
Features:
Auto post and price auctions from eBay by keywords
Realtime update
Product gallery
Highlights:
Installed in few seconds
13 languages supported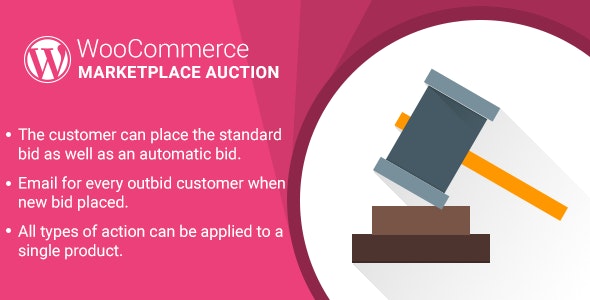 The next plugin that we want to introduce to you is WordPress WooCommerce Marketplace Auction Plugin. It has all features of an actual auction site, which allows you to set up the bids as well as users can customize to fit with their needs.
Features:
Ability to create 4 diffrerent types of auction for admin and sellers
New bid email to customers
Show or hide users and their price
Manual email noti when there's an outbid or when the big's end
Highlights:
User-friendly interface
Good support

Woo Auction requires few minutes to install, while it's easy to use. It allows you to add many auction functions which work well with WooCommerce. Besides, it contains a lot of widgets to make your auction work comfortable.
Features:
Set base price and deposit fee
Product status (old, new)
Notify users for bids, auction winners, auction activities,…
Set begin date and finish date
Ability to set time limit for winners to get the product
And more
Highlights:
Simple to use
Flexible options to suit users' want

The last one we picked is Ultimate WooCommerce Auction Plugin. It's a simple and feature-rich enough for an auction page, with many many fexible options. And it helps you manage your bid activities in a quick way. Easy and friendly, right?
Features:
Accounts for users when joining bids
Ajax Admin panel
Notify email to users about placing bids, payment alert,…
Set bid increments
Show bids in users' timezone
Bids countdown
And much more
Highlights:
Easy to set up
Great support
The final thoughts
Which is your favorite WordPress Auction plugin? You can check the features, and configuration of each plugin to make the right decision for your website. If you have already had your option, let's share it with us by leaving a comment below.
By the way, you can visit our website and choose beautiful, free WordPress eCommerce Themes that help you create a new appearance for your website without writing code.