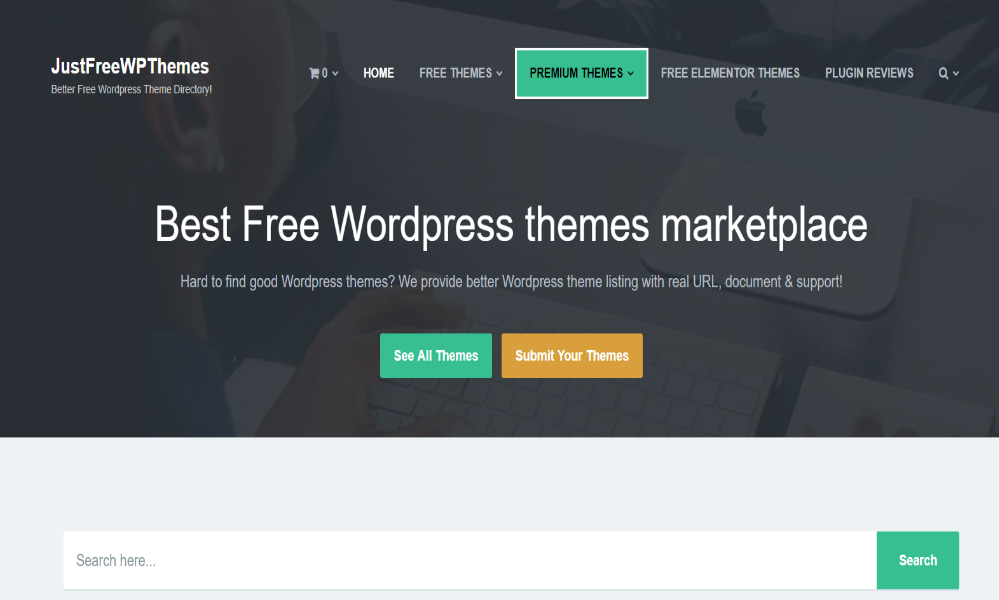 Many developers prefer WordPress Themes and it's now easier for them to pick free themes supported by authors. Knowing the demand, we have just released a blog to answer the question: "Where can I get free WordPress Themes?". If you are also wondering about it, check this article to know where you can find your themes and the pro & cons of each site.
Where can I get free WordPress Themes?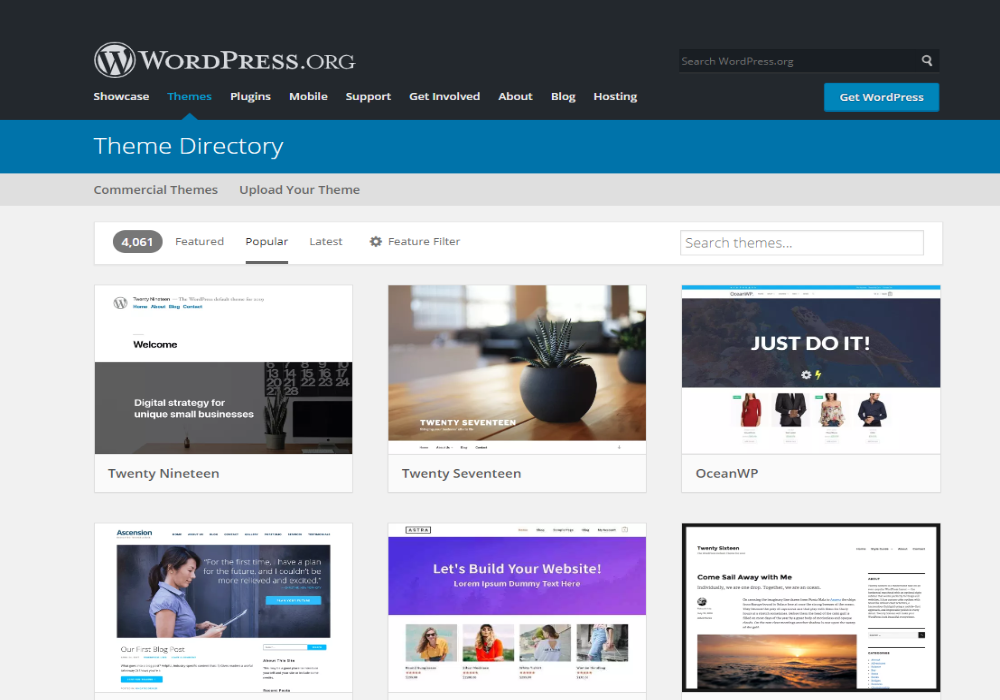 Original WordPress CMS with Free WordPress directory
WordPress.org has been an initial site which shares free themes to users. Over the years, many more themes have been added and updated, making it the biggest WordPress theme providers. Free WordPress themes come with all features description, preview and download link to the right of the theme. There are many themes depending on your project. At this site, the themes are arranged by popularity, release time or by features. You can pick the features you expect to have for a theme and search for the right theme you want. Although it's completely free, the theme has been reviewed to be in high-quality.
However, in WordPress.org, when you click at Preview button of any theme, what you receive is only limited data and the outline of that theme. Sometimes it's hard for you to pick because you can't enjoy the real performance.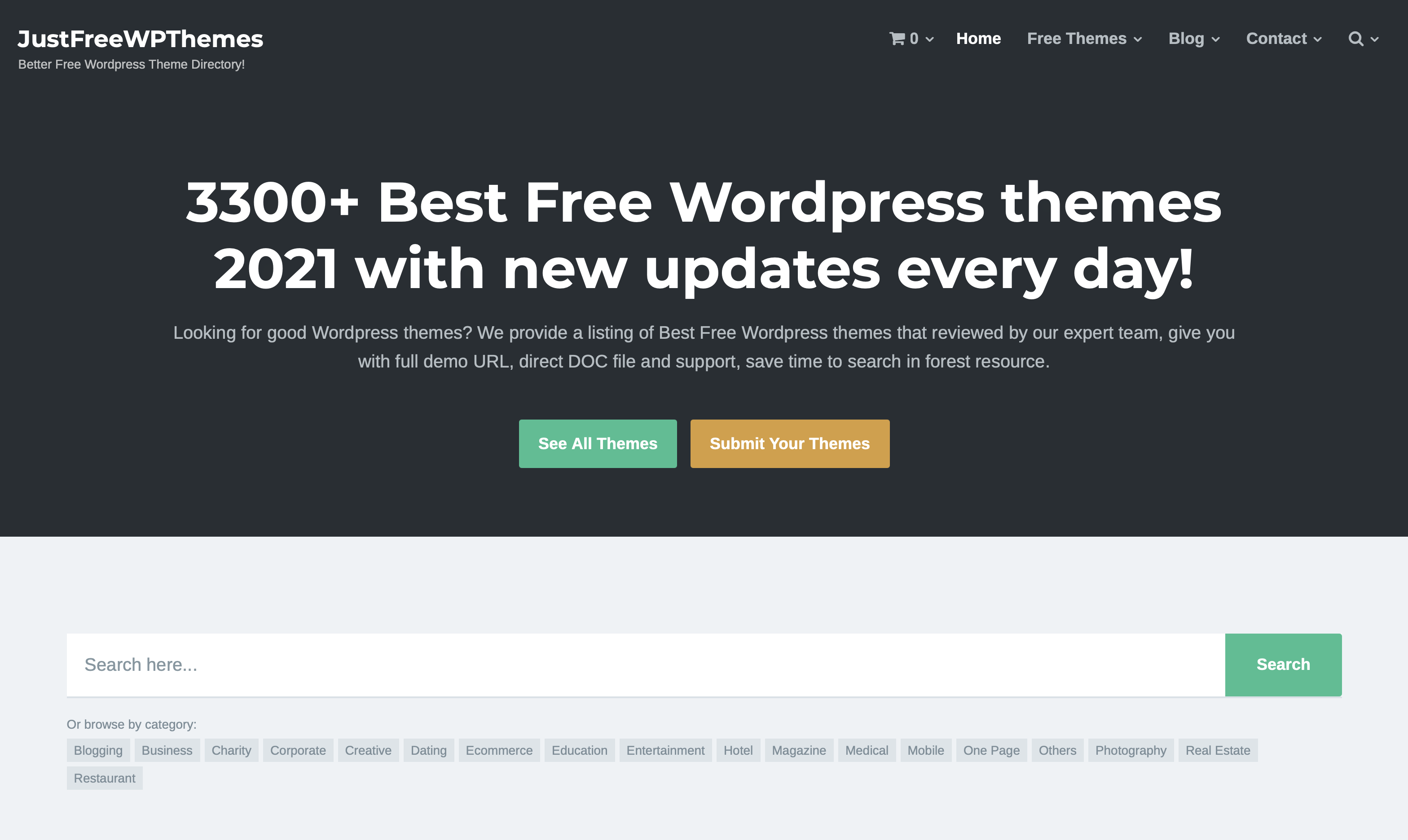 Another perfect place to get free WordPress themes with real Live Demo. Justfreewpthemes.com is launched to be a better WordPress Theme Directory which provides real URL, document & great support. Just a new theme directory, however, they have brought over 100 free high-quality WordPress themes. All themes are divided based on users' purposes and linked to each other by useful tags.
Even it's free, the themes still come with responsive layout, professional and modern design. Easy customization is also a plus.
Aside from providing you free themes, JustfreeWPthemes also share useful technical blog documentation, plugins review, or trusted theme providers.
One more thing we can't mention is Live Demo integrated with the themes, it makes users easier to recognize the organization, check responsive on mobile devices before downloading. Unique features are also listed right below the Live demo and Download link.
Interesting it is for a full test before your big project? Grab them now!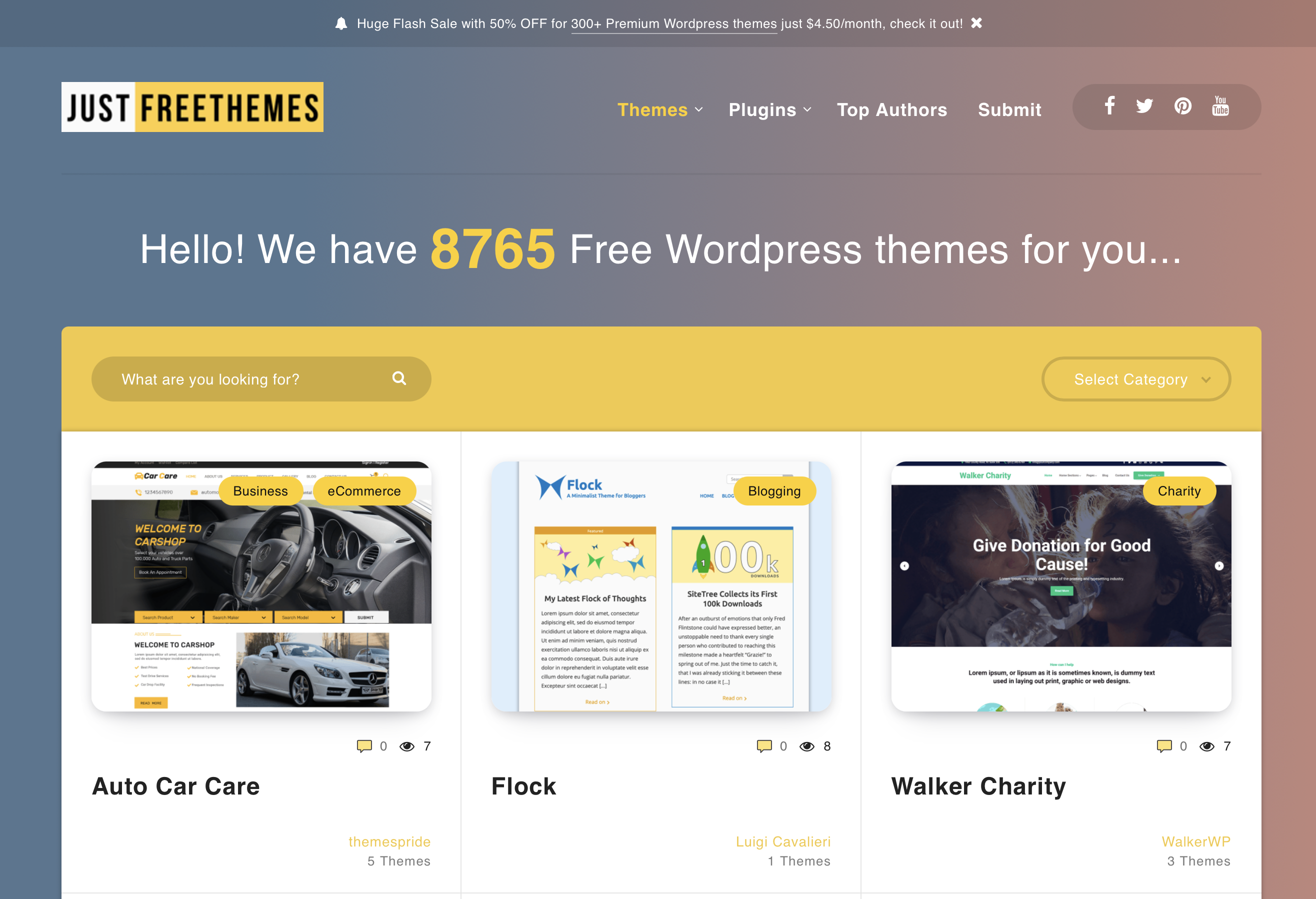 Justfreethemes is also a good place to look for free WP themes because of its huge theme library. Their mission is to share with you the best free themes apart from making your site look great, will help you grow your business.
+1000 awesome free themes have been collected and presented here. Based on release time, popularity or trending, all themes are shown to suit your demand. Besides, if you are a beginner and start to learn about web development, there are also some useful tutorials for you!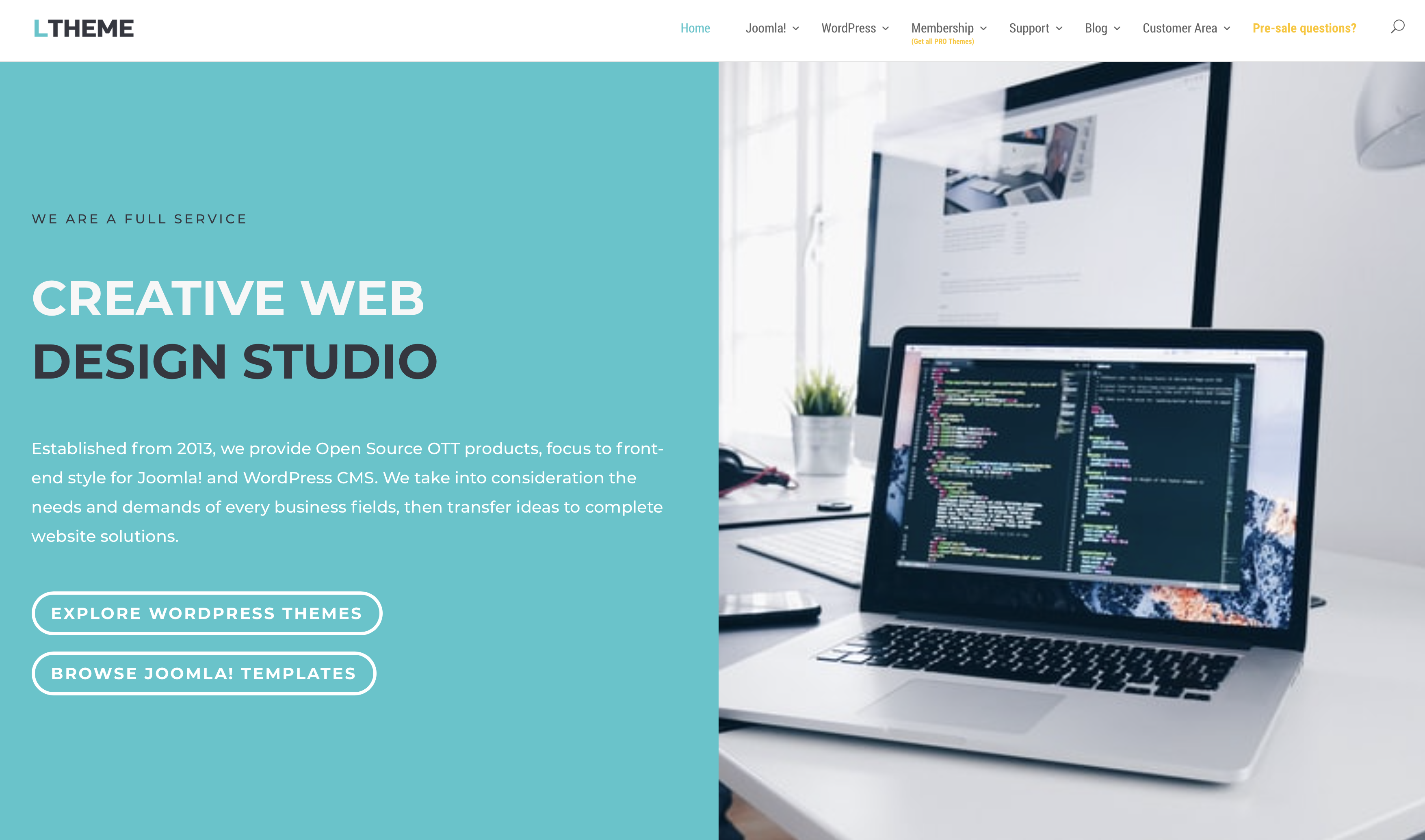 Ltheme is WordPress themes and Joomla templates provider since 2013. If you're looking good WordPress themes, it's 300+ Free WordPress themes from this provider. All WordPress themes come with Free download, responsive layout, mobile-first designed, come with support forum and ticket, high performance and SEO optimized.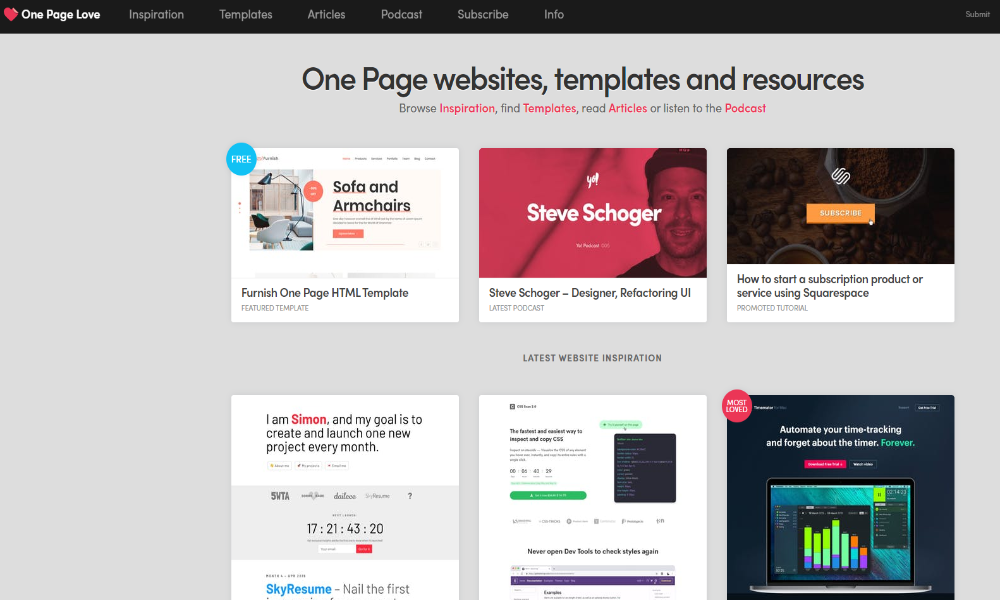 One Page Love is a professional free One Page WordPress theme provider with 115+ WordPress themes, unfortunately, just around 20 WordPress themes are free. All themes are highly responsive one-page themes with clean coding and smart design. "Browse Inspiration, find Templates, read Articles or listen to the Podcast" is one sentence to describe this inspirational website.
All themes come with feature tags, live demo and a video preview. Anything is so awesome like a premium theme! If you are OnePage lovers, have a nice try 😉
Wrapping Up
We all need free WordPress themes to have some trials before taking big projects, right? Therefore, we hope this blog can help you find the best place to search for and download your cool theme. Leave us some feedback if you think there is any other free themes directory to review. Thanks & have a nice weekend!