Do you want to find the best solution to create an eye-catching and useful search bar plugin? If yes, you shouldn't miss this blog today!
The outstanding point of Elementor Search Plugin
Today, we are pleased to bring you Top 8 Great Elementor Search Plugin In 2021. Elementor Search Plugin plays a vital role in generating and building the search bar for your site easily. Thanks to these plugins, you can freely generate as well as develop the search bar.
Top Great Elementor Search Plugin

The first plugin we trust that it is amazing for you is Elements kit Elementor addons. That is to say, this plugin will provide for you Header search widgets, leting you to personalize color, position, border and more. Besides that, there are various search types including wordpress image search, live search option, product search addons, etc.
Provided features:
Allow to customize header text, select icon of search bar
Be able to set font size
Permit to choose your border type, color, background color with other more styling options
Highlights:
Lightweight
Fully customizable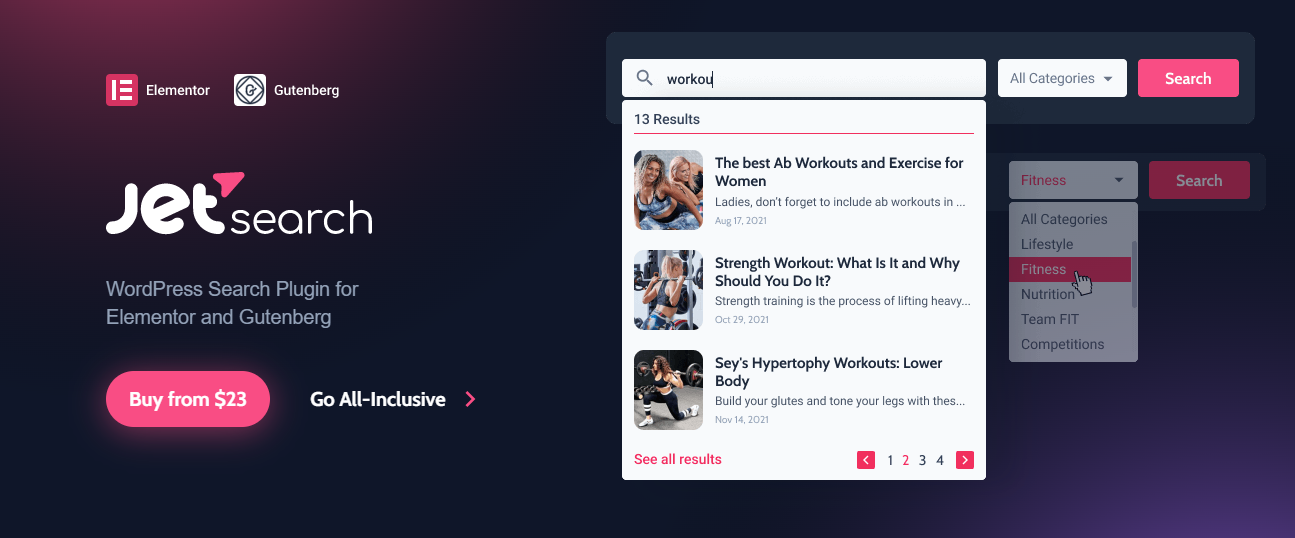 JetSearch is an innovative WordPress plugin that takes website search functionality to new heights, providing users with an advanced and seamless search experience. This plugin enables website owners to effortlessly design custom search forms that cater to the unique needs of their visitors. With features like search filters, live search, and dynamic search AJAX, JetSearch ensures accurate and real-time search results, allowing users to find the desired content quickly.
Provided features:
Offer a drag-and-drop interface for creating custom search forms, filters
Come with the ajax-powered search feature
Provide relevant search results based on user queries
Enable users to see search results in real-time as they type
Highlights:
Time-saving
Flexible
Multiple options

The second plugin you should have experience is HT Mega. In other words, this plugin allows you to insert search bar into your site with 5 styles that you can customize easily. Plus, you enable to build up your site effectively with its other functions.
Provided features:
Header/footer builder
Theme/template builder
Sale Notification
And more…
Highlights:
100% responsive
Mobile-friendly

Thirdly, we would like to introduce for you Elementor – Header, Footer & Blocks Template. In the same vein, this plugin also gives you Search Widget. Therefore, you can easily add a search form to your site with different layout and styling options. Further, it provides other significant functions below.
Provided features:
Site Logo, Title, Tagline
Navigation Menu
Retina Image
Copyright
Highlights:

Another plugin we will explore now is Master Addons for Elementor. Above all, this plugin permits you to make your site stunning with 5 styles of search form. Besides, it also comes with Domain Search.
Provided features:
Provide 5 main styles with various color
Customize the search bar as you want
Offer a lot of page builder widgets
Highlights:
Easy to implement
Completely customizable

Fifthly, Element Pack Lite is an useful plugin we want to recommend for you. In other words, this plugin lets you edit and style your search box to match the sites design and looks. Furthermore, there are a lot of available styles for you to choose and reference.
Provided features:
Various styles and color
Edit and design in your own way
Provide modal options
Highlights:
Great support
Professional

If you hope to have a plugin which has Property Search widget, then Extensions for Elementor is for you. Unlike these plugin above, this plugin brings google autocomplete search functionality when you use it to your main page. In addition, what other functions it own?
Provided features:
A to Z Listing
Custom Field
Event Slider
Multi Point Map
And more…
Highlights:
Easy and simple to use
Free

Another plugin we will introduce for you is Essential Addons for Elementor. Likewise the plugin above, this plugin shares you the basic search widget as well as other elements to help build website easily. Thus, you can insert an advanced search bar to your BetterDocs knowledge base using the EA BetterDocs Search Form.
Provided features:
Insert Search Bar
Customize Search Form
Display a cool live search box for BetterDocs Documentation
Highlights:
Fully customizable
Lightweight

The next plugin we will together discuss is Sina Extension for Elementor. Above all, this plugin has 4 main styles to showcase search form for searching the users. Especially, because this element is free, you can easily download, install and use for your site. Moreover, this plugin also has many other functions for website building below.
Provided features:
Colors or Gradient Animation
Content Box
Content Protection
Dynamic Button
And more….
Highlights:
Quick and easy to use
!00% responsive
Wrap Up!
In conclusion, It's the time for you to make your search bar become more eye-catching and engaging. So, we hope that Top 8 Great Elementor Search Plugin In 2021 can help you do that. Besides, you can get more Free WordPress Themes here.