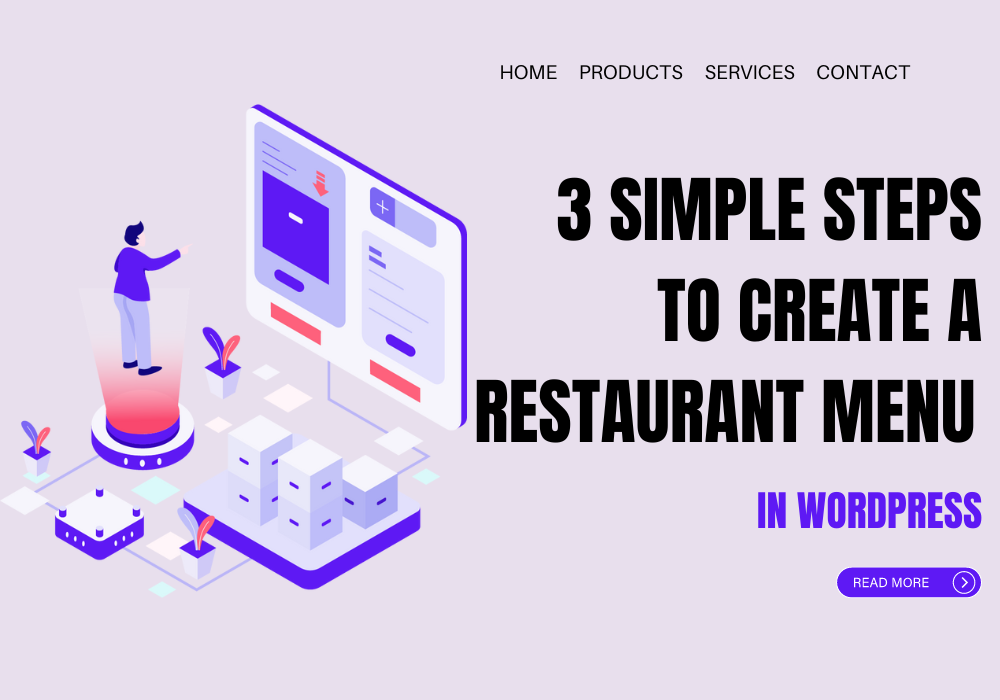 Due to their essential role in online culture, restaurant websites are immensely popular. And, as you may expect, you can create a restaurant menu in WordPress. Fortunately, accomplishing it is very easy. This post will demonstrate how to make a restaurant menu in WordPress. After reading this guide, you will be able to easily create restaurant menus and submit them to your WordPress website.
The advantages of creating a Restaurant Menu in WordPress?
A restaurant menu in WordPress is a must-have if you run a restaurant or work in the food industry. A restaurant website makes it easier to interact and communicate with consumers online.
The restaurant's opening hours, location, events, and other information are promptly informed to the customers. The menu for your restaurant can also easily be added to your website.
You can reach a wider online audience by advertising your meals and beverages on an online restaurant menu. Even more particular information about your meal, such as its ingredients and customer review, can be also provided.
Therefore, offering online menus will increase the number of customers who visit your business. Let's continue by talking about how to make a restaurant menu in WordPress.
Ways to create a Restaurant Menu in WordPress?
Step 1: Choose a WordPress Restaurant Menu Plugin
With the aid of a WordPress restaurant menu plugin, you can easily create a restaurant menu in WordPress. To build a WordPress plugin from scratch for a restaurant, there are several restaurant menu plugins available.
One of the best WordPress Restaurant Menu Plugins available, Five Star Restaurant Menu is free, easy to obtain, and install. For these reasons, we highly recommend it. It offers a number of layout options that let you create any style of a restaurant menu.
You won't have any trouble learning how to use it because it is extremely simple. Additionally, it works with all restaurant WordPress themes.

Step 2: Install Five Star Restaurant Menu on your Site
Firstly, the Five Star Restaurant Menu plugin has to be installed on your WordPress website.
Installing and activating this plugin is your first task. The process below can help you use this plugin:
From the dashboard menu, choose

Plugins → Add new

Look for the

Five Star Restaurant Menu

plugin

Select the button "Install Now"

Activate the plugin

Step 3: Make a menu for Five Star Restaurant
The setup wizard will be opened when you activate the plugin.
Give the Section Name and a Description description of the section at the beginning. Choose the Add Section when you finish.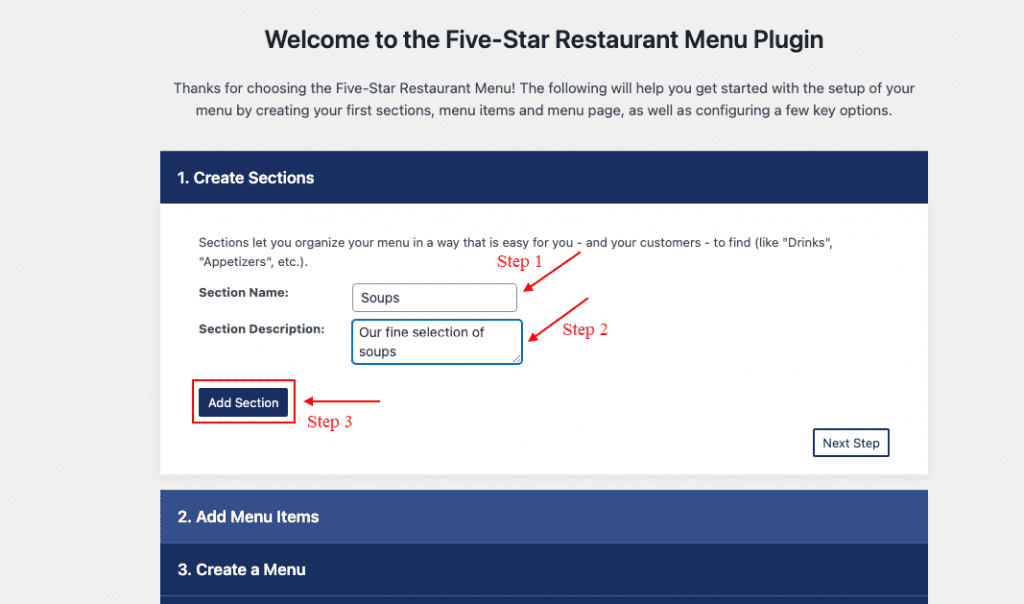 For instance, each of the goods you purchase, such as soup, sandwiches, and drinks, would be classified as a segment.
You can add as many sections as necessary by repeating the same previous action. We strongly suggest that you design a menu that is as similar to the one found in-store as is practical. This will make regular customers less confused.
Click "Next Step" once you've finished all of the necessary sections.
The sections you just created can now have menu items added to them here. Along with the item's name, description, and price, you can upload an image. Click the Add Item button when finished.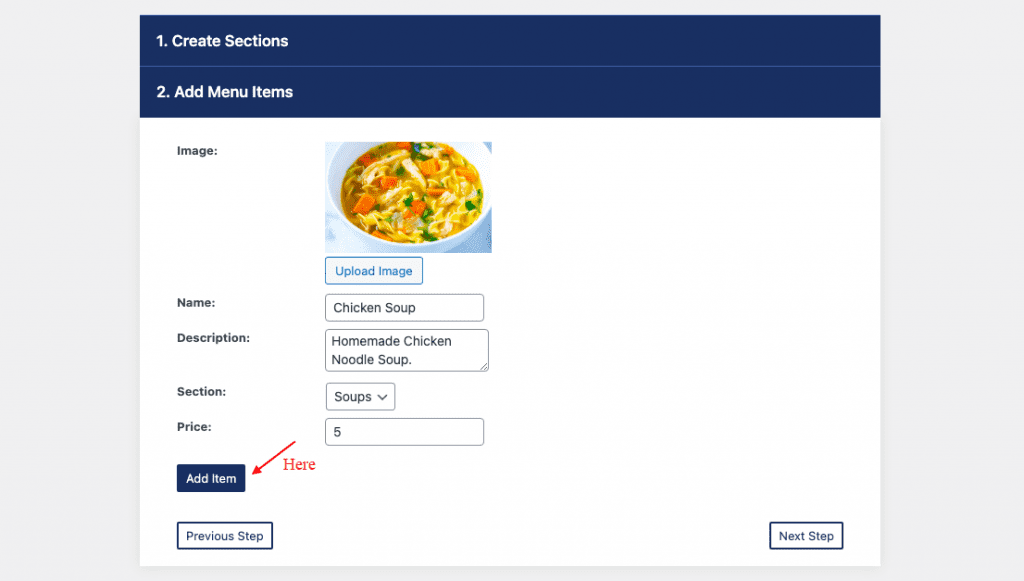 Add as many items as are required to the list. Images of your food in its natural state are advised. To put it mildly, it could be frustrating if they don't match.
Click the Next Step button once you've added all of the things needed.
Here, you can choose which sections to include and give the menu a name. Select "Create Menu" from the menu.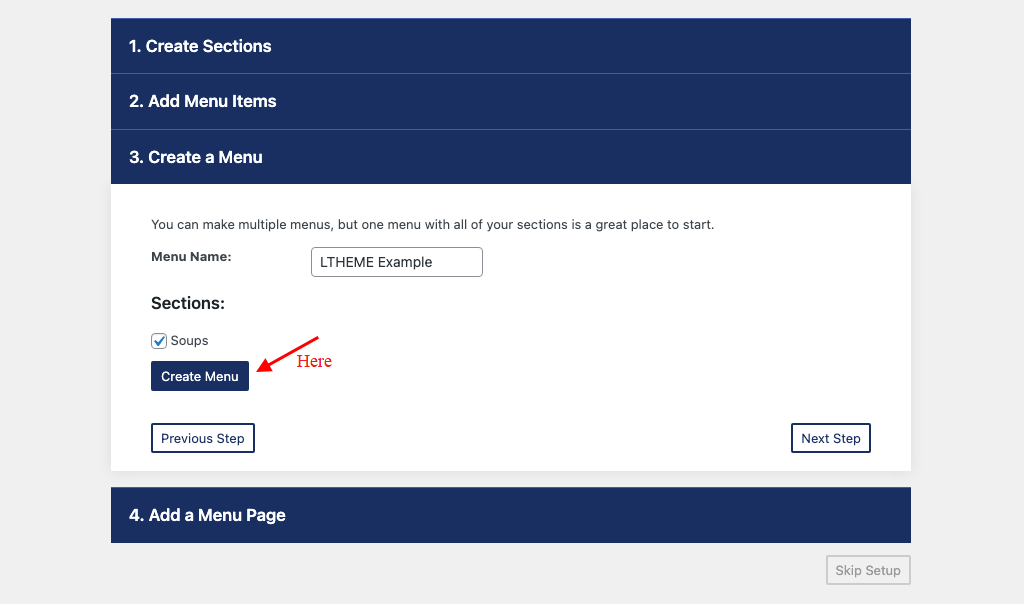 We strongly advise you to identify your menu items accurately if you plan to build various menus including different specials. If you don't, it can get very vague.
When all of the necessary menus have been selected, click the "Next Step" button.
A unique menu page is built by you for the newly created menu in the last step. Click "Create Page" to create a restaurant menu in WordPress.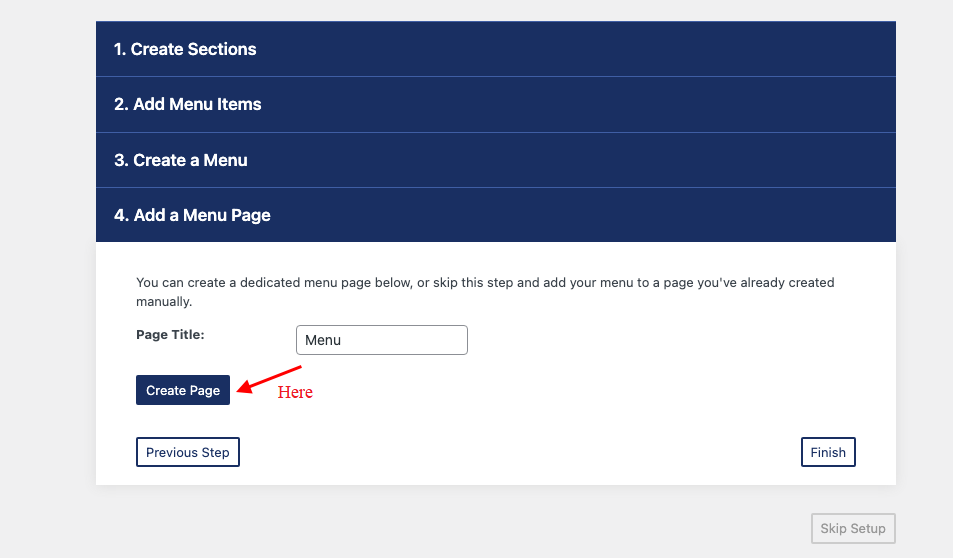 Thank you for using WordPress to create a restaurant menu!

The method above shows you the way to create a restaurant menu in WordPress with 3 easy steps, which you should keep in mind when you design an outstanding menu for your restaurant.
Conclusion
It is very simple to build an online food and beverage menu for your business. Using RestaurantPress, you can create and show menus on your website with ease. Now you should be able to quickly create any kind of food menu for the website of your restaurant.
Additionally, don't hesitate to explore our Free WordPress Themes if you're seeking a stunning and proactive design to make your website more appealing and professional.