In order to make your creative and astonishing works reach more potential customers worldwide, it is so important for you to showcase your content in a visually appealing way. However, among billions of Canvas WordPress Themes in the current market, how can you choose the best one to support your site? For this reason, we have hand-picked a Collection of 40+ Canvas WordPress Themes In 2021 to help you attract your customers at the first sight.
Why should your site use Canvas WordPress Themes?
It stands for the reason that Canvas WordPress Themes is extremely easy to both install and customize. Therefore, you are able to adjust any items such as style, typography, layout, and much more to meet your own demand without writing code. On the ground of that, you can improve your site functionality and performance effectively. In addition, you also obtain chances to present your portfolio, photos, and other artworks beautifully and uniquely. Let's start!
Top 40+ Canvas WordPress Themes Initially, we would like to introduce the first outstanding Canvas WordPress Themes, which is Blank Canvas. This theme is well-matched with single-page websites. By using it, you can take full advantage of its conservative default styles and highly customizable features. Plus, it is also possible for you to see the same page layout of your WordPress editor and front end.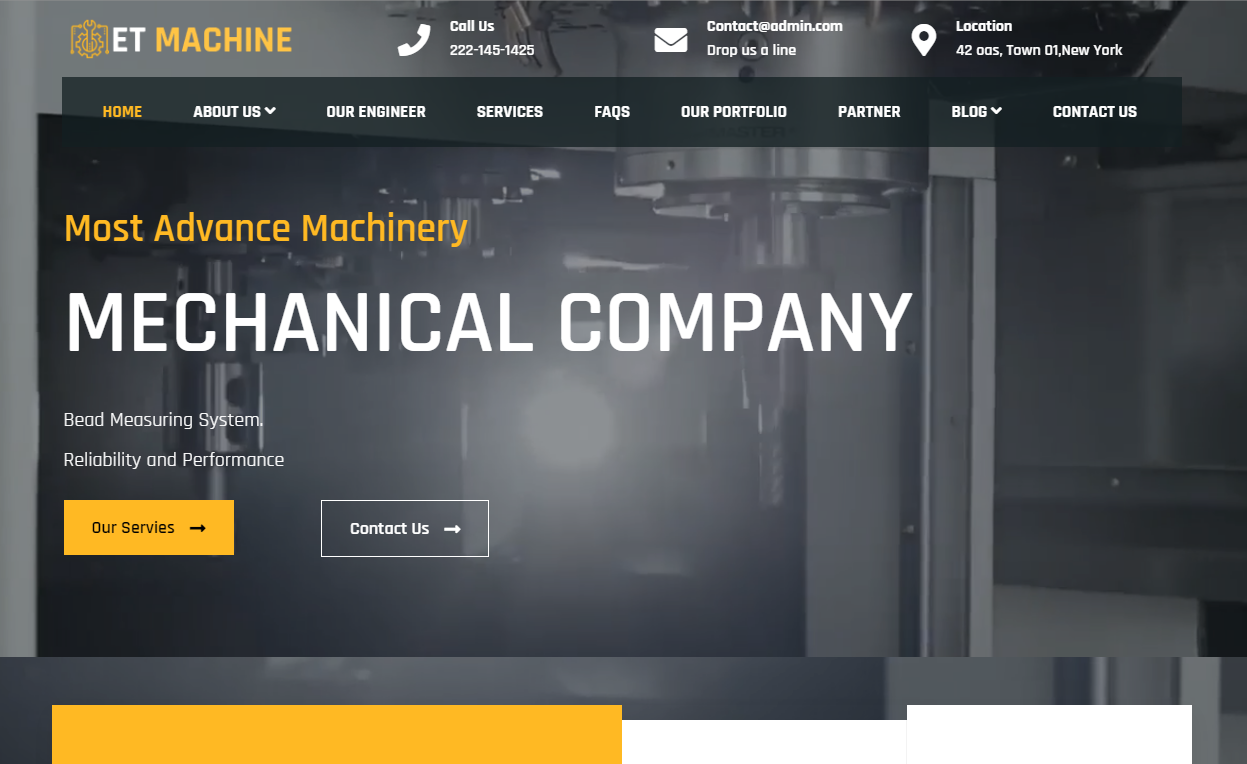 Secondly, ET Machine is suitable for online industrial businesses or factories. This theme implements well-organized content and high-reso images for you to showcase your products and services. ET Machine is based on Elementor Page Builder and brings multiple powerful features such as drag-drop layout content, effective navigation, and so on for you to display your content logically.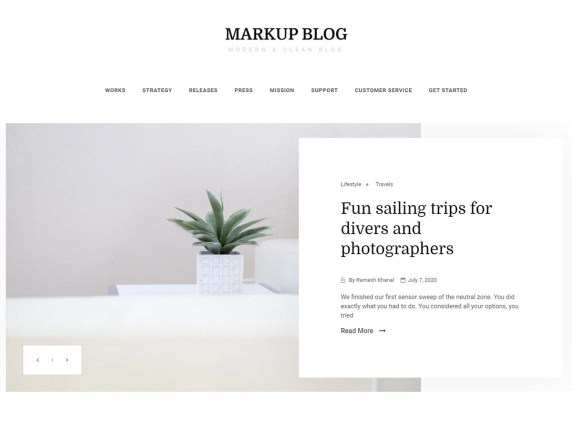 Thirdly, if you desire to develop your blog and magazine websites, Markup Blog will be one of the best themes for your site. It comes with the Masonry and various blog page layouts, primary color options, added custom widgets, and much more for you to improve your site.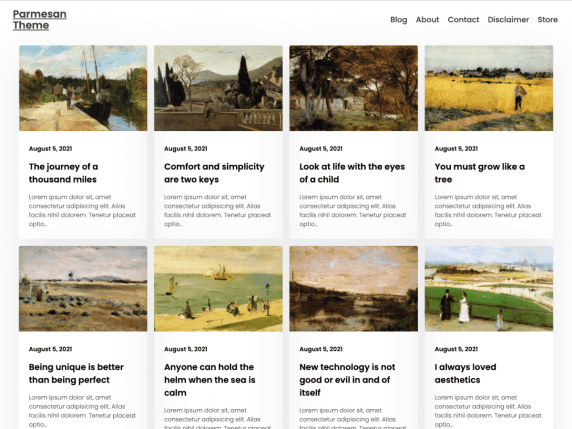 Parmesan offers various options for your block editor. This blank canvas gives new block patterns assisting you to make your site layout quickly. Let's use Parmesan to create your blogs with vivid colors and an impressive interface.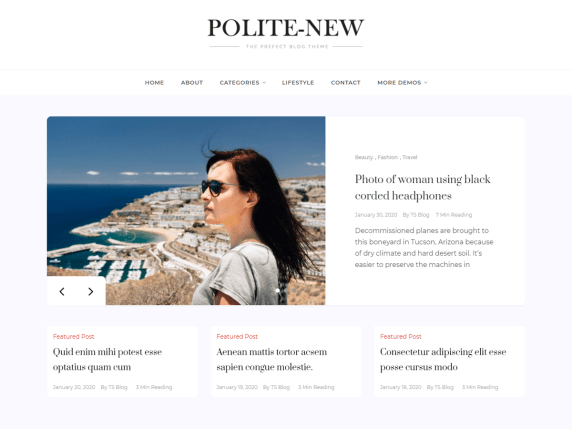 Polite New fits with any blog and magazine site. This theme comes with a Masonry layout as well as countless blog page formats. This child theme of Polite gives you chance to make the most of the search option, off-canvas sidebar, promo boxed, and other features. You enable to adjust the whole site colors via one click thanks to the assistance of the color option.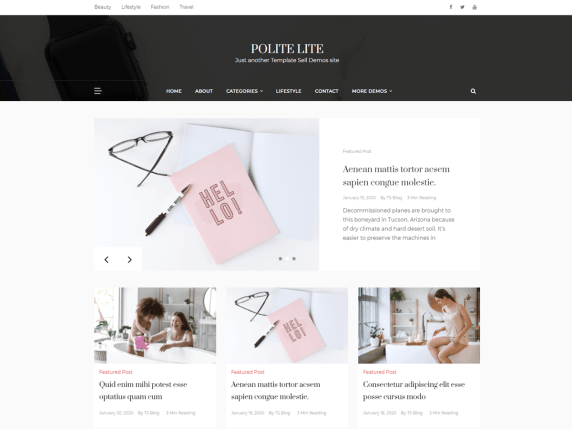 Another child theme of Polite is Polite Lite. By utilizing it, you can get the best out of Polite features such as the search option, footer widgets, and so on easily. This theme is compatible with added custom widgets, featured posts, social icons, and so on.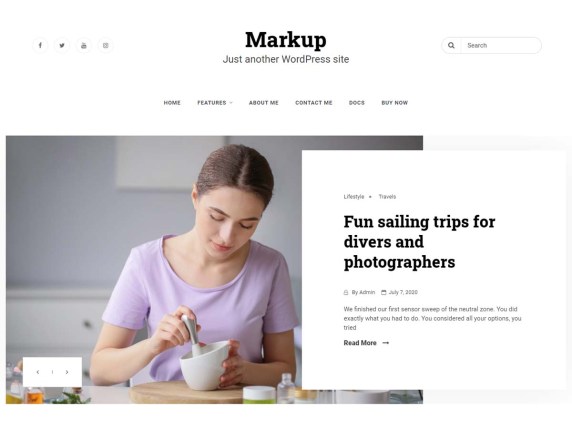 You should install Markup to support your blog and magazine websites due to its outstanding features. They are search options, off-canvas sidebar, featured slider, promo boxed, and many more. Thanks to the assistance of Markup, you are able to custom the color of your entire site with just a click.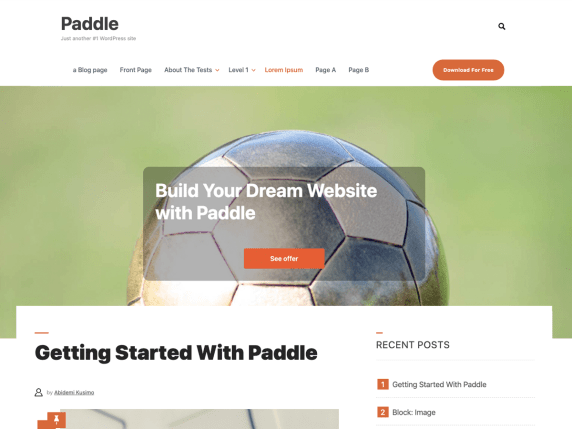 Paddle is built based on the Bootstrap5 and underscores framework, so you can customize anything in your own way. This theme is compatible with the Modal Search Off Canvass menu slider, four-color settings, and more to help you make it correspond with your site styles at ease. With the post layout section, you are able to present content in different ways.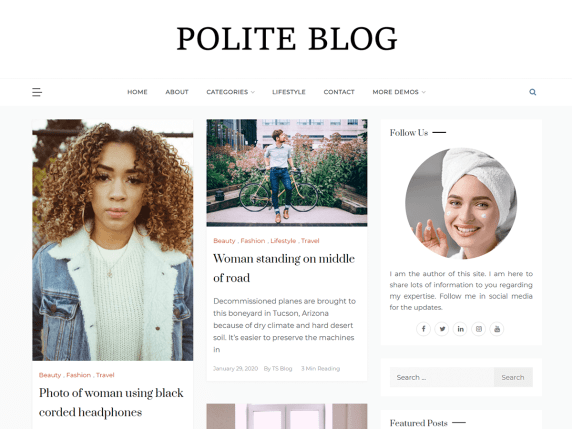 Polite Blog is well-matched with any kind of blog and magazine WordPress site. This theme comes with not only several blog page layouts but also a Masonry layout. This minimal WordPress theme is also one of the themes of Polite. Therefore, you also hold opportunities to use the search options, off-canvas sidebar, multiple sidebar options, etc.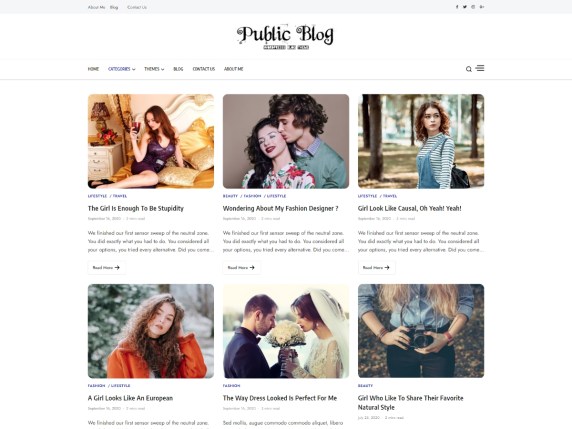 Public Blog is highly recommended for both personal and professional blogs, magazine-style blogs as well as lifestyle websites. This theme comes with the Grid layout, social profile link, style menus, and widgets, etc. The nicest feature of this theme is the customizer which allows you to preview your changes immediately.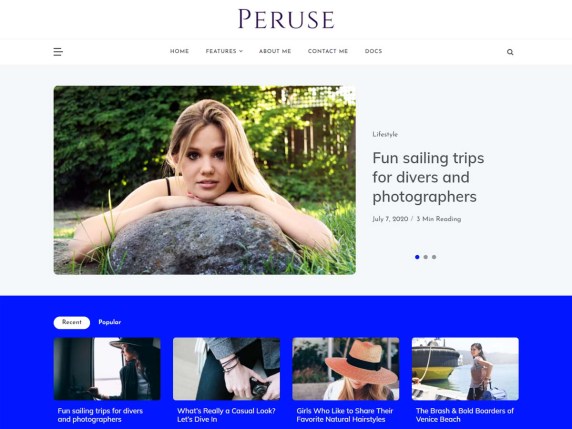 Peruse is one of the leading themes for blog websites. This feminine theme has countless flexible settings and sections for you to create and edit your site. The search option, off-canvas sidebar, multiple sidebar options, and more are also included in this theme.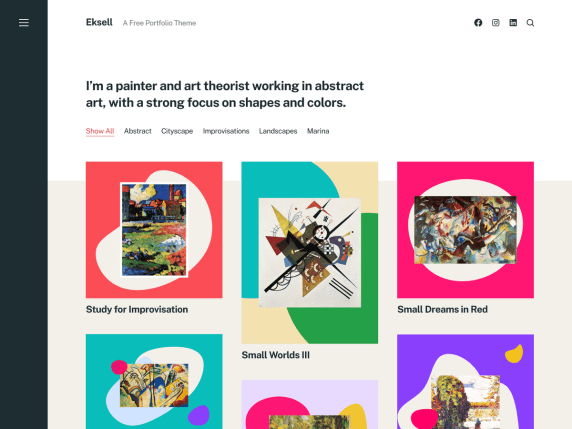 Eksell consists of great block styles and various premade block patterns, which are useful for portfolio and blog sites. You are able to preview your changes before publishing because of the good match of the block editor and your site front-end page. Furthermore, it also comes with a Blank Canvas page template, sticky header setting, custom logo support, and many more. Last but not least, it is a lightweight, user-friendly, and fast-loading theme.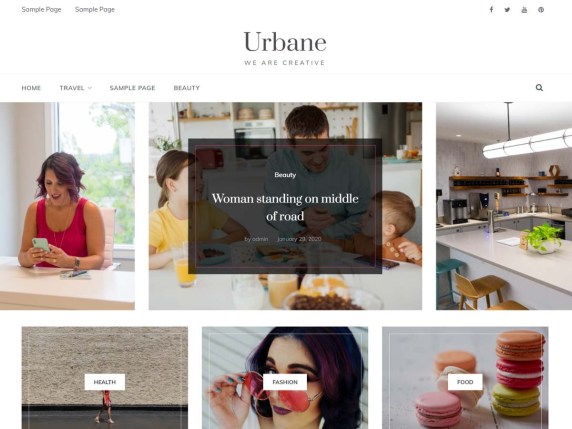 This feminine theme is tailored for all types of blog and magazine sites. It owns a masonry layout and a wide range of blog page layouts to assist you to custom your site efficiently. It also supplies the search option, off-canvas sidebar, multiple sidebar options, and various other features. In addition, the SEO-friendly feature is also included.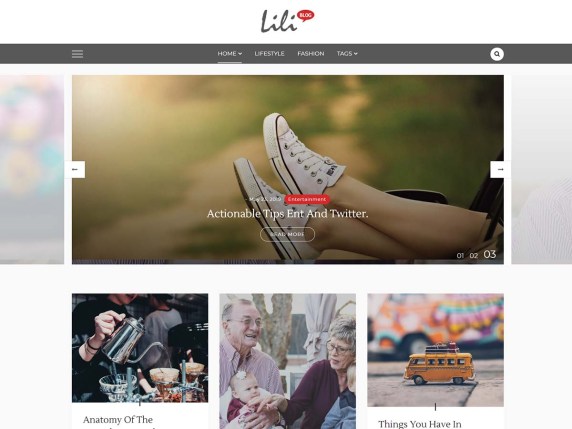 In case you are looking for a simple and minimal blog theme for your individual blog websites, Lili Blog is one of the most useful themes you should pay attention. It is a wonderful blend of a modern and classic design, which is even suitable for those who have no idea about technique. Other excellent features of this theme are custom widgets to present author information, social icon, color option, an off-canvas sidebar, and much more.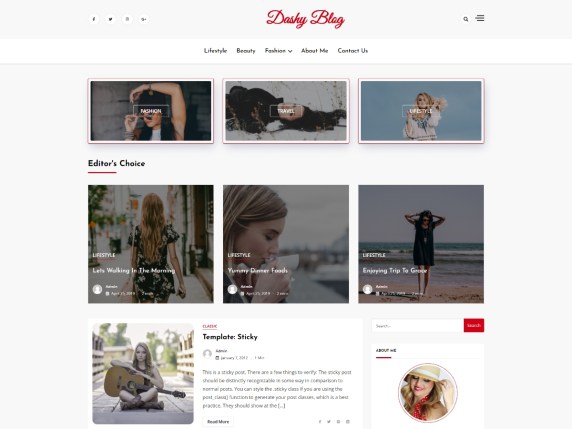 Dashy Blog features with optimized speed, SEO-friendly, and highly responsive. This Dashy child theme also has widgets for author detail, features posts, canvas slider, copyright text, etc. Hence,it can be used to design news, magazines, and potfolio. On top of that, this theme authorizes you to create your site demo, detailed documentation, and much more with the demo data.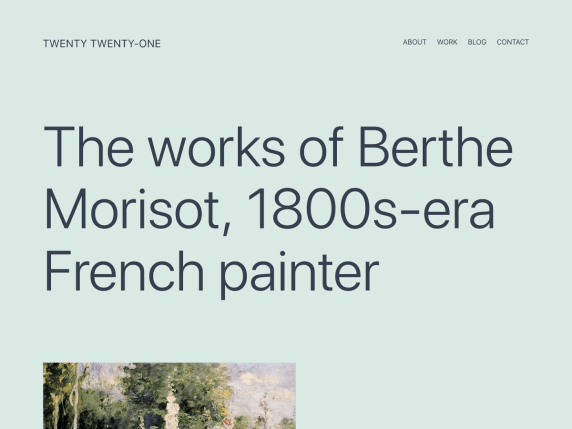 Twenty Twenty-One comes with a helpful blank canvas to assist you to supercharge your block editor. When installing it, you are able to create unlimited layouts as soon as possible. This theme will be a great design for your portfolio, business, and blog websites.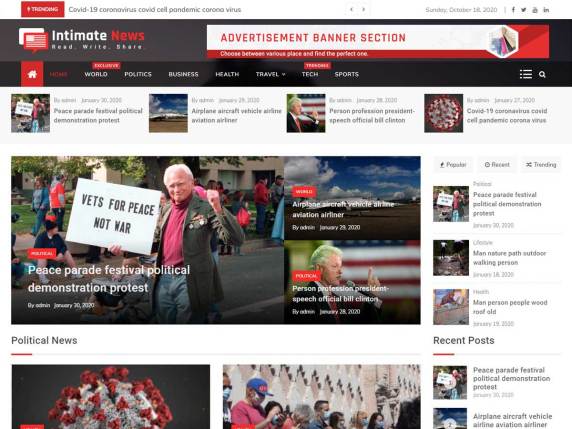 Intimate totally appropriate for WordPress magazines websites. This theme is generated from customizer settings and integrates with color options, 10+ widgets, and other additional widgets like post grid, slider,..Some stand-out options of this theme are the search option, off-canvas sidebar, multiple sidebar options, etc.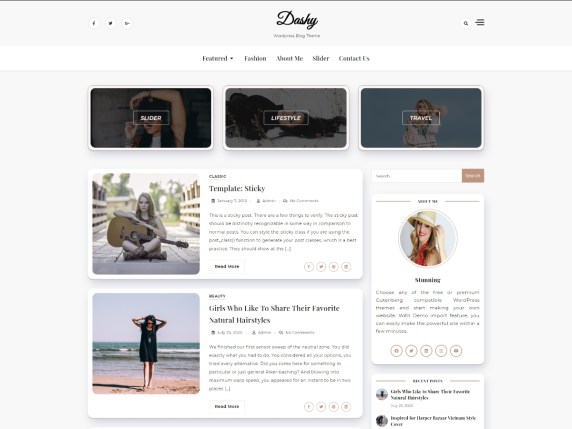 Dashy is a flexible and responsive WordPress theme that suits blogs, magazine-style or lifestyle blog websites. The customizer section gives you the possibility to view what you already edit in no time. It has various categories such as post widget, canvas sidebar, copyright text, footer widgets, and so on.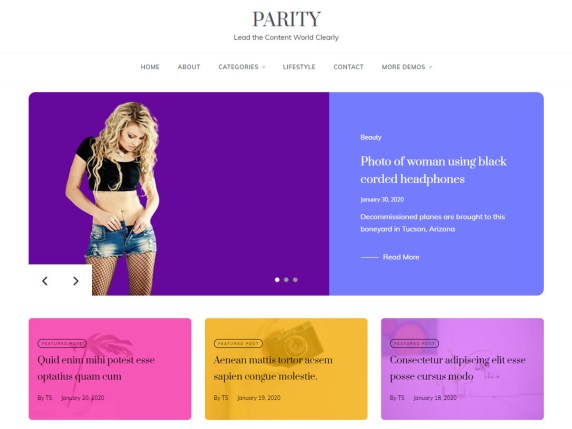 Parity is a wonderful WordPress blog theme design with a masonry and grid layout. Parity is also developed by Polite, so it has many blog page layouts and features of the parent theme like primary color options, and so on. By installing it, you can control the search option, off-canvas sidebar, multiple sidebar options, footer options, and others smoothly.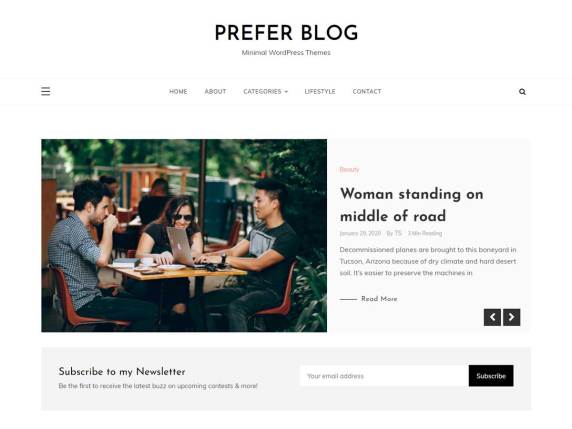 This is an elegant WordPress theme for all blogs and magazines sites. With the Author and Contact Us block patterns, you can insert information of author into your WordPress page simply. Moreover, it is also so easy for you to create a contact form through the Contact Form 7 compatibility. Besides, this simple and minimalist theme also offers a color section, featured posts, and so on.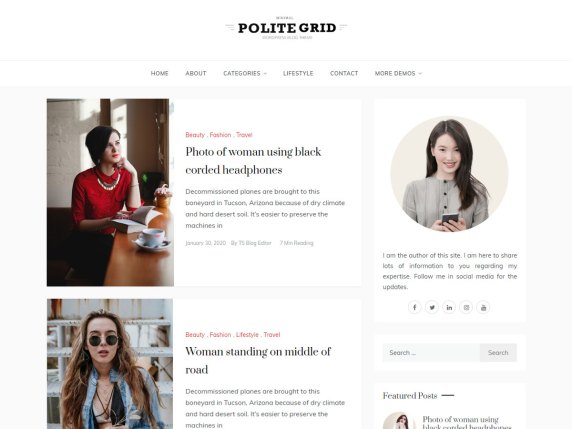 Polite Grid allows you to change the full site color via a click due to the color option assistance. It provides different layouts for your blog page and has a masonry layout. Basing on the Polite theme, so it posses all of the mother features such as multiple sidebar options, footer options, featured slider, promo boxed, etc.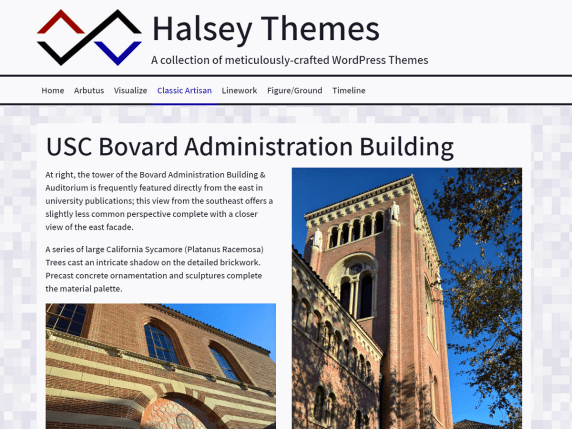 Classic Artisan provides you a wonderful experience of the modern and classic design with a common layout, bright typography, charming background, and so on. This theme is tailor-made for artists, designers, and other creative businesses to showcase their talent and works. Classic Artisan owns many features such as home page video, image header, a custom logo, color options, etc.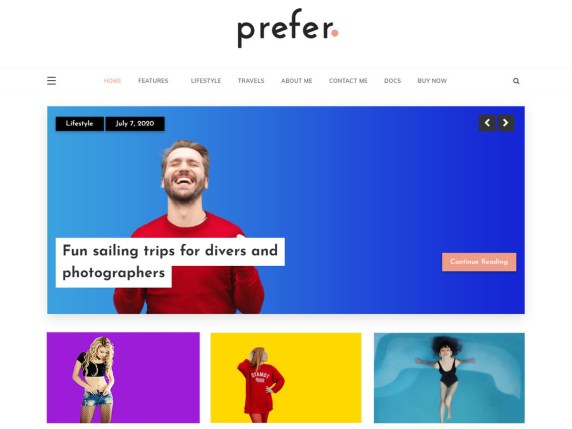 The following salient Canvas WordPress Themes in this collection is Prefer theme. This awesome WordPress blog and magazine theme offers search options, an off-canvas sidebar, multiple sidebar options, and so on. Besides, you can showcase the author's information in an attractive way and without any difficulty thanks to the added custom widgets.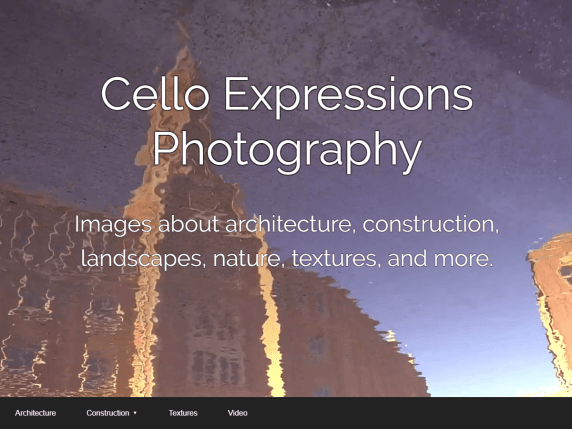 You will hold a chance to turn your site into an eye-catching canvas with layered images and content by using Arbutus. You are able to draw more customer satisfaction thanks to the opinionated post format designs. Plus, the optional header image or video is added on the homepage to help you optimize your content showcase.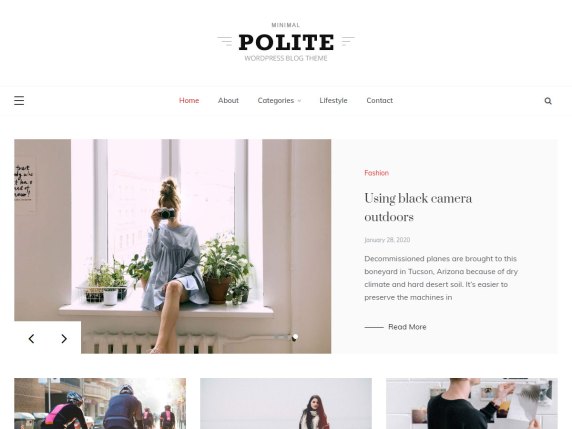 Polite is a good way to promote your blog and magazine websites. This theme permits you to show author information in an attractive way by using the united custom widgets. In addition, this theme also brings an off-canvas sidebar, several sidebar and footer options, etc… to help you enhance your site ability.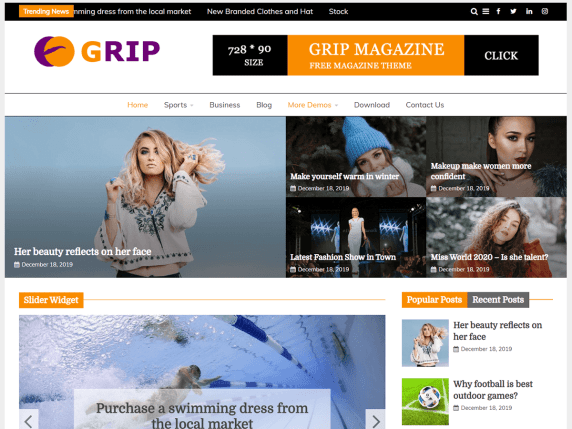 Grip is a simple to use, SEO-optimized, user-friendly news, and magazine theme. It is compatible with dummy data to assist your installation. It is also compatible with custom widgets for social, cross-browser, and other essential features. So, you can save much time and effort for building websites with the help of these features and one-click demo import.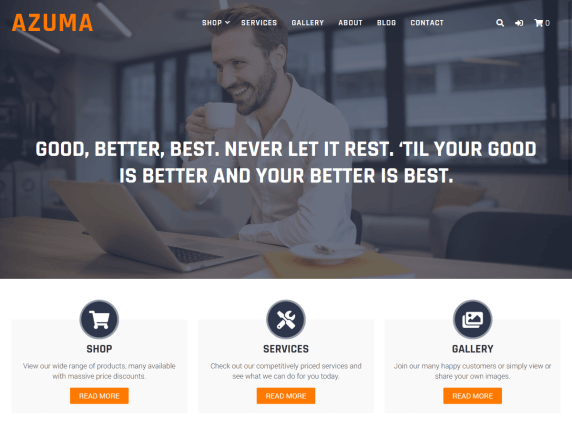 Azuma is compatible with various blocks and the block editor, as well as multiple popular plugins like Easy Digital Downloads (EDD) and WooCommerce, and so on. This theme provides a sticky header, custom colors and fonts, Grid layout, and many more for your customization. And, it also features Blank Canvas, Landing Page, …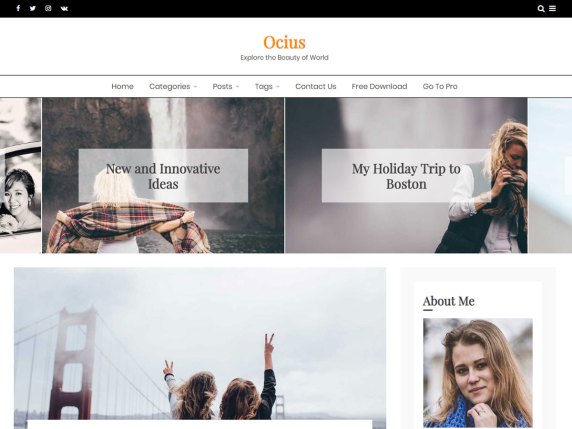 Ocius is created by schema.org structured data and SEO-ready features, so your site will appear on the top of Search Engines such as Google. You can set up this theme in some minutes because of the support of dummy data. This modern and dynamic theme has various typography, fonts, and color options. Additionally, the added customizable widget for social, sticky sidebar options, and other useful features are also introduced in this theme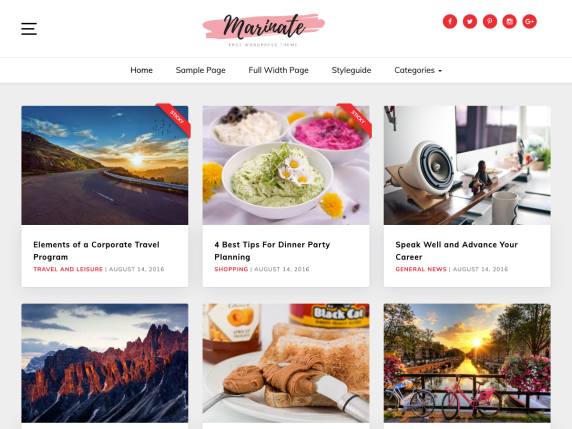 Marinate is integrated with Gutenberg, Grid layout, and a ready-made canvas widget. You can apply this theme for creating blogs or even displaying your business portfolio with high-quality images. Additionally, this theme will work perfectly on any device without any problem.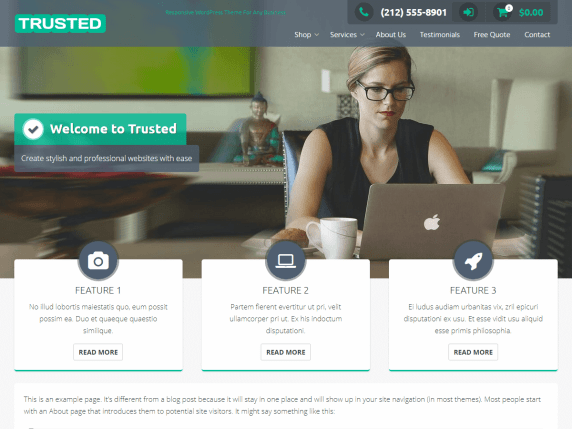 Trusted WordPress theme matches with all kinds of businesses, blogs, and websites. By compatibility with WooCommerce, you can develop your online stores easily. You are able to custom the color and see your changes instantly in the customizer section. With the Blank Canvas page template, you can take maximum advantage of it to utilize with any page builder plugins.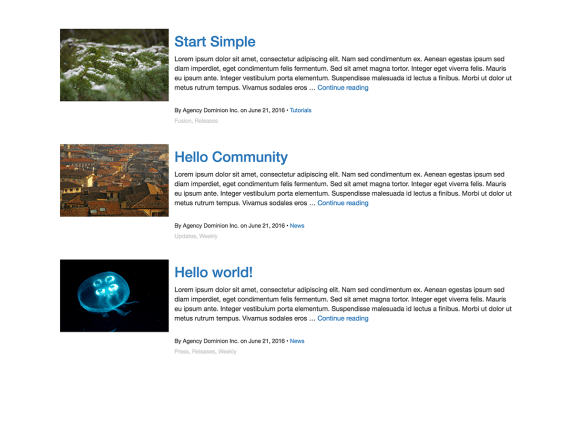 Fusion Base comes with a beneficial blank canvas theme that is based on Bootstrap. It acts smoothly with the Fusion plugin. This theme accepts the complete browser window to output content, so your site will be under Fusion control. In this way, it will extend your site's compatibility.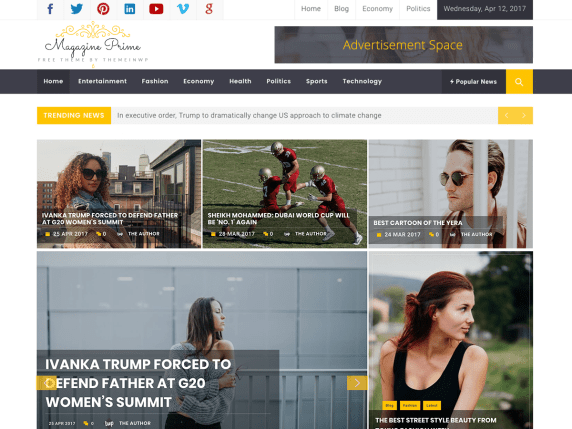 It will be perfect if you use Magazine Prime to build your news and magazines sites in a professional way. This theme offers unlimited theme options and layouts to meet all your needs. Magazine Prime is not only an ideal canvas but also brings various advanced blogging options for your creativity. Also, it is a simple and SEO-friendly theme.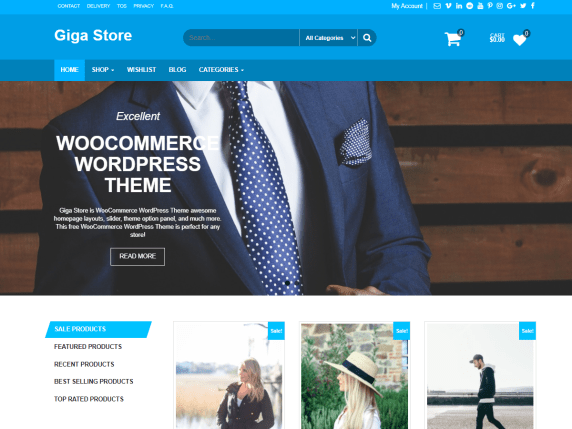 Giga Store is a simple-to-custom and SEO-optimized WooCommerce WordPress Theme. This is also a fully responsive theme that can perform smoothly on any device from mobile phones, tablets to PCs. By using it, you have the total right to control the homepage color options, social links, custom background, and so on.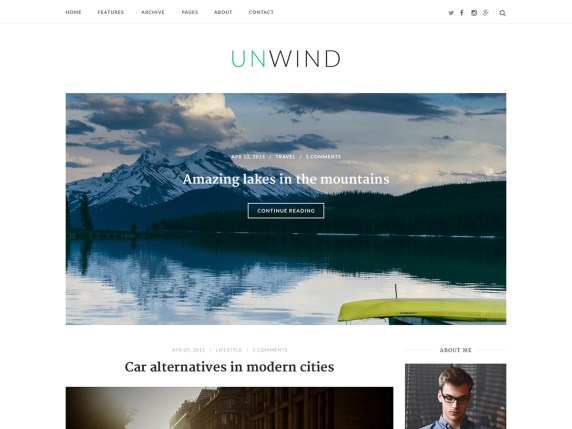 Unwind is a stunning canvas WordPress theme that is particularly suitable for creators and bloggers. This theme has four header layouts and five blog layouts, so you can make your site salient between the crowded market easily. It is also a fully responsive, mobile-friendly theme and stores many flexible options as well as integrates with many popular plugins like Jetpack Infinite Scroll and Page Builder by SiteOrigin.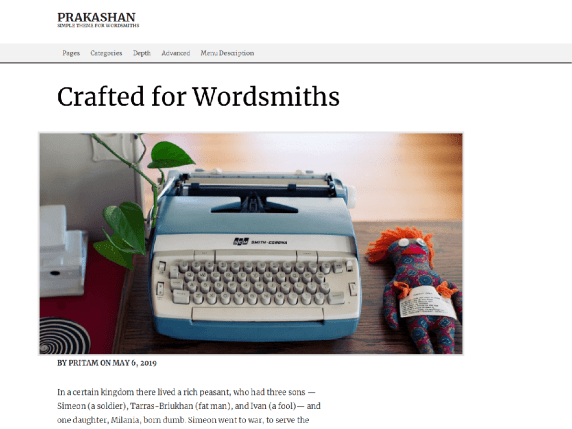 To help writers and bloggers present their content without distraction, Prakashan is created. This theme owns only one column and no sidebar. Thanks to the blog index page, it is possible for you to present the limited post-citation or restricted the post by tags of reading more. It also lets you add images to illustrate your content.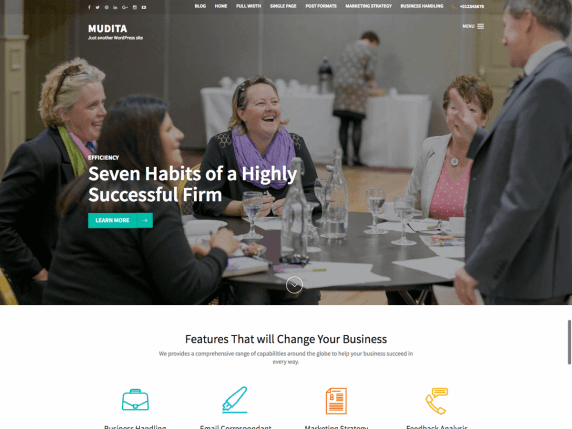 Mudita is an impressive Multiple purpose theme that fits all businesses, digital companies, corporates, freelancers, and other kinds. This is an SEO-friendly WordPress theme that can help your site rank high position in search engines results. Mudita features two menus, a full-width banner, team section, off-canvas menu, etc. Last but not least, it also comes with translation-ready, mobile-friendly, browsers, and devices compatibility.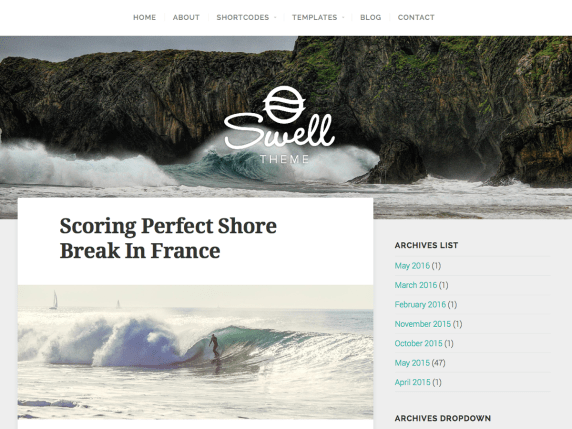 This minimalist and responsive WordPress theme is compatible with Gutenberg, so you can extend your Gutenberg possibility effectively. Swell Lite is tailored for all blogs, businesses, and websites, especially suitable for theme beginners and canvas designers. Outstanding features of this theme are a full-width custom header image and a flexible customizer.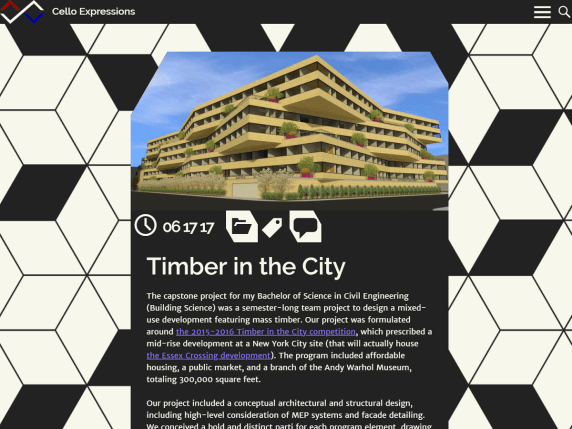 Figure/Ground can switch your site into an amazing shape and content canvas. It keeps a 64-pixel square grid, Figure/Ground features, and numerous customizable options. Before getting the footer widget areas, in the center of the page, your content will drop down with background animation.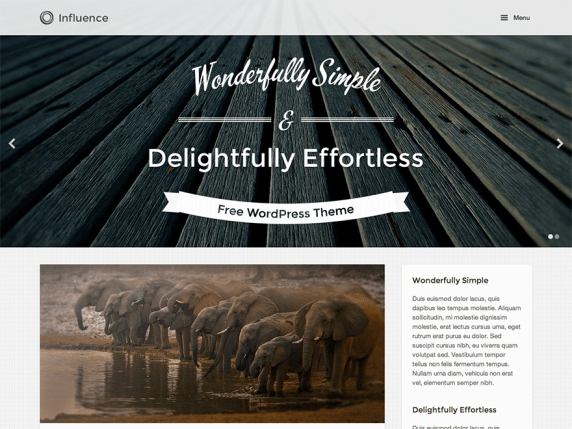 Influence helps you show your videos, photography, or content via a canvas in a simple way. The stand-out features of this theme are a responsive design and a huge home page slider. And of course, all of your video background images will be supported by this slider. All in all, Influence is the perfect theme for generating business and portfolio websites.
Finally, Docile consists of over 10 custom widgets, unlimited customizable theme settings and options, and more to serve you to customize your site in your own way. This theme has various valuable features like search options, off-canvas sidebar, multiple sidebar options, and much more. It also has extra custom widgets for trending news, post grid, etc as well as a primary color option for color modification.
Wrap up
To put it in a nutshell, we have suggested the most popular Canvas WordPress Themes in the hope that you can save much time and effort in the path of finding the most proper one. If you have any questions or meet any other Canvas WordPress Themes please let us know in the box below.
Furthermore, take a look at Free WordPress Themes to get more detailed information about several WordPress themes in case you are hesitant when looking for useful WordPress themes for your site. Thanks for your attention!