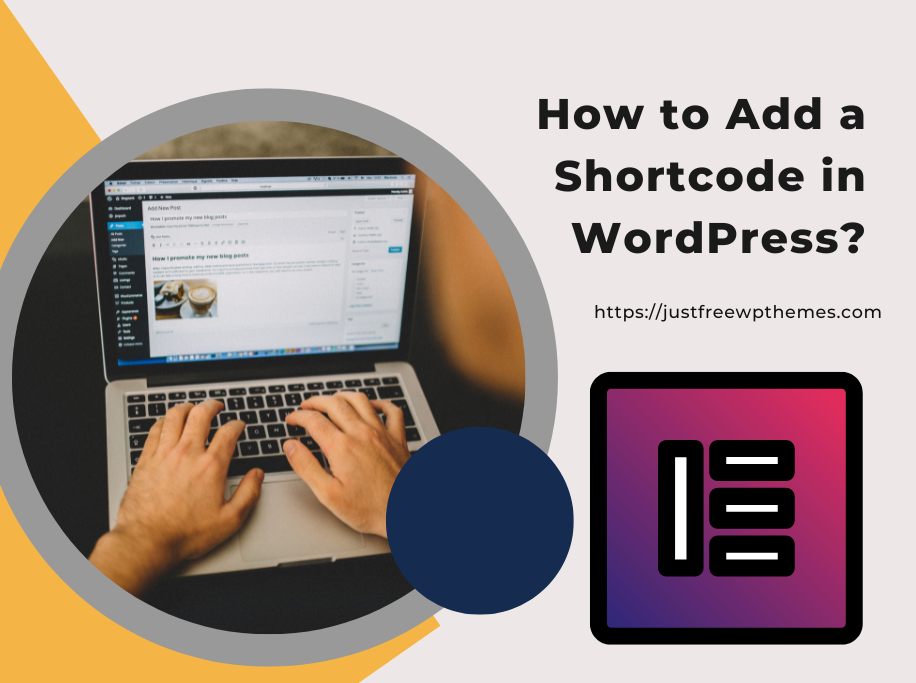 How to Add a Shortcode in WordPress? Consider using shortcodes in WordPress if you want your content to be more dynamic. Shortcodes make it simple to add a variety of content to your websites, including galleries, contact forms, audio files, sliders, and more. We'll show you how to install a shortcode to WordPress in this tutorial. Let's investigate them.
What are shortcodes?
In a word, a shortcode is a code that is unique to WordPress. The phrase is written between two square brackets, as in [yourshortcode]. Shortcodes can be used to provide dynamic functionality to posts and pages, including headers, header videos, display galleries, audio files, and much more.
A short code is a unique phone number intended for two-way, high-throughput texting. SMS and MMS communications can be sent to and received from mobile phones using short codes. Twilio presently provides short codes in numerous nations.
So, how to Add a Shortcode in WordPress? Keep reading to know.
How to Add a Shortcode in WordPress?
Adding a shortcode in WordPress Post/Page
Creating a new post or editing an existing post or page where the shortcode is to be included is the first step in adding shortcodes to WordPress
To discover this block, simply click the "+" button and enter "shortcode" into the search bar.

The block settings are where you insert your shortcode after that. Shortcode-compatible plugins must be used. Shortcodes are supported by a number of outstanding plugins, like Contact Form 7, WP Call Button, OptinMonster, WP Table Builder, and many more.
A shortcode will be given to you by each plugin. It is copyable and can be pasted into the block.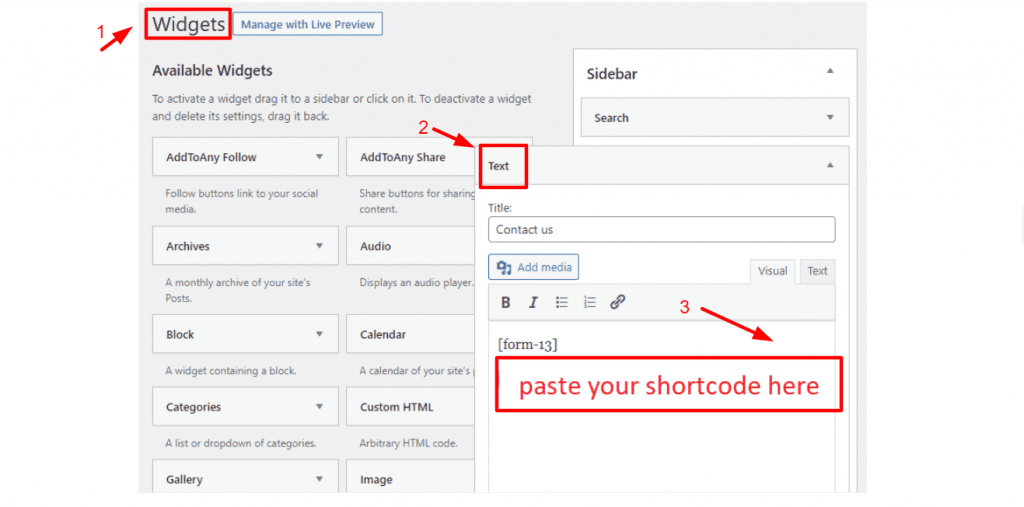 Adding a shortcode in the WordPress widget
You may utilize shortcodes in sidebar widgets with WordPress. You merely need to add or drag the "Text" widget to a sidebar by going to the Appearance > Widgets page.
Simply insert your shortcode into the "Text" widget's text box, making sure to click the "Save" button thereafter.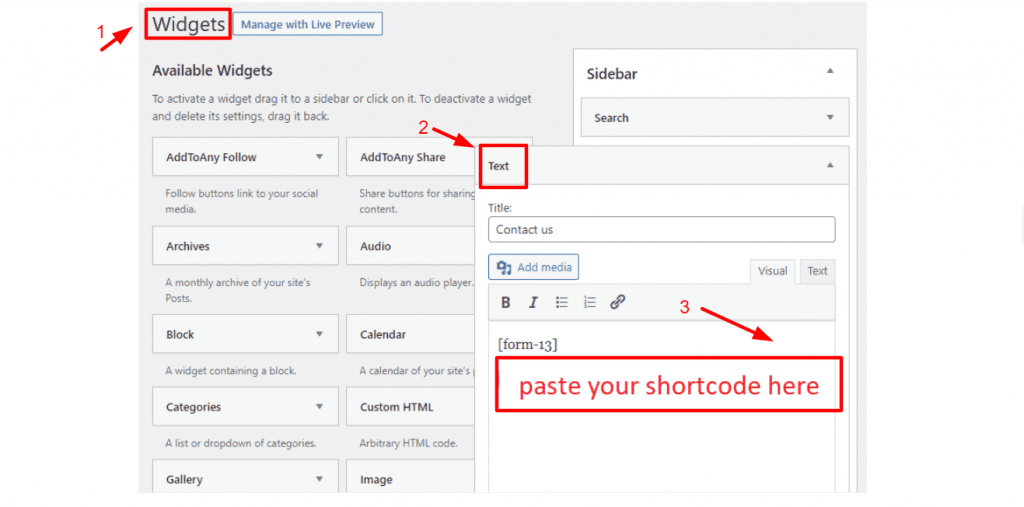 You now go to your website to examine how your shortcode is currently being used in the sidebar.
Now, you can Add a Shortcode in WordPress?
Adding a shortcode in WordPress Classic Editor
One of the most common WordPress editors is the classic editor. The procedures listed below can be used to insert a shortcode in the WordPress Classic editor.
The post and page where you want to put the shortcode must first be edited.
The shortcode can then be pasted into any location in the content field where you wish it to appear.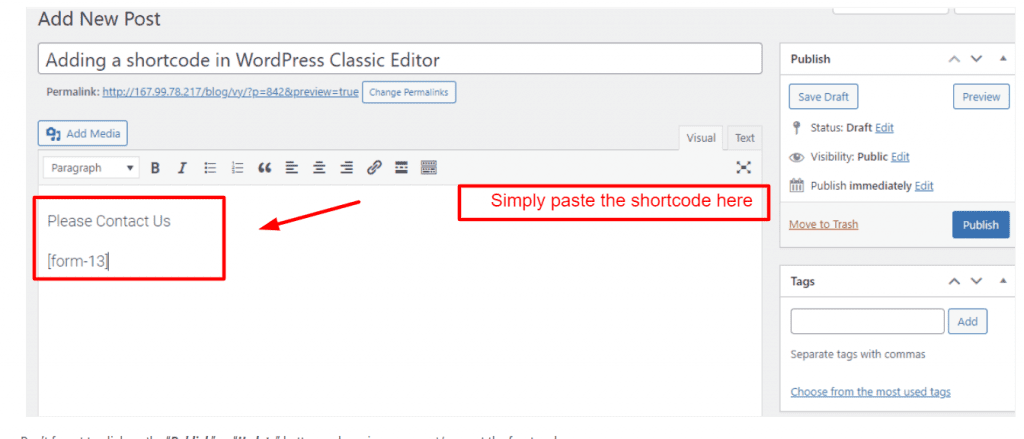 Don't forget to preview your post or page at the front end by clicking the "Publish" or "Update" button.
Adding a shortcode in WordPress Theme files
Shortcodes are typically applied to posts, pages, and widgets. However, you fully do this if you want to use a shortcode inside a WordPress theme file.
You must change your WordPress theme files to accomplish that.
Then, by copying the code below to any WordPress theme template, you may add your shortcodes.
<?php echo do_shortcode("[your_shortcode]"); ?>
The shortcode will then be located by WordPress, which will then display its results in your theme template.
Now, you can definitely succeed in Adding a Shortcode in WordPress. Don't worry to ask us anything if you can not do that. We will support you as possible as we can.
Final thoughts
You may easily add shortcodes to your WordPress site. We hope that the material on this blog will be helpful to you in solving your issue. Please share this blog with your friends if you find it useful.
Don't forget to follow Free WordPress Themes for more updates.