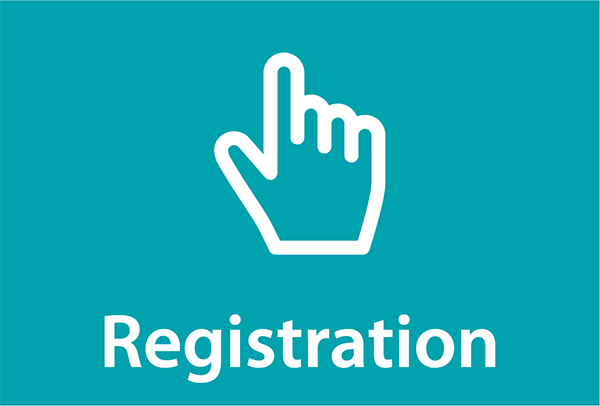 Make your website more user-friendly by using the WordPress Registration plugin!
Why should you try WordPress Registration plugin?
Here is the reason why you should install WordPress Registration plugins.
User management: A registration plugin allows you to easily manage the users on your website, including the ability to approve or deny new registrations and manage user roles and permissions.
Custom registration forms: Many registration plugins offer the ability to create custom registration forms, allowing you to collect additional information from users beyond just their username and password.
Security: A registration plugin can help to improve the security of your website by implementing features such as password strength checks, spam prevention, and CAPTCHA.
User engagement: Allowing users to create accounts on your website can increase their engagement and participation, such as commenting, voting, and submitting content.
E-commerce integration: If you have an e-commerce website, a registration plugin can integrate with your shopping cart software to create customer accounts and streamline the checkout process.
Top WordPress Registration Plugins
WP User Frontend is one of the best frontend developer plugins for WordPress. It provides frontend dashboard, frontend editorial manager and distributing, and frontend uploader for WordPress client profile, post entries, and enrollments.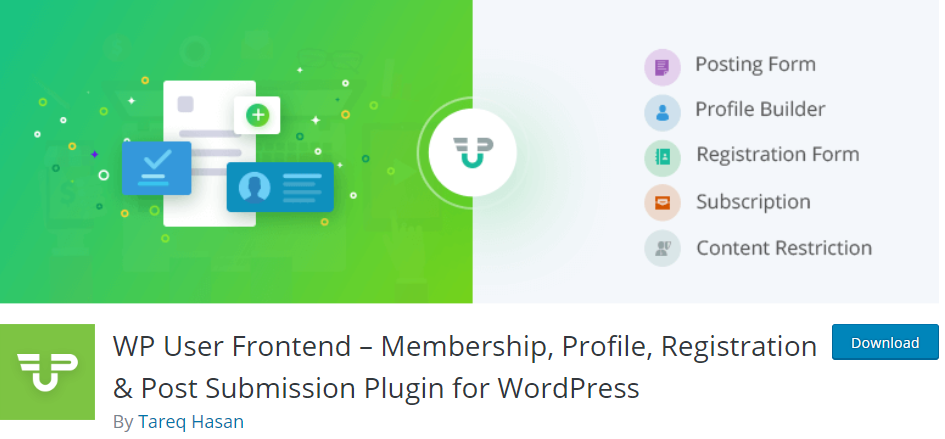 Features:
Unlimited post type form creation
Allow edit customer profile
upload attachments from the frontend
use drag-n-drops and real-time preview
Enable certain user roles to make posts
and more.
Highlights:
Easy to use
Useful support
Perfect plugin.
User Registration gives you a simple method to make frontend client sign up and login forms. This WordPress Registration plugin is lightweight so as to be utilized to make any kind of registration layout.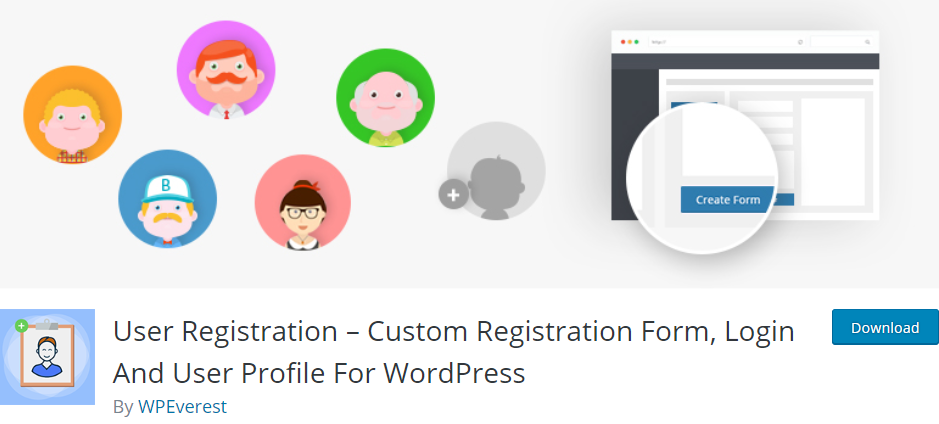 Features:
Support drag and drop fields
Multiple form template designs
Unlimited registration form
Available email notifications
Admin approval option
and more.
Highlights:
Best tool
Great function
Excellent support.
Registration Magic is an amazing WordPress user Sign Up plugin and WordPress that gives you actually manage client registration on your site. You also can make diverse forms for clients, each with various pre-characterized fields and set up installments for paid client enrollments.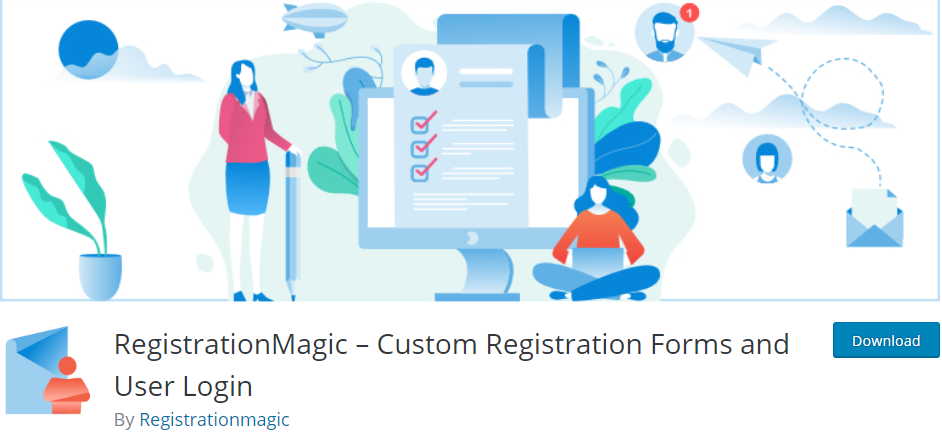 Features:
Unlimited online user registration forms
Submission counter on form card
Short-code system for forms
Default form selector
Custom user registration URL
and more.
Highlights:
Fully customizable
Nice features
Powerful plugin.
This WordPress Register plugin allows you to integrate modal with useful features. After installing, you will get well customizable, 100% responsive, beautiful coded.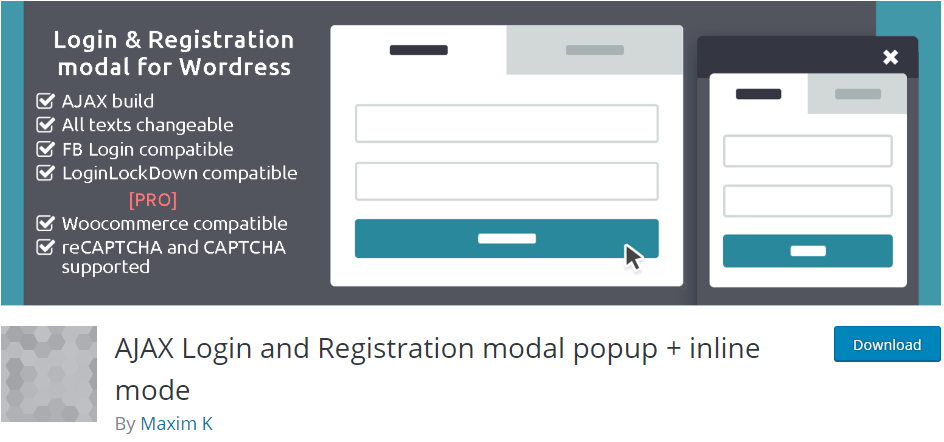 Features:
Compatible with other plugins
Possible to customize skins colors
Support inline via shortcode
Allow reload, redirects
and more.
Highlights:
Nice plugin
Easy to implement
Slick design.
Pie Register is a speedy and simple to utilize WordPress Registration Plugin which redoes site enrollment frames with simple to utilize highlights. There are drag and drops, welcome just enlistment, email layouts, apply restrictive logics, information import, and so on.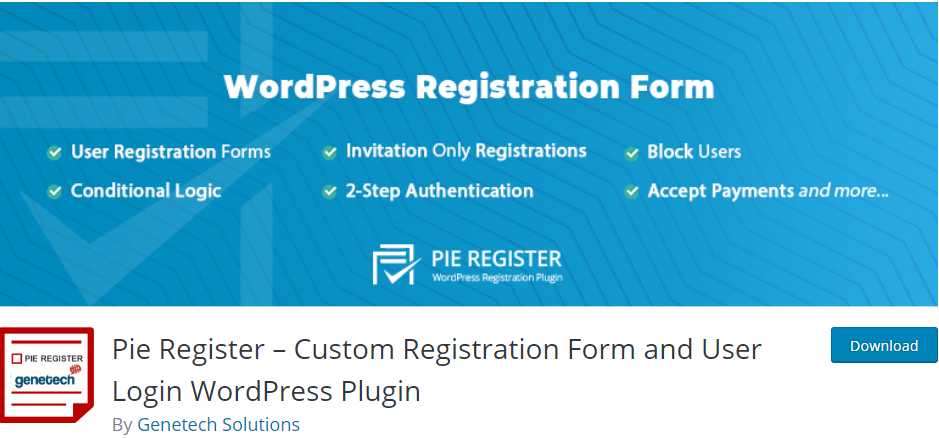 Features:
Ability drag and drop fields
Works on mobile, tablets and desktop
Approve user registration requests
Charge one-time membership fees
Use custom email templates
and more.
Highlights:
Comprehensive tool
Help functionality
Best communication.
Profile Builder is simple to utilize profile module permitting front-end login, client enrollment and alter profile by utilizing shortcodes. Moreover, visitors with director rights can modify fundamental client fields or add custom client fields to the front-end frames.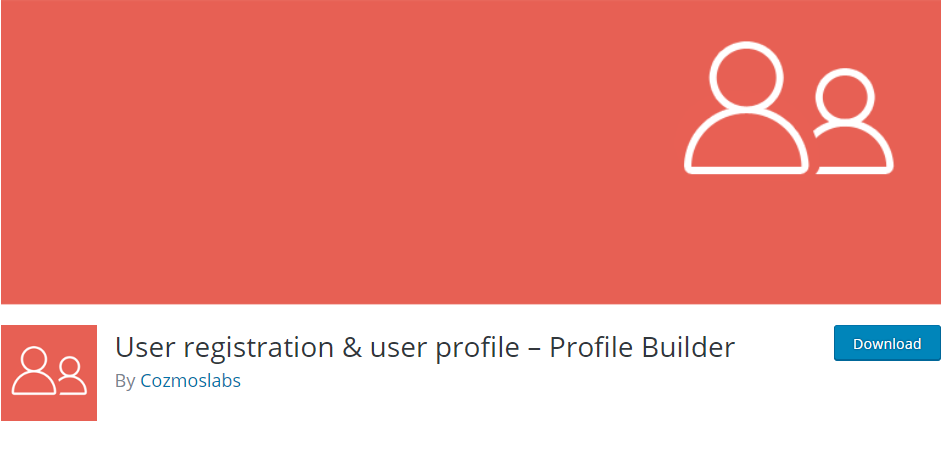 Features:
Reorder user profile fields
Confirm email address with a notification
Assign users at registration
Customizable user login widget
Add a custom stylesheet
and more.
Highlights:
Fantastic plugin
Simple to use
Very responsive support.
Using this WordPress Registration plugin, you get a chance to get basically code the structures in HTML with the assistance of the module structure developer. Then it will transform them into useful custom login, and password.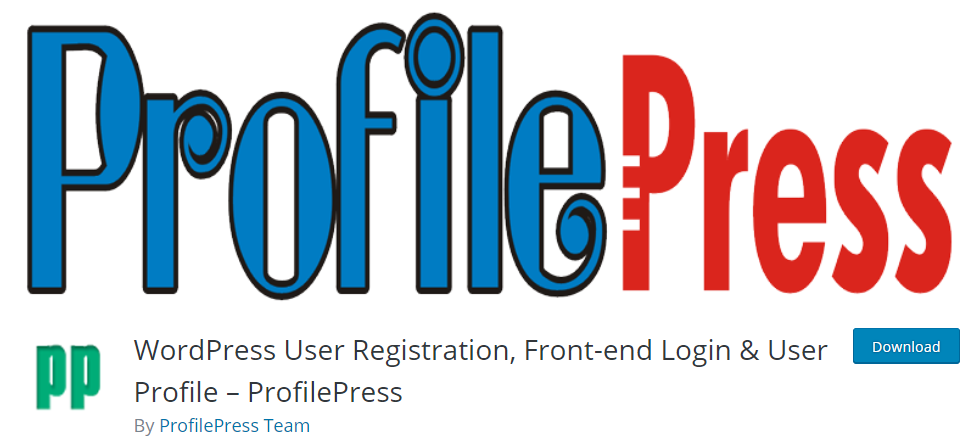 Features:
Unlimited front-end login forms
Live preview of form design
Redirect WordPress default login
Available front-end password reset forms
Reset to custom password reset page
and more.
Highlights:
Excellent plugin
easy to work
Blazing fast.
Simple User Registration is a popular WordPress Sign Up plugin to transform your site into a participation site. Also, it will produce every single vital page required for any participation site which allows individuals to keep track profile on the frontend.

Features:
Auto-generate member pages
Manage redirects
Show user profile
Allow new user notifications
Translation language ready
and more.
Highlights:
Very efficient tool
Quick and efficient
Covers multiple needs.
Registrations for The Events Calendar helps you gather and control occasion sign up with an adaptable structure and email formats. If you use this WordPress Registration plugin, you need an approach to deal with enrollment whether you're holding a meetup, class, workshop, competition.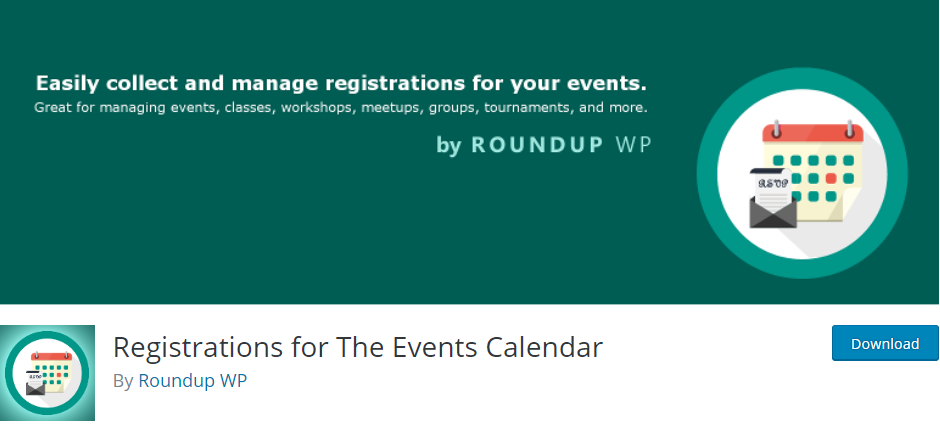 Features:
Add the registration form parts
Display the registration form anywhere
Customize the labels, error message
Limit the number of registrations
Specify a registration deadline
and more.
Highlights:
Works fantastic
Flexible plugin
Quickly reply.
UsersWP is considered the easiest arrangement accessible to manage clients on WordPress. Additionally, with this WordPress Registration plugin, when you need to hide any area, you can choose the location like a sidebar or own tab.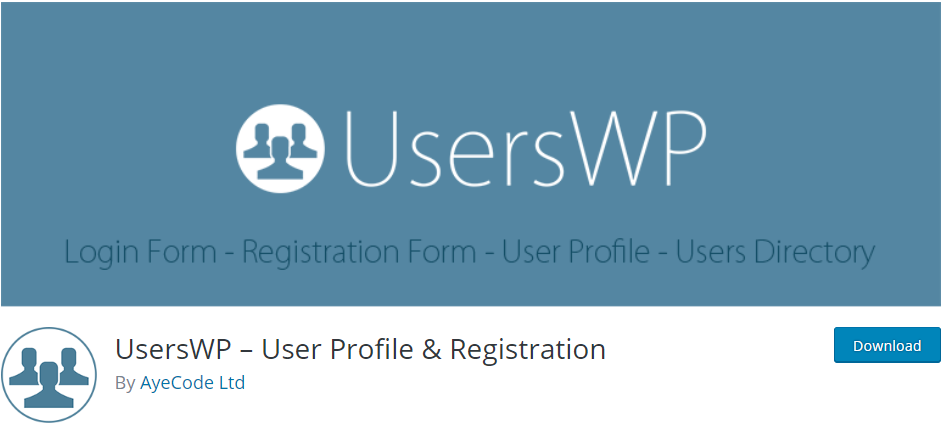 Features:
Drag and drop profile builder
Shortcode for the login form
Custom menu items
Create correct shortcodes
Show or hide any section
and more.
Highlights:
Easy to use
Many features
Brilliant plugin.
Auto Login New User After Registration will provide you a wide of functional features so that you can get auto-login in the correct way. Besides, you enable to have the free choice to disable the irritating administrator warning messages about the password.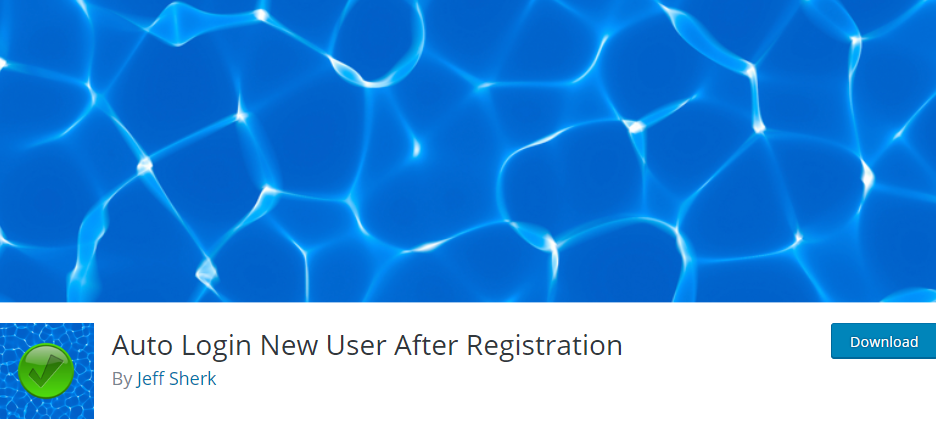 Features:
Automatically log new user registers
Create a password during registration
Add first/ last name field
Disable the annoying emails
and more.
Highlights:
Advanced features
Great plugin
Time-saving.
This WordPress Register plugin is a basic wonderful Form Builder, which is perfect for user-submitted content. It is also easy to empower individuals, clients and network to contribute and design in with your site.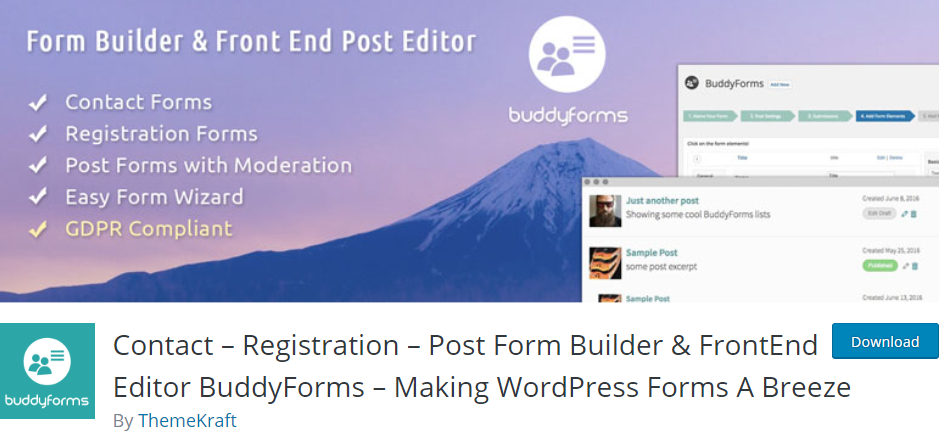 Features:
Choose between over 20 field types
Set custom validation rules
Full moderation control
Submit your form by reloading the page
Enable or disable comments
and more.
Highlights:
Work excellent
Nice tool
Helpful support.
Wrap Up
To sum up, we hope you will get the most suitable WordPress Registration plugin for your site. If you find it useful. please share it with your friends and take more free WordPress theme!
Thank you for reading! You can leave a comment below or contact us, we will reply as quickly as possible.