Nowadays, most people certainly own at least a smartphone to connect to the internet, contact, or use it for entertainment purposes. In addition, many users tend to like using smartphones to search the internet instead of using desktops due to their convenience. It is the reason why you should optimize your website for mobile devices.
In today's blog, we will introduce a list of top-notch WordPress Mobile Plugins that will help you create a mobile-optimized and responsive website. Let's check them out.
The benefit of using WordPress Mobile Plugins
If you want to show your website in a mobile-optimized manner, installing a WordPress Mobile Plugin is an effective option. In this way, you can bring a great experience for your mobile users who remarkably increase over the years. Thanks to it, you can increase the traffic and rating of your site effectively. However, these days, there are a lot of mobile plugins in the market and you may not know what is the most suitable one for your site. Understanding your need, today we provide you top best WordPress Mobile Plugin that can help you choose the best one in real-time. Let's start now!
Top Excellent WordPress Mobile Plugins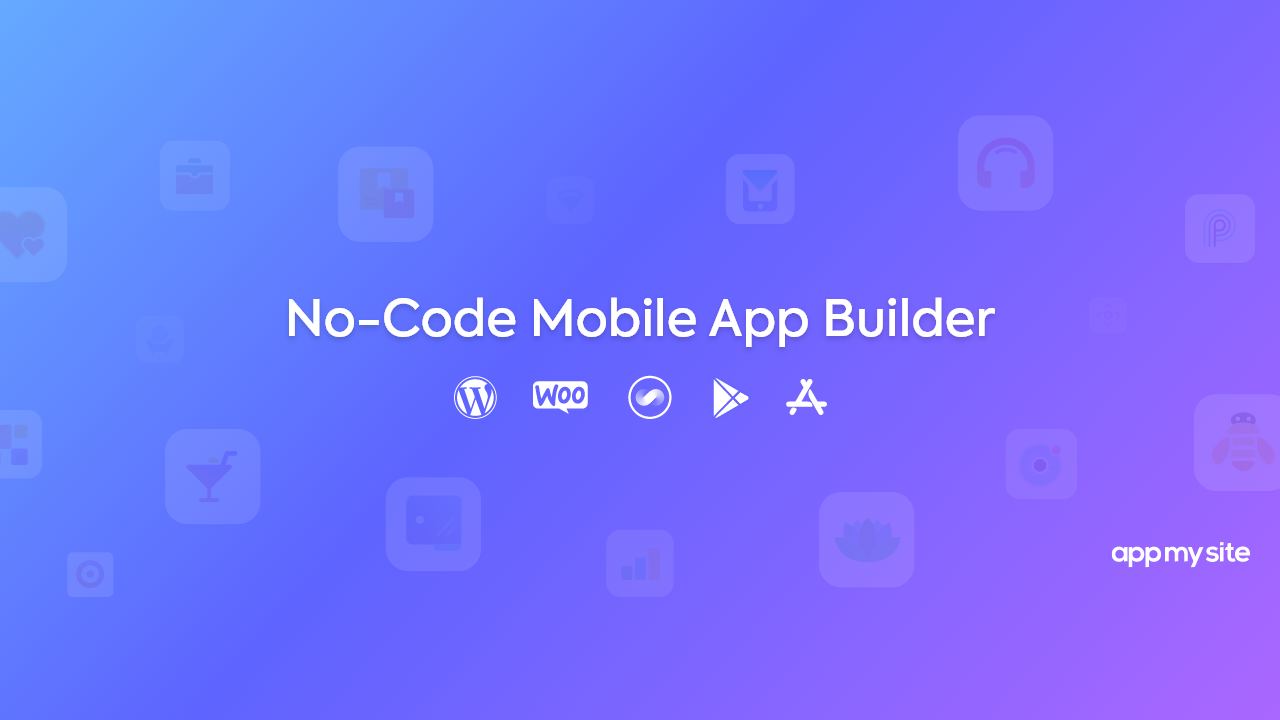 With AppMySite's WordPress plugin, website owners can effortlessly transform their websites into fully-functional apps within minutes. By establishing a seamless connection between your website and app, the plugin ensures that your app's interface reflects WordPress site's content.
Here are some powerful features you can get with AppMySite:
Use no-code features and swift automations to build apps in a matter of minutes.
Compliant with Google Play and the App Store.
Advanced design editor to craft truly personalized app designs.
Seamless WordPress and WooCommerce integration.
Compatible with All CMS platforms and web technologies.
Integrate third-party app login providers.
Publish new versions of your iOS app to the App Store.
Sync your website's content with your mobile app's native interface.

AMP for the WP plugin allows you to add Accelerated Mobile Page for your site directly. Besides, this plugin also helps to make your site run quicker for your mobile visitors. Thanks to a Custom AMP Editor included in this plugin, you can override your content which was written in your posts and page.
Provided features:
Custom AMP Editor
Design 3 Watch the Video Overview
Disqus Comments Support
Google Tag Manager Support
Custom Post Type Support
Mobile Redirection
9 Advertisement sizes
Comments Forms in AMP.
Native AMP Search functionality
Highlights:
Customer Service Excellent
Excellent support
Outstanding assistance

Here is an unfathomable WordPress Mobile Friendly Plugin that you can use to change the substance of your site page into a fascinating steady web application. Additionally, you can moderately have a capacity to adjust the closeness of your strong web application with the target that it can take after your image character.
Provided features:
Pick what pages you need to show up
Add to Homescreen
Access to different application subjects
Re-try your versatile web application's appearance
Stacking the adaptable web application
Offer your clients an essential getting experience
highlights:
Flawless module
Cutoff focuses consummately
Solid module

This module enables you to isolate all the Mobile Browsers correspondingly as burdens the versatile subject. Likewise, you can equivalently have the decision to pick a different profitable theme for each versatile program and the different negligible subjects for the total of the decisions like Ipad, Android, iPhone, Blackberry progress more.
Provided features:
Works With W3 Total Cache
QR code for flexible bookmarking
Better Mobile Detection
Serve separate invite page for phones
Snap To Call to phone numbers
Highlights:
Works flawlessly
Faltering Plugin
Astounding review

Jetpack module offers you a limited subject that you can complete for your site just by going into your Jetpack settings territory. In addition, the subject can work when it sees a wireless. It in like manner licenses you to supplant your present responsive subject in case you need.
Provided features:
Creature power attack security
Fortresses of your entire site
Pushed site subtleties and appraisal
Different expert subjects
Customary and basic customization devices
Critical PayPal separate gets
Coexisting with the position WordPress limited applications
Malware sifting
A record of each change
Highlights:
Solid application
Bewildering
Bewildering Plugin

This WordPress Mobile Friendly Plugin gives you a capacity to make correspondingly as set up your specific favicons for your versatile contraptions effectively, for example, iPads, Android, Windows tablets, iPhone, etc. Moreover, this module in like way makes you produce a streamlined favicon for Android comparably as IOS, for example, Firefox, Safari, Opera, Chrome and more in an altered way.
Provided features:
Fill in as a kind of bookmark for your site
Produce and strategy a favicon for work district programs
Staggering work district favicons
Produce all the pictures
Make an updated favicon for iOS and Android
Highlights:
Works impeccably
Enough crucial to utilize
Staggeringly solid

WPtouch is a pivotal WordPress Mobile Plugin that you can use to insert a sublime and direct flexible subject for your supportive visitors. In addition, considering using this module, you can in like way ensure the SEO masterminding of your site. This module in like manner gives you a colossal proportion of pro subject for your affiliations, makes correspondingly as WooCommerce retailers.
Provided features:
A social event of improved subjects for online diaries
Join rich publicizing decisions
Top of the line one-on-one assistance
Join a quick and impeccable flexible point
Change various bits of its appearance
Highlights:
Stunning thing
Stunning Plugin
Outstanding

WPMobile.App Plugin awards you to make an iPhone-iPad and Android neighborhood flexible application for your WP site continually. Also, you can in like way utilize this module to pass on the advantageous application that you made on the Apple Store or Google Play.
Provided features:
Test your advantageous app with the Android and iOS demo application
Pick the name, the logo and the subject of your advantageous application
Clients can look for your substance genuinely
Flawless with cell phones and tablets
Clients can share your pages and your articles
Highlights:
Sufficiently open
Top help
Amazingly astounded


Is it genuine that you are finding a module to help with the experience of your compact site? Here is your answer. This is a WordPress Mobile Friendly Plugin that empowers your visitors to pick up induction to your site successfully through their flexible contraptions, for instance, tablets, work zone, PDA, and so on.
Provided features:
3 Depth Menu Level
Uncovered Header
Logo/Text Branding
Establishment picture for the menus
Uncovered Header
Debilitate Mobile Menus in express pages
Elective menus per page
Menus only evident for marked in customers
Header Live Search
Footer menus
Google Fonts
Alter the styling of your versatile menus
Highlights:
Extraordinary module
Intuitive interface
Look mind blowing

Max Mega Menu grants you to make your site accommodating improved. By using this module, you can give your PDAs a certain and easy to use menu. In like manner, you can in like way insert distinctive standard WordPress devices for your menu correspondingly as change the style of the menu with a specialist subject dispersion official.
Provided features:
Sort out your submenus into regions
Show WordPress Widgets in your menu
Change the styling of your menus
Develops the standard WordPress menus structure
Supports different menu territories each
Off-canvas or standard drop-down versatile menu
Supports Flyout or Mega Menu sub-menu styles
Buoy, Hover Intent or Click event to open sub-menus
Dim, Fade Up, Slide Up or Slide sub-menu changes
Add pictures to menu things
Highlights:
Faltering Plugin
Shocking
Shocking free structure

Call Now Button licenses you to put a call straightforwardly button for your site and show a picture on the screen of your adaptable contraptions. You can in like way pick the page that the catch ought to show up. Moreover, this module in like way empowers you to mastermind a tick following methodology with modules having Google Classic Analytics or Google Universal Analytics.
Provided features:
Show a picture on the telephone's screen
Perceive a productive catch that says "call now"
Combine a tick following methodology with Google Universal Analytics
Pick which pages the catch ought to show up
Highlights:
Clear present
Extraordinary with Elementor
Direct structure
The bottom line
This is all of our collection today. WordPress Mobile Plugin is a great tool for any website. By using it, you can increase the traffic to your site. If you have any questions, don't hesitate to leave a comment below. And don't forget to share it with your friends if you find it helpful.
Moreover, you can also get access to free WordPress themes to have a more attractive design for your websites.