If you are running a business, it is necessary for you to create a professional event that strengthens the relationship between colleagues as well as customers. Today we will show you some nice WordPress Free Event plugins to have helpful events. Let's see now!
Why should you use WordPress Free Event Plugins?
Such plugins can help you create and manage events from right inside your WordPress dashboard. Then, they'll help you show those events on the front end of your site in a variety of different views. And, depending on your needs, they can even help you sell tickets and manage attendees!
Top WordPress Free Event Plugins
Events Manager is a beautiful WordPress Free Event plugin that will help you improve your events. You can easily modify the output with the plugin's settings page or even modify a huge amount of template files if necessary.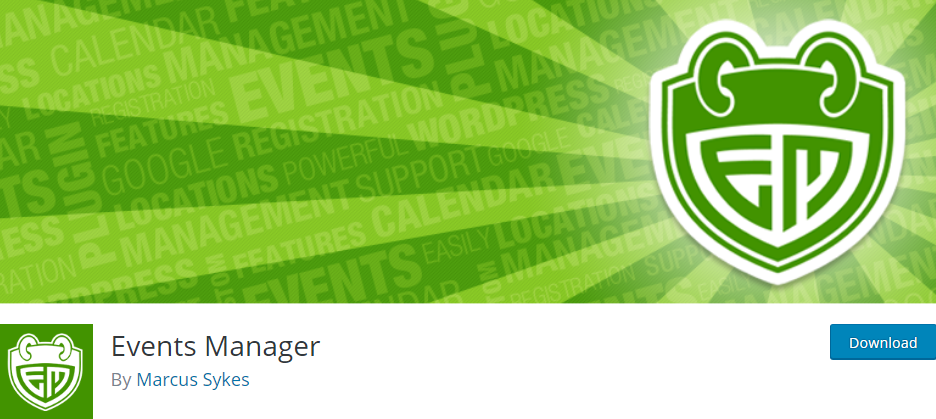 Features:
Recurring and long event registration
Assign event locations and view events by location
Add to Google Calendar buttons
Create events in different timezones
Template tags and shortcodes in posts
and more.
Highlights:
A lot of options
Work great
Outstanding Software.
The Events Calendar is packed with loads of useful features so that you can create, design and manage your events easily. Moreover, it is completely responsive from mobile to tablet to desktop.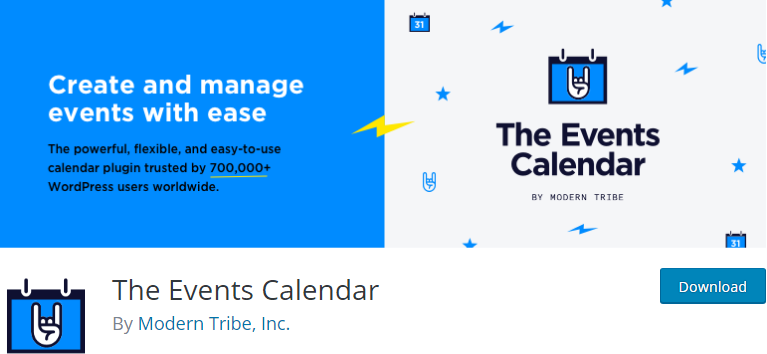 Features:
Saved venues and organizers
Calendar month view with tooltips
Multiple stylesheets ability
Upcoming events list support
Internationalized and translated
and more.
Highlights:
Good plugin
Excellent support.
Events Made Easy can do everything you need to create, manage, and ticket events. It is very flexible and you are not restricted by a time frame to pay for the use of a very well written plugin as it is free.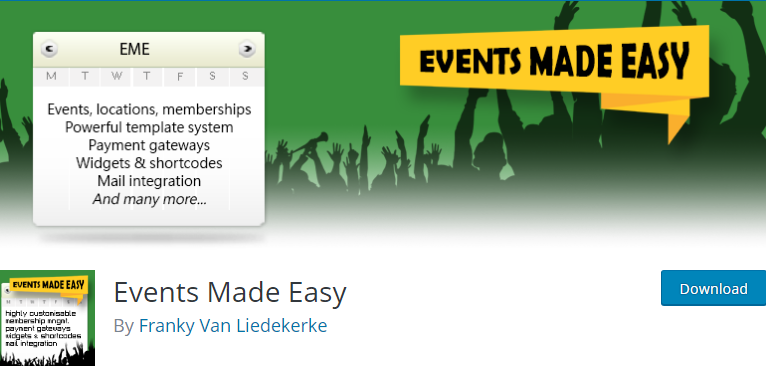 Features:
Custom and dynamic fields in the RSVP form
RSS and ICAL feeds
Provide optional OpenStreetMap integration
Templating for mails, event lists
Payment gateways support
and more.
Highlights:
Flexible plugin
Well structure
Powerful features.
All-in-One Event Calendar is special in that it incorporates full ics/ical support. In addition, your calendar can be embedded into a WordPress page without needing to create template files or modify the theme.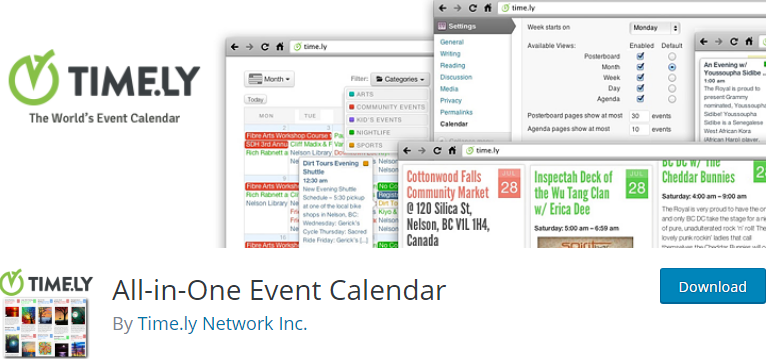 Features:
Recurring events including complex patterns
Color-coded events based on category.
Direct links to filtered calendar views
Day, week. month view
Inline Calendar Theme editor
and more.
Highlights:
Nice features
Functional plugin
Really reliable.
Event Tickets is very good that everything works smoothly exactly. This best Event Management plugin for WordPress is tested on the major theme frameworks such as Avada, Genesis, Woo Themes, Thesis and many more.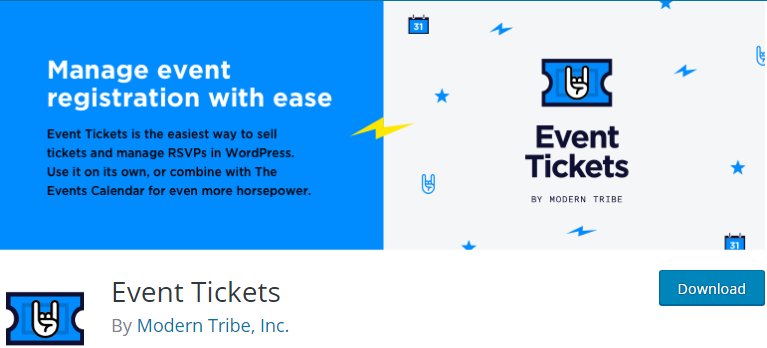 Features:
Add RSVPs and tickets to posts
Extensive template tags for customization
Hooks and filters galore
Translation ready
Connect PayPal business account
and more.
Highlights:
Great product
Nice functionality.
WP Event Manager is considered one of the WordPress Free Event plugin that allows event listers to preview their listing before it goes live. Also, each listing can be tied to an email or website address so that attendees can register to the events.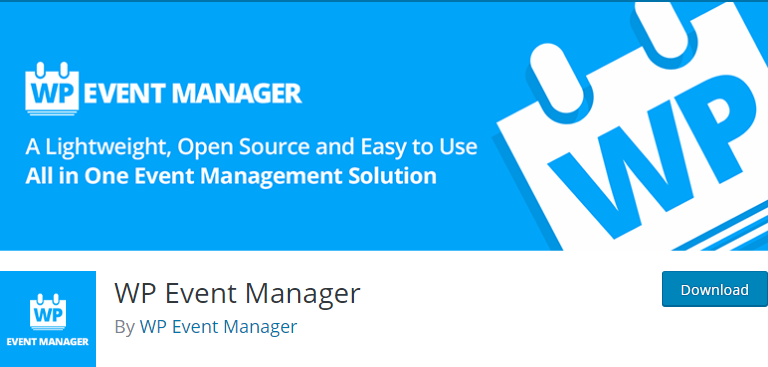 Features:
Cross Browsers support
Add, manage, and categorize event listings
Searchable and filterable ajax
Display RSS links
Multilingual Translation
and more.
Highlights:
Excellent support
Helpful plugin.
Event Calendar is an adaptable schedule widget that enables you to interface with your database and show your occasion days on a view. You also can easily list your events on wherever you want on your page via shortcodes.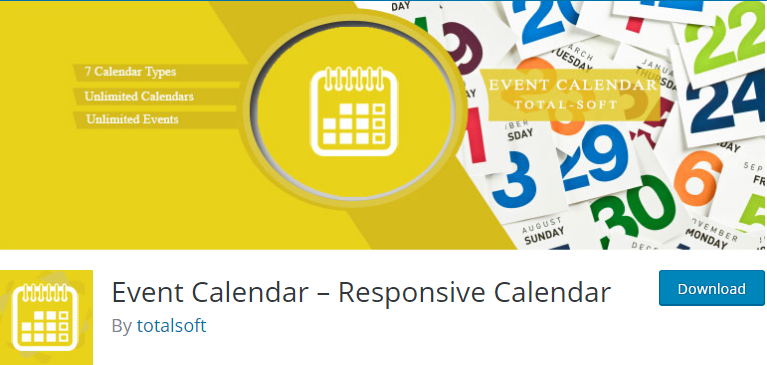 Features:
Intuitive event labels
10 free themes option
Display multiple events
Customize the calendar color, font size
The ability to change the color
and more.
Highlights:
Simple to configure
Nice work
Useful support.
With Registrations for The Events Calendar, you are able to view a breakdown of registrations by event and browse them quickly in an overview. You also can follow-up with your attendees with a customizable confirmation email.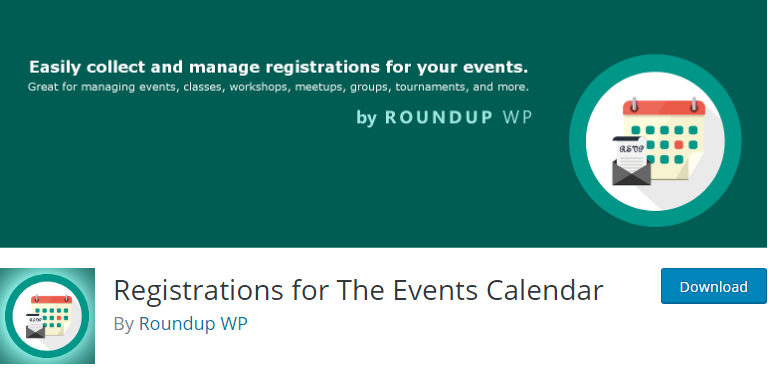 Features:
Customizable confirmation email
Save entries in a database table
Add the registration form
Export your registrations to a CSV spreadsheet
Search registrations by name, phone, or email
and more.
Highlights:
Amazing plugin
Quick support.
Conclusion
We hope you can choose the best WordPress Free Event plugin for your site. You can share this blog with your friends and take more beautiful free WordPress themes.
Thank you for reading! Remember to leave a comment below or contact us when you have any questions!