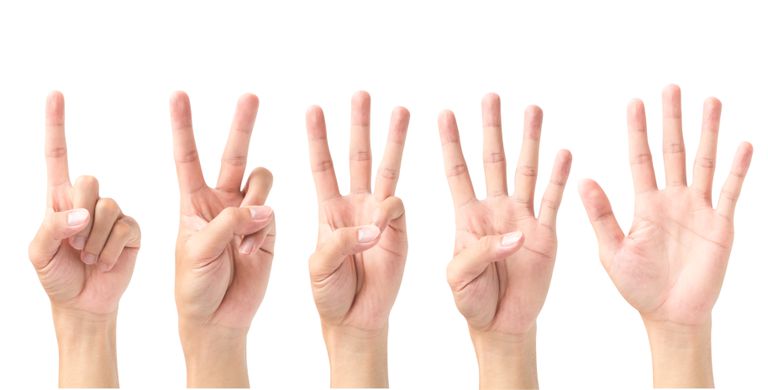 Sometimes, you need to have some figures to do statistics in the quickest way. Simply, you only want to figure out the number of views, posts, or pages in order to manage your site easily. Today, we will give you a collection of the best WordPress Counter plugin that can help you. Take a look!
How is the WordPress Counter plugin important?
A WordPress counter plugin can be used to track various statistics and metrics on a website. This can include things like page views, unique visitors, and the number of times a specific page or post has been viewed. This information can be valuable for website owners and administrators as it can help them to understand how their website is being used, which pages are most popular, and where visitors are coming from.
Some counter plugins may also include features such as the ability to track user engagement, such as the average time spent on a page, and the ability to track conversions, such as the number of people who have completed a form or made a purchase.
Additionally, some counter plugins may also include functionality to track traffic from different sources, like search engines, social media, and direct traffic. This can be useful in understanding the effectiveness of different marketing campaigns and for making data-driven decisions about future marketing efforts.
In summary, the WordPress Counter plugin is important as it provides website owners and administrators with valuable insights into how their website is being used, which can help them to optimize the site for better performance and user experience, and make data-driven decisions about their marketing efforts.
Top WordPress Counter plugins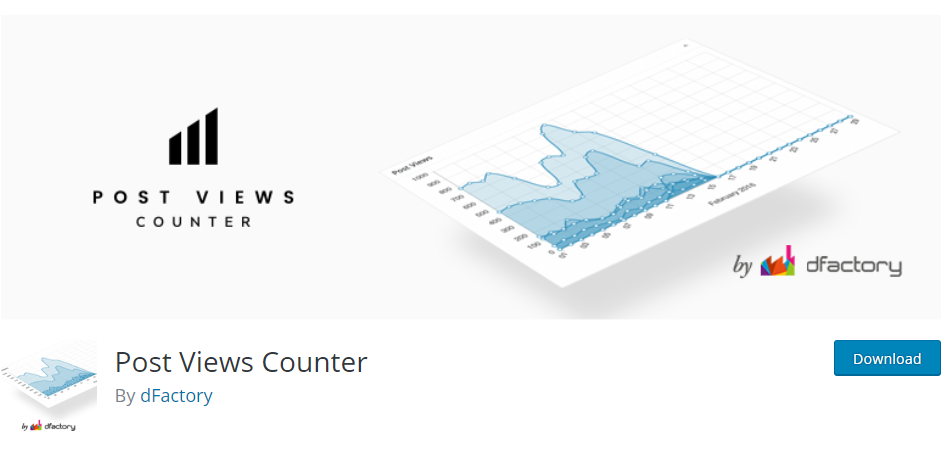 Post Views Counter is a WordPress Counter plugin that allows you to observe and calculate the views from visitors. From that, you can know exactly how many people see and read your post in a day, in a month or in a year.
Features:
Option to select post types
Possibility to manually set views count
Capability to query posts
Set counts interval
Sortable admin column
and more.
Highlights:
Really nice plugin
Easy to manage
Good work.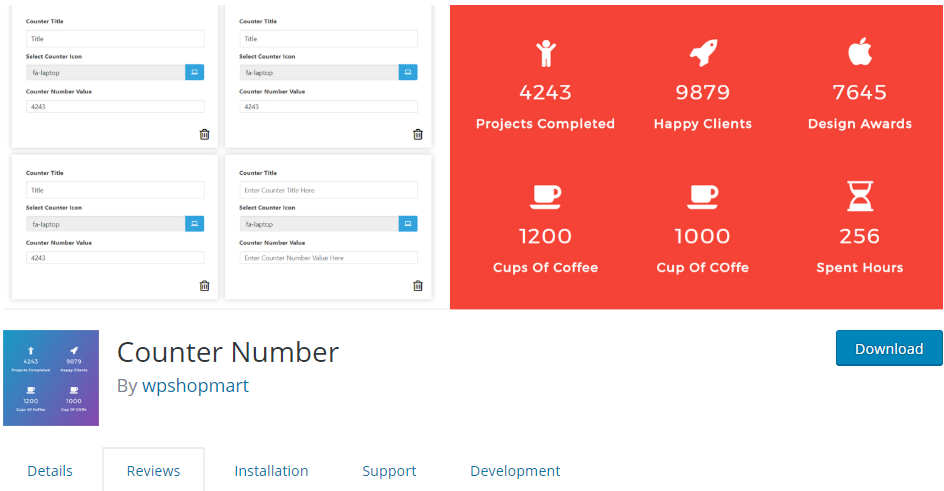 Counter Number is a tool that helps you count any number of related information to give you the necessary data. In addition, you enable to create and update a title, counter stats, and icons you want.
Features:
Various colors, font size
Add Limitless Counter stats
Draggable box items
Accept via short-codes
Set title. icon
and more.
Highlights:
Very beautiful and useful
Simple to use
Great plugin.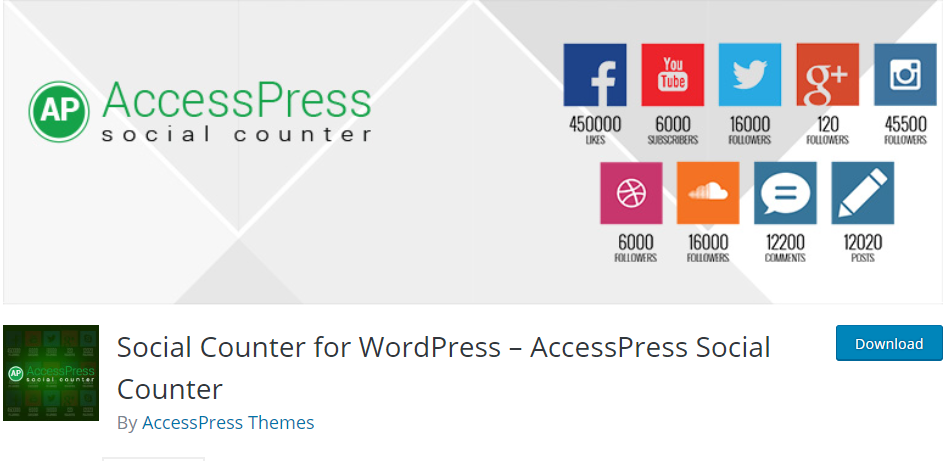 AccessPress Social Counter is a helpful WordPress Social Counter to provide and show the number of online accounts and followers on your site. This is the perfect option for you to show your social media figures that collect more networking interaction for your site.
Features:
Available beautiful design themes
Major 7 social media included
Auto updates on all APIs
set a cache period
Support email, forum support
and more.
Highlights:
Nice and fast load
Fantastic support
Remarkable plugin.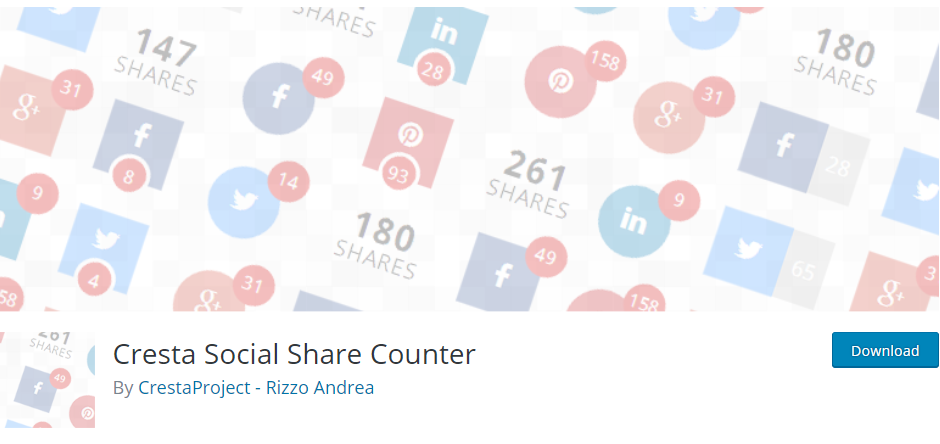 Cresta Social Share Counter is helpful to demonstrate the user hits in your site. This WordPress Counter plugin link to the social networking media like Facebook, Twitter, Google Plus, so your customers can quickly share page, post or comment with a button.
Features:
Show Social Counter
Choose up to 9 buttons styles
Show the floating social buttons
Display the social buttons
Flexible Use the shortcode
and more.
Highlights:
Easy to set up
Full functionality
Nice looking and quick working.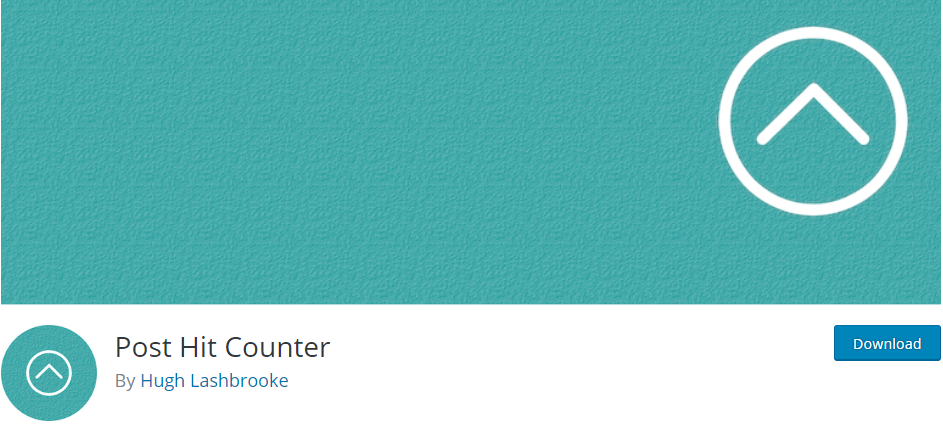 Post Hit Counter will give you the number of hits for each post on your website. This best WordPress Counter plugin will gather the data and the data will be shown clearly in the column in the statistics table then submit to post edit box.
Features:
Display view count
Show most viewed posts anywhere
Select post types counted
Visible hit counts in the dashboard
and more.
Highlights:
So useful
Convenient plugin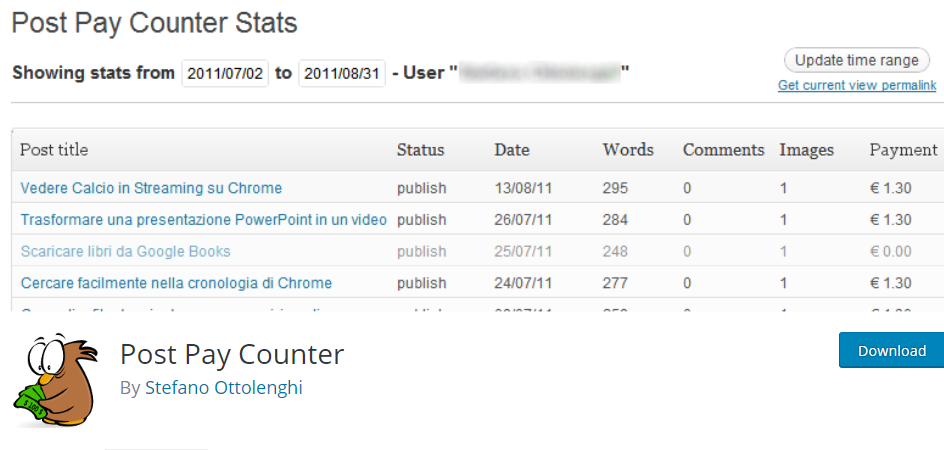 As its name, Post Pay Counter Set up the wished installment criteria and let the module figure posts installment. Also, this helpful WordPress Counter plugin allows you to execute an income sharing/paid to compose show for your business.
Features:
Ability post, image, and comment
No account needed
View posts countings
Support mobile devices
and more.
Highlights:
Responsible tool
Accurate in tracking users' earnings
Excellent support.
Wrap Up
In conclusion, we hope you find it effective and decide the best option WordPress Counter plugin for your site. Don't forget to share with your friends and get more free WordPress theme!
Please leave a comment below or contact us if you have any question! Thank you for reading!