Do you want to find a good WordPress Age Verification plugin for your website? Don't miss our blog.
The plus point of the WordPress Age Verification Plugin
There are lots of different reasons for websites to require age verification. Some sell products serving for adult only, others may include adult content so they need to hide them from children, for example. But how could we do that? Using a WordPress age verification plugin would be a brilliant choice if you want to make setting up a website age verification a breeze. Now, let's explore the top 8 age-verify WordPress plugins in recent days!
Top WordPress Age Verification Plugin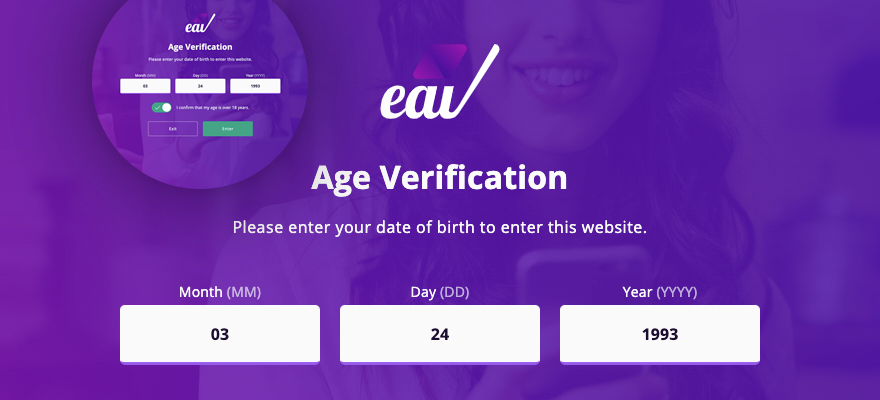 Elegant Age Verification offers a solution for WordPress website owners who want to allow their visitors to access their website according to their age. It is easy to add any custom style or a custom Google font to the plugin. You can add your logo to the age verification pop-up, and also possible to set a background image that you desire. Choose from various predefined themes and styles. In the plugin, every text is customizable. This age verifier works with a single language by default, but it has excellent support for multilingualism. It's a premium WordPress plugin, and the price is just $20 now. This price also includes a half-year support.
Features:
Various verification methods
Three exit types
Three selectable date formats option
Confirmation toggle switch
Localization
Predefined themes
Google Fonts integration
Custom cookie expire time
Custom logo
Custom background image
Custom CSS
Highlights:
Clean code
Easy integration
Well-designed user interface
Detailed documentation
Cross-browser support
Responsive & mobile-friendly
Accessibility
Fast support

Are your store selling products that are only for adults such as wine, beer or vapes? From our viewpoint, AgeVerify is the most suitable WordPress age verification plugin if you do such these businesses! It is absolutely ideal to create a nice-looking website age verification. Just after a few simple installation steps, there will be a setting pages with multiple options to customize.
Features:
Provide various age verification methods
Ability to add prompt text
Change border and background color of enter/exit button text
Set cookie duration by hours
Sort list by various factors.
Highlights:
Clear guidance on installation
Simple and easy to use and set up
A lot of cool options
Amazing support.

Another excellent age verify WordPress plugin that we would like to introduce is Age Gate. It lets you limit or restrict users' access to your site based on their age. Here are some basic features of the plugin:
Features:
Ability to set restriction for selected content
Option to show "remember me" checkbox
Ability to set remember length
Various options for customizing age-gate appearance
Support for custom CSS.
Highlights:
Easy to setup and use
Plenty of settings
Simple configuration options
Great support.

Want visitors to confirm their age before allowing them to read the content on your website? Age Verify is here to help you with that! It is a simple yet effective plugin that improve your site safety by providing an age-gate so that you can decide how old the users must be to enter your site.
Features:
Allow logged-in users to access without verification
Use date dropdowns to verify ages
Ability to set cookie for remembering visitors
Customizable overlay heading and description
Select color for overlay and background.
Highlights:
Simple to use
Well-built and extensible
Adheres to the coding standards of WordPress.

Passster – Age Gate is the next recommendation for you, especially if your site includes adult content like gambling or alcohol. Without any complex installation processes, the plugin facilitate adding a pop up for verifying age which will be displayed on your site when a new user enters.
Features:
Various options to customize age-gate appearance
Select where the age-gate should display or not
Ability to select certain posts/pages/categories for restriction
Option to show age-gate to unregistered users only
Insert redirect URL after exit button clicked.
Highlights:
Easy to install
Nice dashboard panel
Simple without configuring CSS.

Easy Age Verifier has been considered as one of the best WordPress age verification plugin these days. Despite of having several advanced functions, this plugin is totally free. It is a perfect solution for sites to require visitors confirming legal age in order to view content.
Features:
Offer button click to verify age instead of entering number
Create and display message if the user is not of age
Customizable verifier title
Ability to select different form type.
Highlights:
Clean and simple
Great support
Take minutes to install and setup.

The CPS verifies the age of visitors by having them answered to information showed in a popup when coming to your site. Then they can select YES if they want to keep continue and pressing NO will redirect them to another URL.
Features:
Select position to display popup ( frontpage, category pages, etc.)
Customizable text and confirmation button
Compatible with WPML & Polylang
Include several popup styles and themes
Allow logged in users to access without verification.
Highlights:
Has plenty of options
Simple and to-the-point
Easy to customize through your theme's style.css.

The final age verify WordPress plugin which we want to mention is this list is Age Verification. Similar with other plugin, it inserts a popup to your website so that visitors must confirm their age before seeing your content.
Features:
Option to insert background and logo image
Set days for cookie save
Ability to change color of page, content or text, etc.
Highlights:
Easy set up
No ads, no limitation
Can be edited without issue in the php.
Conclusion
Above are the best WordPress Age Verification plugins that we have picked out for you. No matter what your choice is, we believe you will get satisfying results with any of them. If you enjoyed this article, please don't forget to share it with your friends. In addition, you can refer to our free WordPress theme to discover a wide range of themes!
Feel free to contact us if you need and remember to leave your comment below! Thank you for reading!