Opportunity to get up to 55% OFF for all orders offered by the best Joomla and WordPress theme providers!
Hi, friends!
The month October has passed over than a half, which means the scariest and funniest Halloween night is approaching closer and closer! There is nothing to fear, we are not going to scare you with tricks, we are here to offer you the best deals from great website template providers in occasion of Halloween day, which gives you the chance to get their products with a bargain, up to 55% OFF for all orders!
Halloween night of this year, let's not just about Halloween customs, tricks or treats, let's go and grab the greatest deals ever of the year now!
Coming with the best quality of featured WordPress themes, TAKEWP not only provides you with the best professional looking, but they also concentrate on improving the way their themes will satisfy your customers with full of necessary features and utilities for each topic, therefore, you will have the best experience ever while working with TAKEWP themes! Grab the best deal from TAKEWP with 55% OFF today!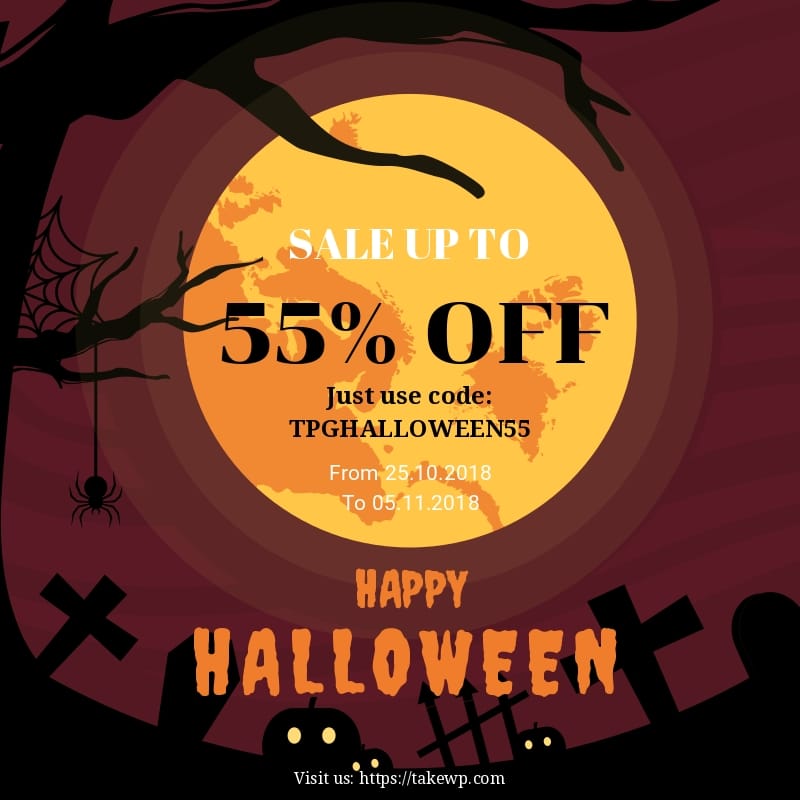 Coupon code: TPGHALLOWEEN55
Duration: 25th October – 5th November 2018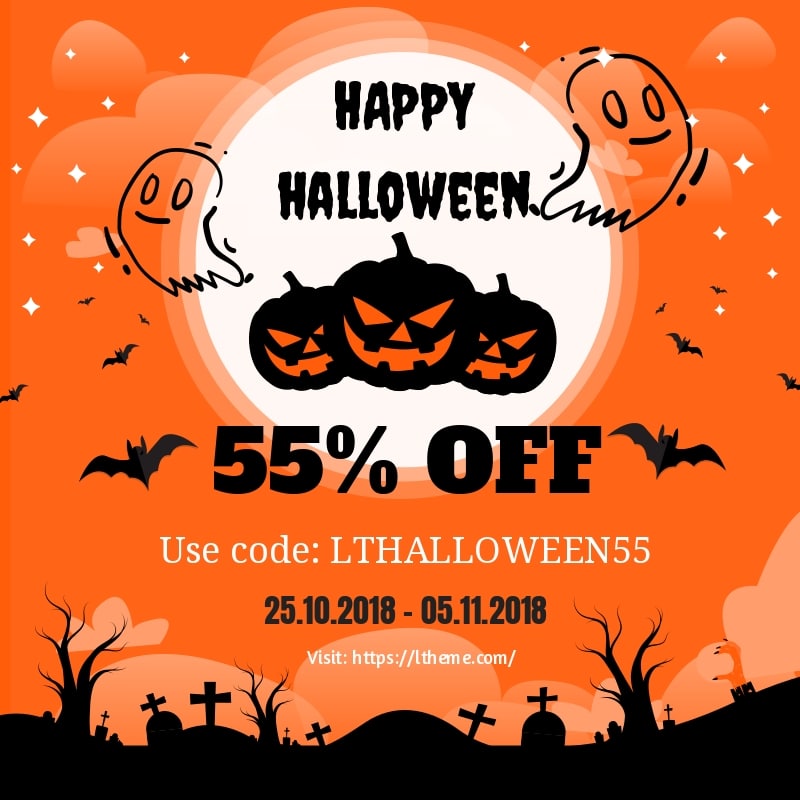 LTHEME is and will always be a reliable WordPress and Joomla template provider with high-quality and full-featured products. We provide 24/7 technical support, detail documentation and other website development services. On this year Halloween day, LTHEME is pleased to offer our beloved customers the best deal ever with 55% discount for all orders. Grab it with no hesitation now!
Coupon code: LTHALLOWEEN55
Duration: 25th October – 5th November 2018
WOOSKINS specialize in offering you the premium design of Woocommerce WordPress themes with full of functions for a complete ecommerce website to help you customize your site easily. If you are going to open an online Woocommerce website, you should not ignore WordPress themes from wooskins.com, especially when they are offering you 55% OFF for all purchases on their site.
Coupon code: WSHALLOWEEN55
Duration: 25th October – 5th November 2018
AGETHEMES is a website template provider who specializes in Joomla templates with the beautiful and responsive design. Their templates mainly based on the latest web technologies such as Bootstrap CSS Framework, SP Page Builder, Quix Page Builder…which help you build a wonderful website without putting much effort. For this special Halloween day, AGETHEMES provides you 55% discount program for any purchases!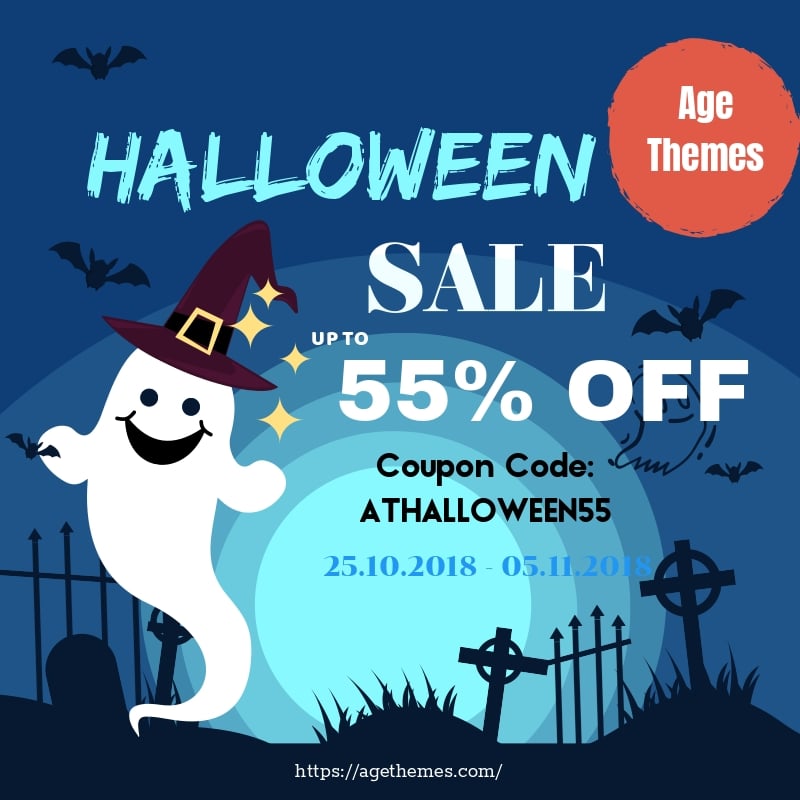 Coupon code: ATHALLOWEEN55
Duration: 25th October – 5th November 2018
ENGINETEMPLATES provides the best design quality of WordPress and Joomla templates with perfect performance of products, reasonable prices and awesome technical support. On the occasion of Halloween, you can get their themes, even membership packages with much cheaper price with 55% OFF! Incredible!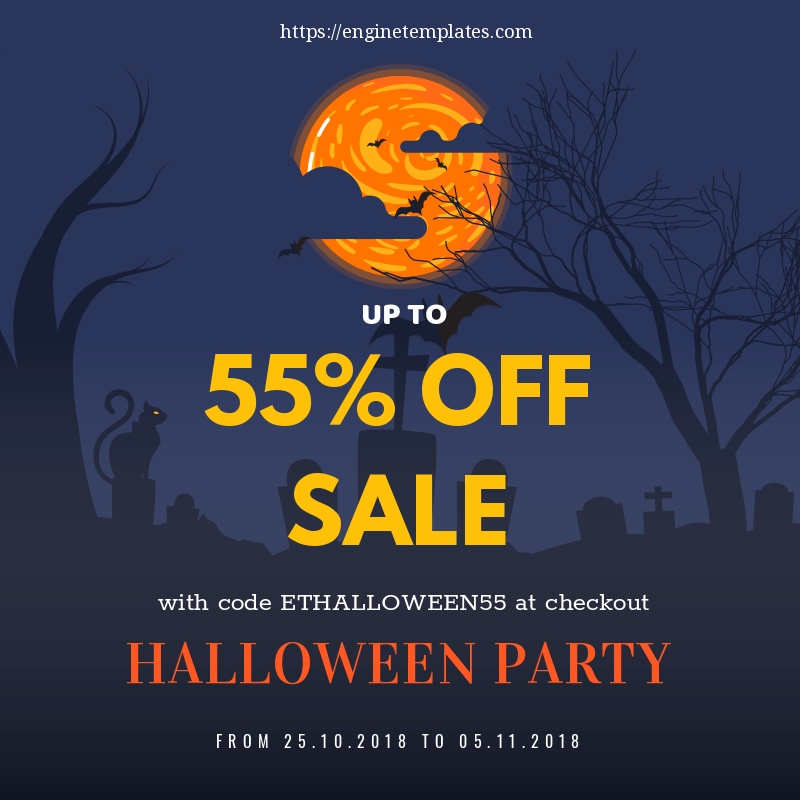 Coupon code: ETHALLOWEEN55
Duration: 25th October – 5th November 2018
Conclusion
The special deal collection for Halloween day is it! Don't forget to share with your friends if you think this collection helpful. And if you have any attractive deals that you want to share, contact us now!
Thank you so much for reading! If you have any question, please feel free to let us know by leaving a comment below, we will reply as soon as possible!