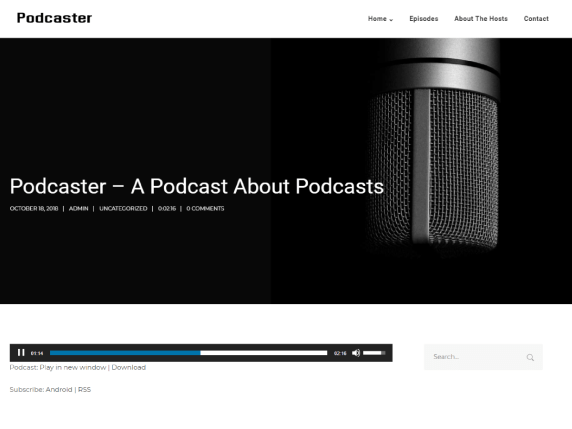 If you're looking for a way to promote your podcast, building a website using one of the podcast WordPress themes is the obvious solution. It will make your theme look professional and well-designed, giving new visitors and potential podcast sponsors a good first impression. In this article, we will go over a List of 20+ Podcast WordPress Themes in 2021 to help you grow your company quickly and easily. Let's discover!
What can Podcast WordPress Themes do for your website?
Using Podcast WordPress Themes is by far one of the simplest ways to get a new podcast off the ground. Featuring your show in every place a potential listener already consumes material is the most cost-effective method to increase an audience. If you have a dedicated podcasting website, you can also use SEO strategies to attract new listeners with ease. Furthermore, you can also place a Call To Action on your site if you want to push your audience to do something specific.
Top Podcast WordPress Themes
The first Podcast WordPress theme I would like to mention is Podcast. This design comes with a variety of podcast-focused demos and templates. Regardless of the type of podcast website you wish to create, Podcast could be a good choice. This theme works with major WordPress podcasting plugins like PowerPress and Seriously Simple Podcasting. You can also use sites like Spotify, SoundCloud, Libsyn, Youtube, Apple Podcasts, Castos, and others to embed your podcast episodes.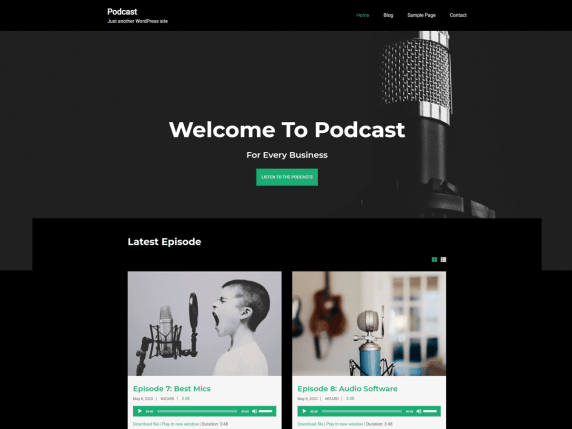 Simple Podcast is a purpose-built podcast WordPress theme with everything you should need to launch your website. This is a good all-around WordPress podcast theme with a design that will work for most podcasts. Besides, this theme is suitable for podcasters, YouTubers, streamers, radio hosts, comedians, influencers, motivational speakers, and bloggers. To give you some options, there are various different homepage layouts to choose from.
Podcaster SecondLine is a lightweight podcast and audio WordPress theme that can help you grow your following. It is maintained by the secondlinethemes.com team, which is dedicated to assisting podcasters in their use of WordPress for their projects. This package includes the powerful Elementor drag-and-drop page builder tool to guarantee your website has the correct look for your podcast. This design is all-in-one that can help you set up a website for your podcast in a matter of minutes.

Quadrat is a feature-rich WordPress theme built specifically for podcasts and blogs. Besides, you can use on your site the theme's default color palette, which is inspired by squared geometry and colorful, minimalist flat designs. Thanks to the help of a powerful color palette, you may change and a basic sans-serif typeface.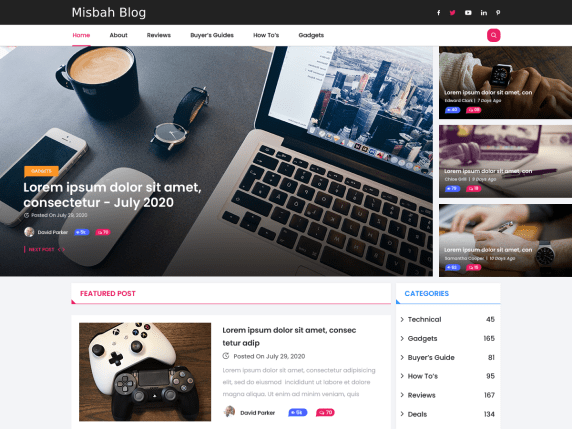 Misbah Blog is a versatile blogging platform that may be used for a variety of purposes. It offers ad companies a professional appearance. It is a simple, retina-ready, and convenient way to have an online presence without any coding requirements. Besides, Misbah is a lightweight, easy-to-use blog that is also Gutenberg-ready, RTL-compatible, and translation-ready. Last but not least, this theme showcases content in a basic yet attractive manner, making it a user and mobile-friendly theme.
Spearhead should have all you'll need to get your podcast's website up and running. Depending on the design you select, you'll be able to quickly create a homepage that effectively promotes your podcast. The Spearhead theme package also includes styles for publishing your podcast archives, author pages, and a comprehensive set of blog post templates. When you use this theme, you can quickly customize the appearance of your podcast website thanks to the theme customization tools.

Bands are devoted themes for any type of band, musician, or audio artist. This theme was built specifically to assist you in launching a WordPress website for your podcast. Another related beneficial feature of this theme is support for importing episodes of your podcast that you've published elsewhere with ease.

Vlogger Video Blog theme is a high-quality theme apart from being multipurpose and elegant. It contains premium features, many of which are industry-specific. This WordPress theme is one of the best options for you if you want to simply realize your passion for filmmaking. It's social media-friendly and SEO-friendly, so it'll rank well in search engines. Furthermore, it contains a blogging area and is an excellent video solution for websites that deal with videos. This allows you to create a homepage with customizer widgets in a short amount of time.

Euphony is a free WordPress music theme designed for musicians and bands. It has a minimalistic, interactive, and really attractive design. Thanks to the help of amazing features like Featured Content, Featured Slider, and Hero Content, you can customize your music website to your liking. Lastly, this theme is fully responsive, which means it works with all modern browsers.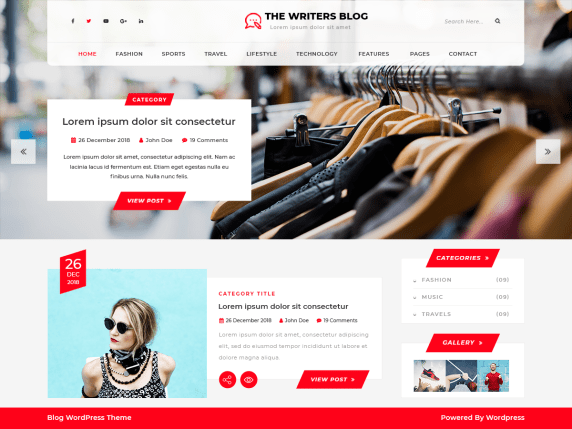 The Writers Blog is an elegant, feature-rich, and versatile blog WordPress theme that makes the most of the online space to educate visitors on a variety of intriguing themes. This multipurpose theme is primarily for writers, journalists, ebooks, fashion blogs, travel, viral, technical blogs authors, poets, and other literary professionals to present their ideas in a beautiful and effective manner.

Advance Blogging is a clean and minimal multipurpose WordPress blog theme that can be used to write a range of blogs, including lifestyle, author, editor, blog, fashion, and more. This theme is mobile-friendly and compatible with all major browsers. Besides, it is a very configurable theme that allows you to alter the header, footer, logo, and background, among other things. You can also add featured images to your article to make it more appealing.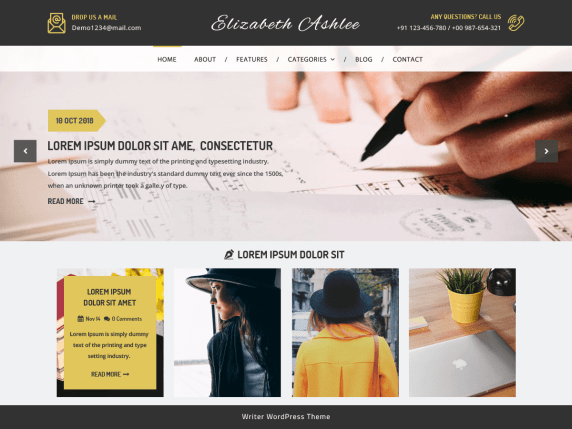 VW Writer Blog is a simple, elegant, modern, and user-friendly WordPress theme for writers. This theme is responsive and cross-browser compatible to meet the needs of today's users. It's a search engine optimized theme that helps you get more traffic by ranking higher in search results. Furthermore, this design offers extensive customization options to give your website a unique feel.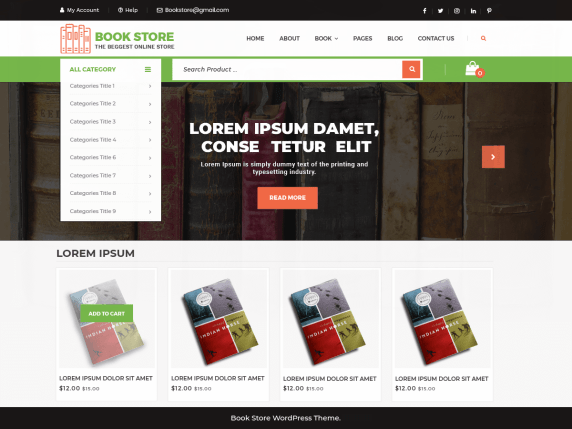 If you're finding a podcast theme that includes the pre-built content your site should need but can also be readily adjusted, then VW Book Store is a great option. This theme is a feature-rich, adaptable, durable, and dependable WordPress theme. Its user-friendly frontend and backend interfaces will provide a positive experience for both your clients and you. With multiple options, you have the ability to change the layout of the website in your own style.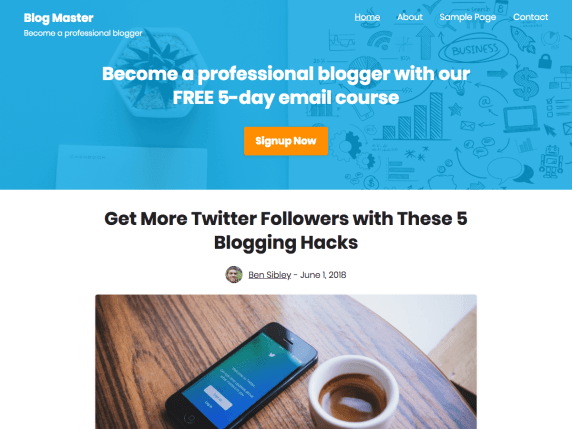 Challenger is a high-end theme designed for modern bloggers, podcasters, and vloggers. Because it is a fully responsive theme, your website will look great on laptops, tablets, and mobile devices. The design is simple and minimalist, with a strong focus on typography for maximum readability. Besides, This theme comes with a variety of features, including four widget areas and 50+ social media icons. Lastly, the new Gutenberg post editor is also fully compatible with this theme.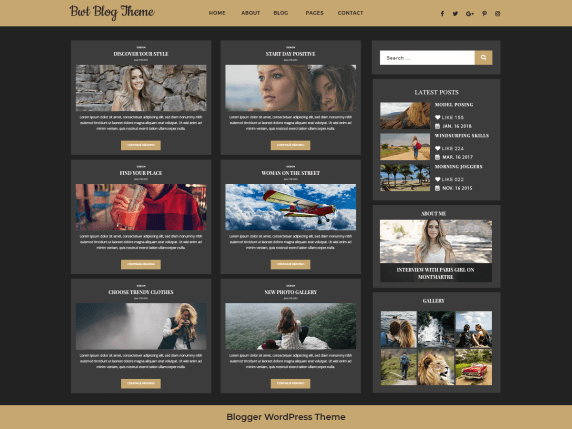 Ultimate Blogger is a highly mobile responsive podcast WordPress theme for photographers, foodies, fashionistas, as well as SEO blogs and modern newspaper websites. It's a powerful blog theme with several features, easy modification, and personalization possibilities. Some useful features include Quick page speed, mobile-friendly design, cross-browser compatibility, and so on. With the aim of attracting visitor's attention, it shows a huge slider with a banner and a Call to Action Button (CTA).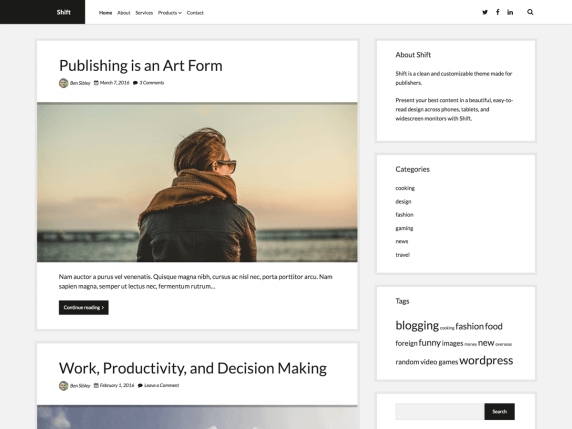 Shift is a clean and eye-catching theme that targets businesses and bloggers. With Shift, you can offer your greatest content in a beautiful and responsive design that works across any device. Besides, this is a terrific way to display your information due to its basic style. This implies that whether you're sharing videos, podcasts, photos, or blog posts, you'll get more engagement.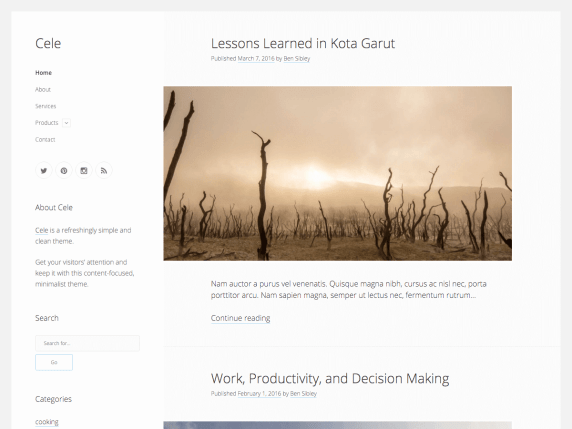 Cele is a wonderful WordPress theme that is suitable for a personal blog, podcast, music review site, or even a travel blog. It connects with powerful drag and drops page builders to personalize your website pages. It also includes color choices, header options, page layouts, built-in Google fonts, and more. The lightweight and speedy nature of the theme makes it ideal for podcasters. This theme optimizes for WordPress SEO, ensuring that your site ranks well in Google and other search engines.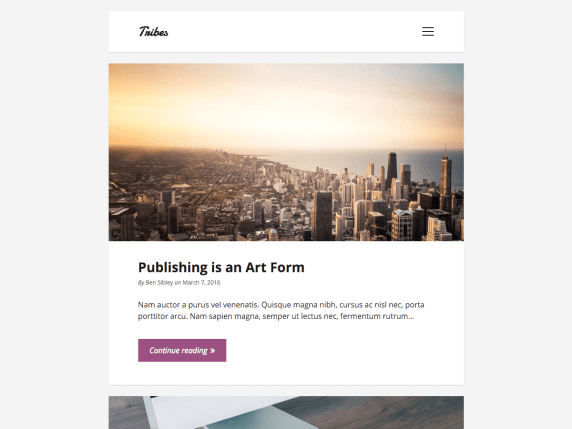 Tribes is a popular multipurpose WordPress theme that can be used for any type of website. You can rapidly replace the demo content with your own and launch your podcast website with a fullscreen style and ready-made custom pages. You can choose from a variety of theme options in this design. This makes customizing it for your podcast site a breeze. Especially, it even has WooCommerce compatibility, allowing you to build an online store for your website.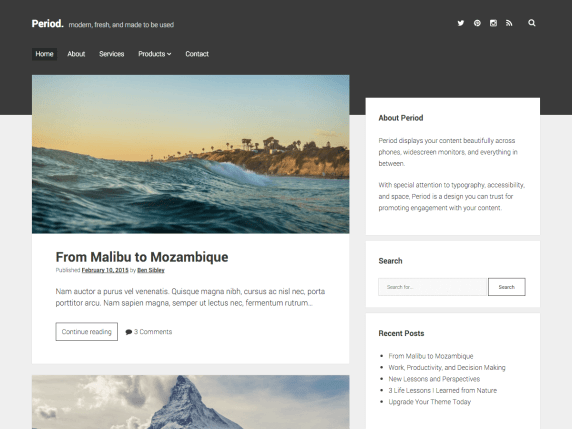 Period is a dark and SEO-friendly blogging theme that you shouldn't miss. It comes with a number of templates that you can import with a single click. Then, to create your podcast website, simply replace the demo content with your own. Premium extensions are available to add features such as social media icons, sticky navigation menus, and more to the theme. It also integrates with WooCommerce, allowing you to sell podcast-related things online.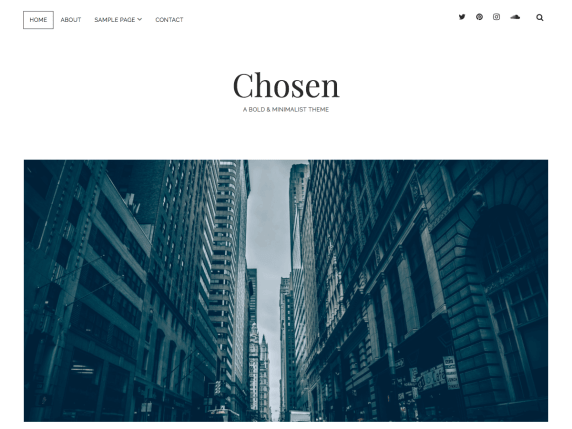 Chosen is a fantastic podcast WordPress theme for publishers looking to capture and hold their audience's attention. By using this theme, you can easily present your best content in a simple way on phones, tablets, and desktop computers in your own style. Then, with the help of WooCommerce support, you can also add an eCommerce store to your website with ease.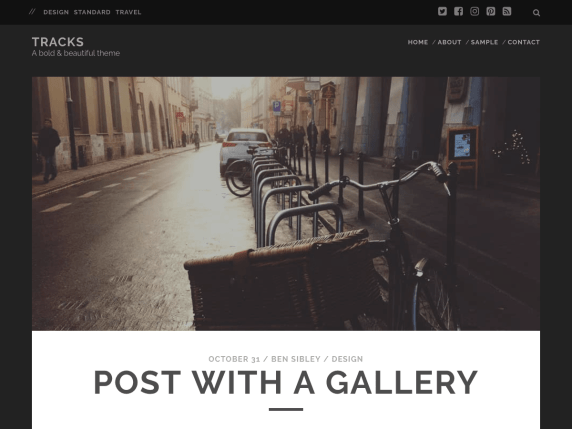 The last theme on our list today is Tracks that is a bold, attractive, and responsive theme. The dark and basic design of this theme makes it ideal for publishing both text and image-based content. It consists of a logo uploader, over 50+ social media icons, search bar, premium layouts, and more. As a free theme, you can use it for as many projects as you like.
Conclusion
In this article, we introduced the most popular Podcast WordPress Themes that you can find and use for your website. We hope these themes will assist you in drawing customers' attention to your site. Feel free to leave us a comment below if you have a query.
If you are looking for useful WordPress themes for your site, don't forget to visit Free WordPress Themes that help you find the right one.