Thanks to wordpress progress bar plugins, decorating your site and raising customers' sympathy level to your page is easier!
Why should you use WordPress Progress Bar Plugins?
There are some people look for wordpress progress bar to reduce customers' discomfort when speed of the site is low. And others want some progress bars laid in header or footer to tell customers how much they scrolled down. Whatever the purpose, you may need some progress bar to raise professionalism of your site, right? Learning yourself is okay, but it will take much time. So that, you'll need some convenient WordPress progress bar plugins in the hand-picked list below. Don't miss it!
Top WordPress Progress Bar Plugins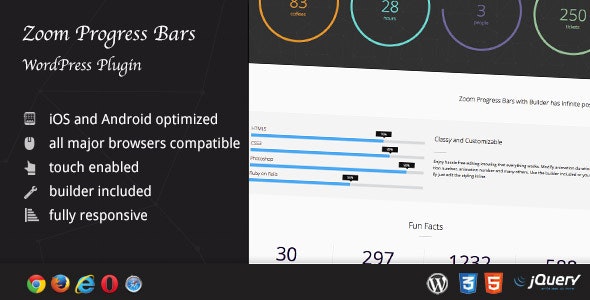 Let's start with first useful plugin – Zoom Progress Bars. It allows you to create and custom your progress bars easily. Moreover, its interface is responsive, that' mean your viewers also see on mobile devices.
Features:
Different types of progress bars (vertical, horizontal, circular, etc.)
SVG  and vector graphic
Skin builder
HTML5 and CSS3 technology
Highlights:
Optimized for Android and Apple devices
100% responsive
Usually update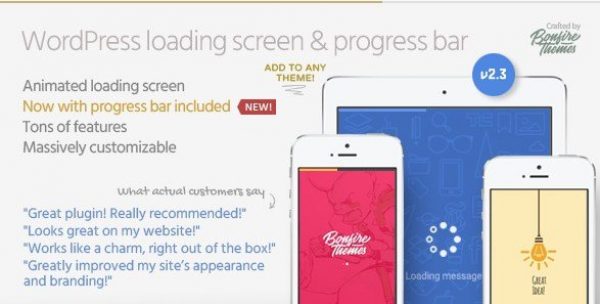 PageLoader is convenient, feature-rich progress bar plugin. One of its advantages is the ability to custom as you want (such as background, icon, image,…) Moreover, it also allows you to choose the timeout close function when the progress bar takes much time to load!
Features:
Animation effect for loading image or icon
Ability to tweak the background of the landing page
Live editing
Timeout close function
Customizable loading text
And more
Highlights:
Lightweight
Easy to use
Compatible with WordPress multisite

If you are looking for a cool progress bar that shows the goals, progress, page count or the progress of displaying of website, you cant not ignore Author WIP Progress Bar. For instance, you are a writer and your fans will see the completion progress of your work. Interesting, right?
Features:
Custom animation effects and color
Modify the dimension of progress bar
Ability to add links in the footer of the bar
Set the border color
Highlights:
Cool plugin
Simple but excellent
Elegant look

Progress Bar & Skill Bar is another awesome WordPress progress bar plugin. You will find it's a useful tool to show the progress or percentage of elements. In addition, it uses Bootstrap to bring to you a responsive design.
Features:
Two animation designs
Custom name, color, background, progress color,… of the bar
Add or remove bar
Customizable color Scheme
Highlights:
Quickly setup
Fully responsive
HTML5 support

This plugin helps you display any Gutenberg block in your site, including progress bar. Apart from it, with Ultimate Blocks, you can add block in anypart of your site and also modify its interface as well as functions as you wish.
Features:
Tweak the shape of the bar
Custome the color
Modify the thickness
Highlights:
Free plugin
Gorgeous design
Many other extra functions
6. Reading Progress Bar
Reading Progress Bar will estimate time when audience read an article. It also brings to your site an elegant and outstanding interfact. Moreover, it has a lot of features and ability to modify to suit your needs.
Features:
Show estimated time and article tittle
Custom the style of the progress bar
Turn off in a specific site
Optimized for Android and IOS devices
Highlights:
Compatible with most of browsers
Extensive document
Fit with all themes adnf floating/sticky menus

Reading Position Indicator is a simple but powerful WordPress bar you shoud not miss. It allows you to create vertical bar and custom how it looks like, where it laid, its dimension, effects, and much more.
Features:
Ability to modify color, secoundary color, color opacity, etc.
Set the size and thickness
Choose position to set
Tweak color style (solid/ gradient/ indeterminate)
Highlights:
Friendly design
Work perfectly
Highly aprreciate plugin
Conclusion
We have suggested for you some useful WordPress progress bar plugins which may help you decorate your site and raise customers' sympathy level to your page. We hope this list will help you choose the most suitable one. And don't forget to share your opinion with us after experiencing. By the way, if you are searching for some nice themes, take a look at our free WordPress theme!
Thanks for reading this post. Please free free to contact us if you have any issue!