In this article today, we will recommend a collection of Amazing Elementor Table Plugins for Elementor users to enhance their site possibilities and display data in the table layouts. Check it out!
Why should your site use Elementor Table Plugin?
A beneficial Elementor Table Plugin will help you present both single and complex information with tables in a visual way. So, you can not only make your site more attractive but also make the data more understandable. On the ground of that, your customers can observe the information, compare, sort, and do anything that they want easily. Therefore, you can improve users' experience and reduce bounce rates significantly.
Top Wonderful Elementor Table Plugin

The first outstanding Elementor Table Plugin in this collection is the Essential Addons for Elementor. By using it, you are able to create beautiful Pricing Tables to present the value of products and services in an eye-catching way. Besides, it is also possible for you to create and display data tables with custom headers, icons, rows, columns, filter options, etc.
Highlights
Over 70 elements and extensions
Export CSV file of the data table
Responsive feature from 'Style' section
Complete customizable
Lightweight and instant loading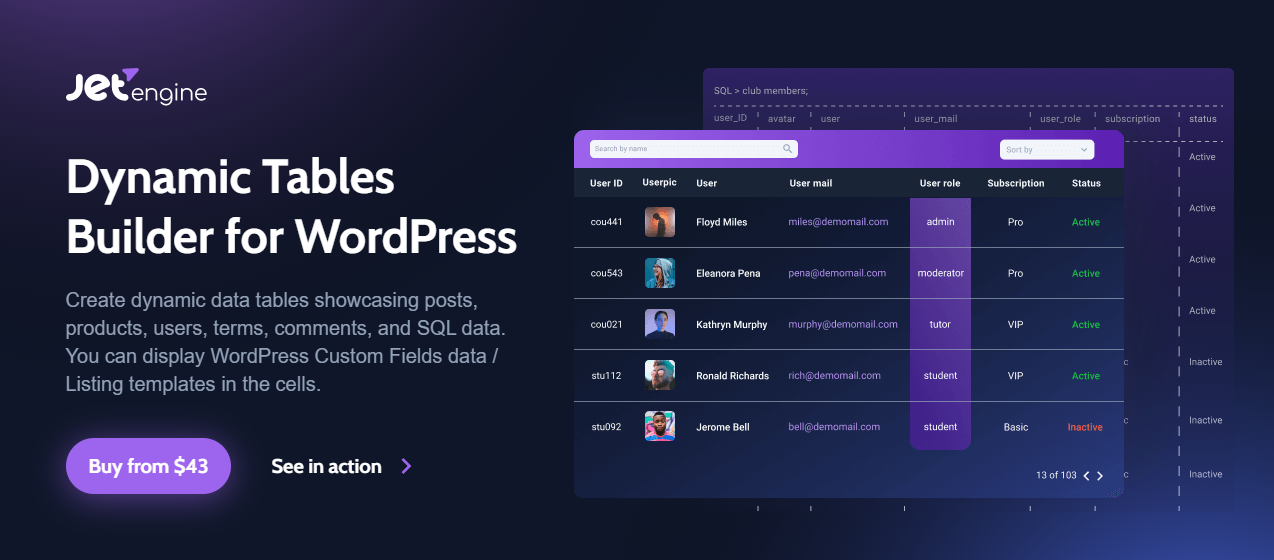 JetEngine is a powerful WordPress plugin that revolutionizes the creation of dynamic tables on websites. With its intuitive interface and advanced features, JetEngine empowers users to effortlessly build and customize dynamic tables using various data sources. This plugin supports integration with custom fields, post types, taxonomies, and external APIs, allowing users to fetch and display data in a structured and interactive format.
Highlights
Enable users to create custom data tables and display them on their WordPress sites
Allow users to create custom post types and manage them efficiently
Add custom meta fields to post types, pages, and taxonomies, enhancing website functionality
Offers a range of widgets, including search, filters, and pagination

Secondly, by installing Premium Addons for Elementor, you enable to showcase the prices of your business items in the table format as well as customize them via countless styling options. This is because Premium Addons for Elementor has a free Pricing Table Widget. In addition, you can generate highly customizable tables with various unique features.
Highlights
55+ essential addons and widgets
330+ premade Elementor templates
Highly customizable and responsive
Easy to use
100% compatible with WPML

Elements kit Elementor Addon offers the Elementor TablePress widget, so it is extremely easy for you to create unique tables with a flip-style layout. Moreover, you also obtain chances to edit your table header, body & filter options in your own wish. Additionally, this plugin also consists of the Pricing Table for your products' pricing showcase.
Highlights
70+ Free and Premium Widgets
500+ Ready Sections
Fully Responsive
Expert Support Team
Build with Elementor

TablePress tops the list of popular WordPress popular Plugins currently. This plugin authorizes you to produce, manage your table, and present them wherever on your post and page with a shortcode. This plugin also allows you to customize and use many types of data and math formulas without any technical requirements.
Highlights
No coding is necessary
JavaScript support
Imported and exported from/to Excel, CSV, HTML, and JSON files
Easy to custom
Great support

PowerPack Addons for Elementor offers you two kinds of tables, they are the Table and Pricing Table widget. By utilizing this plugin, you can show your data in terms of tables and adjust your table styles thanks to various available customization options. Furthermore, your product's value packages can be present in a well-organized way thanks to the assistance of the Pricing Table widget.
Highlights
Unique features
Fully customizable
100% Compatible with Elementor 3.0
Lightweight, fast, and user-friendly
Extensive styling options

Element Pack Lite comes with more than 40 popular and essential elements. Thanks to the great support of this plugin, you obtain opportunities to organize your information with table layouts by using the Element pack pro Table. If you want to showcase more complicated information visually and manage your tables effectively, let's use TablePress. You should notice that these Table widgets are only available in the pro version.
Highlights
Various useful widgets and elements
Using the latest CSS, HTML5 and PHP 7.x (Tested up to 8.1) technology
No programming knowledge required
Easy to install

Elementor Addon Elements offers three kinds of common Table widgets to help your site appeal to customers' attention remarkably. The Comparison Table will assist you to make comparisons for any aspect of your products, services, etc. You can present pricing plans by the Price Table and showcase multiple data with the Data Table.
Highlights
24+ widgets and extensions
Elementor compatibility
Easy-to-use interface
Fully customizable
Lightweight and instant loading

One of the best solutions for displaying the pricing of your business products and services is using the Exclusive Addons for Elementor Plugin. It is because this plugin has an Elementor pricing table widget, which supports you to present, edit and control data of your tables smoothly. Besides, this plugin also lets you take full advantage of the Comparision Table and Showcase Elementor data Table if you use the premium version for your own purpose.
Highlights
Elementor Compatibility
User-friendly features
85+ highly customizable and creative widgets and extensions
700+ pre-made blocks and 20+ useable templates
Highly customizable

You can develop numerous tables of data in your own style with the support of Extensions for Elementor. This plugin also allows you to display your tables in any place on your site. Additionally, thanks to more than 20 useful elements, it will make your site built based on Elementor extend its functionalities effectively.

The Plus Addons for Elementor Page Builder Plugin is created from AB-tested philosophies, so you can adjust anything to match your site. The free version gives the Pricing Tables, which supports you to present pricing lists of your products in terms of table layouts. While the premium version serves you to create content tables with both single and complex data.
Highlights
SEO Friendly, A/B Tested Designs, and Mobile Friendly
Compatible with most WordPress themes
Free Blog Builder for Elementor
One-Click Auto Widget Scanner
WooCommerce Store Builder

Finally, we would like to introduce HT Mega Plugin, an incredible Elementor addon for your Elementor improvement. By using it, you are able to make unlimited tables according to your own demand and custom them in some minutes. Additionally, this plugin also comes with other 80+ elements & 360 Blocks together with their variations. Give it a look!
Conclusion
This article has suggested 11 should-try Elementor Table Plugin for you to insert tables into your Elementor easily. If you have any queries, feel free to send feedback in the box below.
Furthermore, we also design a wide range of Elementor WordPress themes and templates for those using Elementor. Please visit Free Elementor WordPress Themes to get the best one for your site development!