WordPress webinar plugins help you interact conveniently, directly with your audience right on your site in the real time. Check it out!
Webinar is an excellent choice to interact with your audience, give your opinion, keep engaging your followers. They can ask you, talk to you and present their ideas directly in the real time. And do you know that you can easily create an online webinar site on WordPress with just few simple steps? So today, we recommend you a list of useful WordPress webinar plugins for you to consider. Enjoy!

WP GoToWebinar is a helpful plugin allowing you to create webinar on table, calendar or widgets. Thanks to GoToWebinar accounts linking to your website and a few of shortcodes, you can display webinar in any post of page you want. In addition, it is totally free and we think you should try it.
Features:
Show upcoming webinars in table, calendar or widget
Display webinar anywhere using shortcodes
Automatically update event calendar
Set particular text of webinar to show
Hide a phrase in the tittle
Set time to display webinar
Highlight:
Free plugin
Friendly with mobile screen
Easy to use

With WebinarPress, you can organize and display live webinars with YouTube, Vimeo, Air right on your website using WordPress. Your audience will find it easy to attend and leave comments, questions. WebinarPress is free, easy to use, so you don't need coding skills to run it on your site.
Features:
Create and display live webinars
Customize style of webinar page
Display registration form anywhere using shortcodes
Get and export list of attenders' name and email
Thank you pages
Share on social media
And much more
Highlight:
Fully responsive interface
Friendly and easy to use
Compatible with almost themes

ClickMeeting is a powerful webinar plugins, allows you to create and mangage your webinar events. It helps you collect attenders number as well as providing you a lot of other helpful function. Besides, this plugin has a mobile app to managing effectively your webinar. Highly recommend!
Features:
Video conferencing room
Whiteboard
Polls and surveys
Stream video on Facebook or YouTube
Custom branding
Webinar statistics
Set timeline for webinar
Waiting room with agenda
And much more
Highlight:
Plenty of amazing features
30 days of free trial
Great support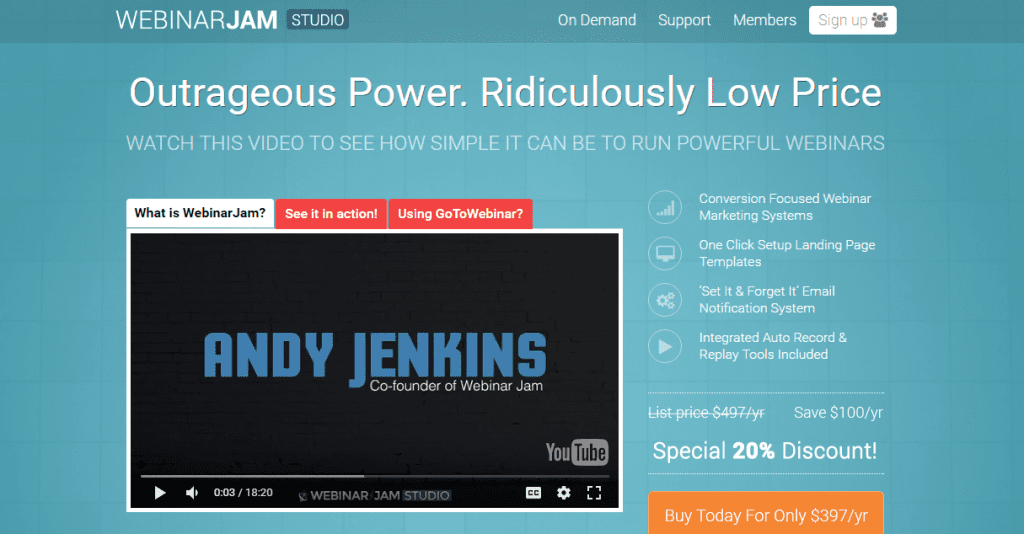 WebinarJam is another plugin that enables you to create high quality webinar. An outstanding charistic of this plugin you may like is its gorgeous look. In addition, its ability to produce high standard quality of stream video is a noticeable feature.
Features:
Stream on YouTube or private Webinar Jam Live
Create private room with password
Whiteboard
Polls, surveys and live chat
Schedule events
Connect pre and post webinar with autorespose
Track data analytic reports
And more
Highlight:
Beautiful design
Good support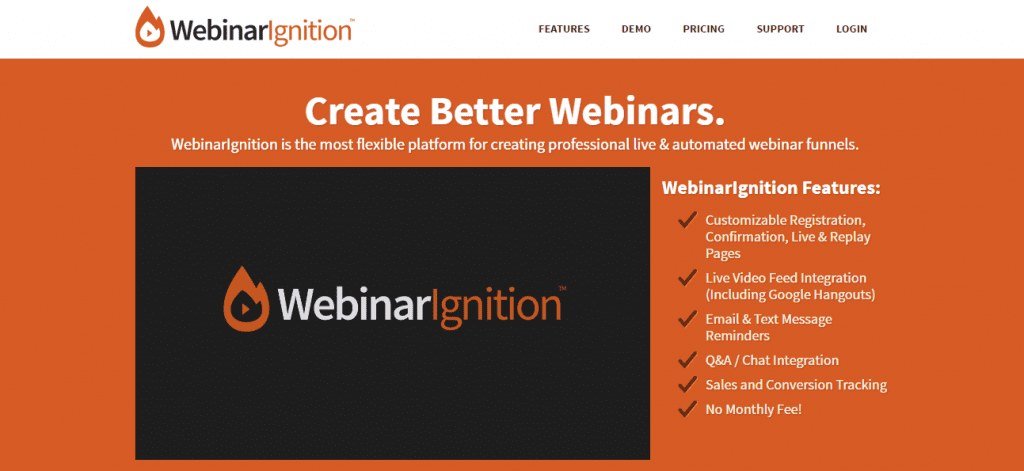 WebinarIntegration is a powerful WordPress webinar plugin coming with a huge of features. Using this plugin, you can create and run a sucessful and profitable webinar website. WebinarIntegration uses streaming technology like google Handouts, LiveSeam and Ustream to present your video.
Features:
Registration, confirmation page
Live and replay
Analytic reports
Accept or not with questions during live
Share on social networks
Live view dasboard
Live video feed intergrated
Q&A during livestream
And more
Highlight:
Intergrated with top email services
Unlimited websites for enterprise plan

Webinara will help you to create and run your webinar site with some shortcodes. Its intuitive interface make it easy to interact and manage. It is new and free but quite useful as we see.
Features:
Create webinars and events
In-built multi-standard categories for webinar and event
Add tags for webinar
User registration
Display webinars and events anywhere using shortcodes
And more
Highlight:
Responsive interface
Cross browers supported
SEO friendly
Wrapping Up
To sum up, this is the list of 6 useful WordPress webinar plugins we think you may need. We hope you will find it helpful and choose the most suitable one. If you like this article, share it with your friends! And why don't you see our free WordPress themes to get a beautiful template for your site?
Thank you for reading this post. If you have any question, please feel free to contact us.